Olympia Cos. goes all out for kickoff on 1,700-acre master plan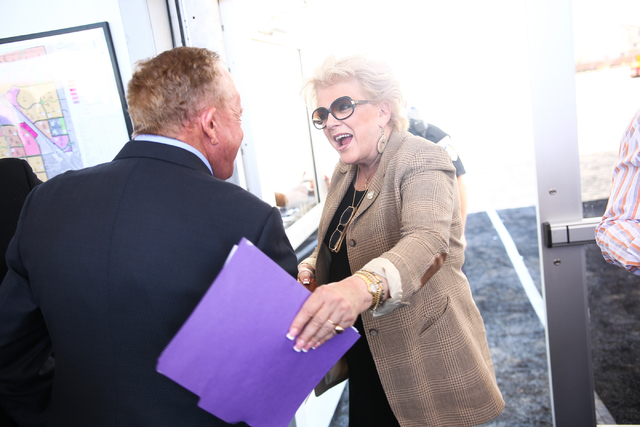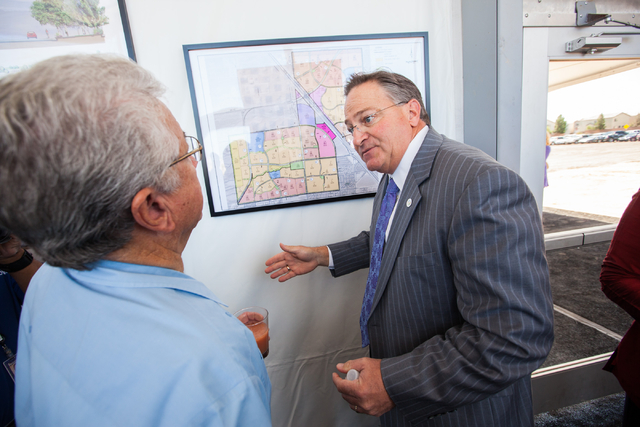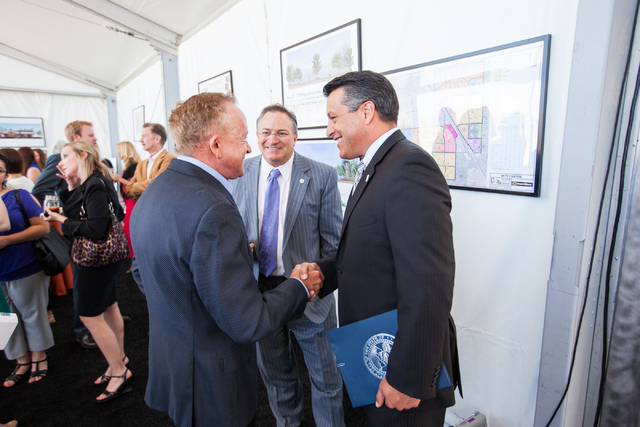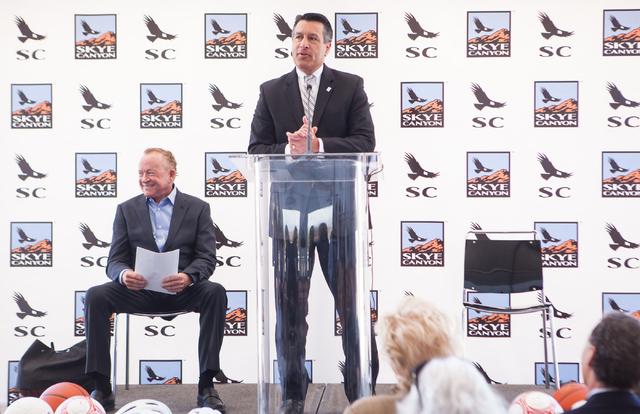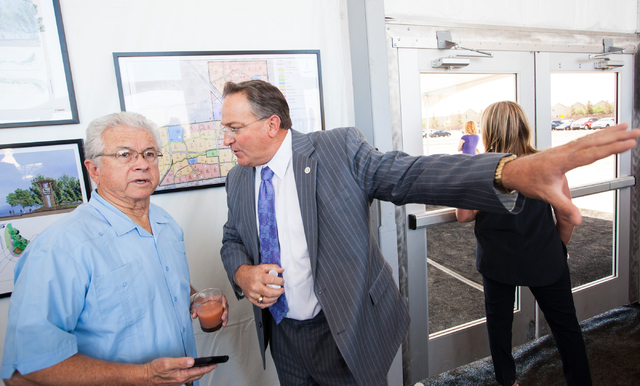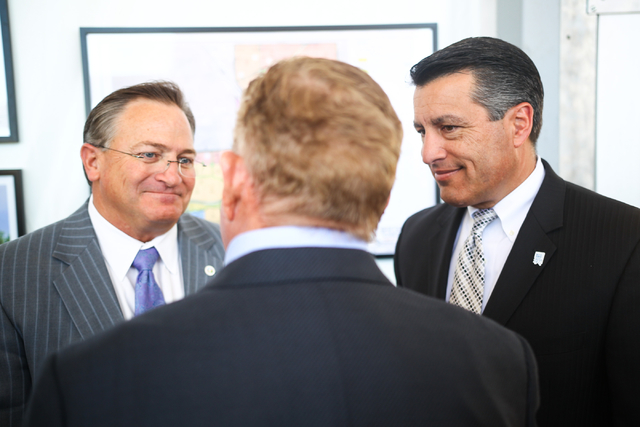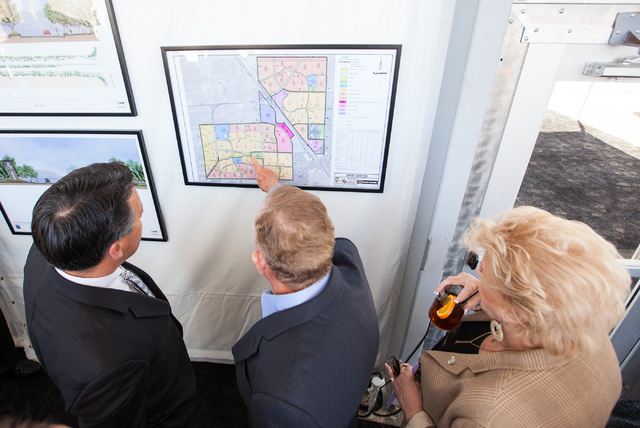 You wouldn't expect a quiet groundbreaking for the first big, new housing neighborhood since the recession.
So on Thursday, the Olympia Cos. went all out at the kickoff event for construction of Skye Canyon, a 1,700-acre master plan at U.S. Highway 95 and Fort Apache Road in northwest Las Vegas.
Gov. Brian Sandoval was on hand for the occasion, as were Las Vegas Mayor Carolyn Goodman and a passel of city council members. For the actual dirt-shoveling, there were bike helmets instead of hardhats, a nod to the master plan's outdoorsy ethos. Proclamations predicting job gains came from both the city and state. There were plenty of applause lines, too, as attendees talked of the economic revival behind Skye Canyon's beginning.
"We really believe the economy in Las Vegas is turning around in a very positive way, and homebuilding is definitely starting to pick up," said Garry Goett, chairman and CEO of Olympia, which is developing the property with New York-based investment partners Stonehill Capital Management and Spectrum Group Management.
Added Sandoval: "Think about the jobs here. Construction workers who may not have a job will now have the chance to get back in the game. This will have a monumental ripple effect for the community and the state. It means more jobs, it shows confidence in our state and shows others it can be done."
What's being done is a 1,700-acre master plan with 9,000 homes. But Skye Canyon will have a signature lifestyle, Goett said. The hook: This place is for outdoor lovers. There'll be bike lanes that connect to lanes being built on Kyle Canyon Road to Mount Charleston. Skye Canyon will also have hiking and walking trails, and community parks within walking distance of every home.
But Goett seemed most excited about the community center. There, he's planning a coffee and wine bar with outdoor fire pits for gatherings of friends and family. The center will also have a splash park, a pool, tot lots, basketball courts and a playing field for lacrosse and soccer. Plus, Skye Canyon will have an amphitheater and a bike-repair shop.
In the landscaping, the developers will aim for an outdoorsy, Mount Charleston feel as well, with plans to go heavy on pine trees, and even a few aspens in the mix. Artificial turf will save on water in some common areas, Goett said.
Homes at Skye Canyon would have floor plans unique to the community, Goett added. He declined to name builders on the project, but he said some of them had representatives at the event. Local executives with Richmond American Homes, Lennar Homes, Woodside Homes and Pulte Homes attended.
Prices at Skye Canyon should range from around $200,000 to $600,000, Goett said. Sales models will open in late summer 2015, with the first residents moving in by the end of 2015.
It could be a touchy time to unveil a new master plan, though. Today's market isn't completely recovered, and homebuilding has trended downward as the supply of more affordable resales has increased. Local builders sold 1,715 new homes from January through April, a 25 percent drop from 2,285 units in the same period of 2013, according to local analysis firm Home Builders Research.
Still, Dennis Smith, president and CEO of Home Builders Research, said, "The time is OK to start a project out there to see what kind of consumer response they'll get." The master plan is across the street from existing development, so it won't be difficult for consumers to envision buying there, he said.
Besides, the economy has improved enough to restart Henderson's Inspirada and Cadence communities. Both stalled in the recession but have ramped up in recent months, with new lot sales to builders.
"I don't see how opening Skye Canyon would be anything negative," said Smith, who has not done any work for Olympia.
Goett said the new-home market has gone sluggish because there's a shortage of developable lots ready for new construction. He said he believes delivering lots in a "prime," master-planned location will boost homebuilding.
Smith agreed the industry faces a land issue, but it's not a problem a master plan can always solve, he said.
"Builders, not developers, will determine how many lots are out there for development," he said. "They will determine which products and which prices will work for them before they agree to go out there."
Focus Property Group initially bought the land for $510 million in a 2007 Bureau of Land Management auction. Wachovia foreclosed on the property in 2008, citing more than $350 million in loans against the land. Olympia and its partners have been buying shares in the property for 18 months, Goett said.
Contact reporter Jennifer Robison at jrobison@reviewjournal.com. Follow @J_Robison1 on Twitter.