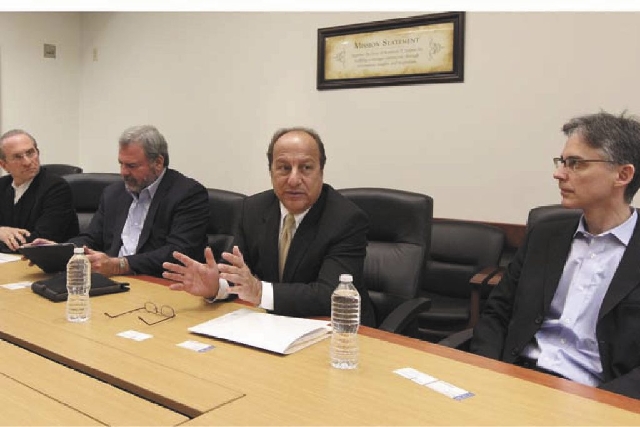 The company behind a controversial proposal to use eminent domain to seize mortgages has set its sights on North Las Vegas, where a majority of homeowners are eligible to reduce their loan payments through the program.
Mortgage Resolution Partners has been briefing city officials for the last month about helping homeowners in default or delinquency restructure their mortgages. The proposal targets only homeowners with private-label securitized mortgages, or PLS, to refinance regardless of their current status.
The program would leverage the city's ability to use eminent domain on these mortgages, but not the properties themselves, and refinance them at current values instead of the loan amount, a Mortgage Resolution Partners executive said.
"The idea is to benefit the community by stabilizing the housing stock and housing prices," said Byron Georgiou, a director and investor in Mortgage Resolution Partners in Las Vegas. "It's important to understand that we would acquire the mortgage, not the home."
The proposal is the company's solution to the foreclosure crisis that has left thousands of homeowners in Nevada owing more on their mortgages than they are worth.
There are 5,052 private-label securitized mortgage loans in North Las Vegas, Mortgage Refinance Partners says. Of those, 3,113 are current, while 4,763 are underwater, with the property worth less than the loan.
In Clark County, 63,000 homeowners with loans valued at $15.5 billion could be helped. More than 84 percent of them are underwater, Georgiou said.
Roughly 529,000 U.S. mortgages valued at almost $157 billion are held as private securitization trusts, a July report by Amherst Securities Group LP shows. In Nevada, that figure is 80,000, with a value of roughly $19.5 billion held in private-label securitization trusts.
"No one is addressing the problem," Georgiou said. "We act as advisers at no cost to the city. We attempt to acquire the mortgages out of the trust."
In North Las Vegas, the government would serve as the middleman, using its eminent domain power to seize mortgages from trusts that own the mortgage-backed securities. Once the mortgage is refinanced and resold, the city receives a modest fee.
Such use of eminent domain has raised concern from bankers, mortgage brokers and real estate executives in Southern Nevada.
Nevada Bankers Association President and CEO Bill Uffelman said Mortgage Resolution Partners asked for a meeting this week with local bankers.
"This is an opportunity for them," Uffelman said. "We want to hear straight from the horse's mouth what they want to do."
Both the Nevada Mortgage Bankers Association and the Greater Las Vegas Association of Realtors have come out against the proposal, saying using eminent domain this way could have a chilling effect on the issuance of credit to prospective homebuyers and investors.
"The government's ability to use eminent domain should not be used in such a manner," said Sean Fellows, GLVAR's government affairs director.
Fellows said the use of eminent domain in these circumstances is "an extremely poor public policy solution with serious ramifications for the future of real estate in our community."
Mortgage Resolution Partners stresses that its program is voluntary and that eminent domain would be a last resort to acquire any property.
"Our proposal is only a piece of the puzzle, not all of it," Georgiou said. "The state of Nevada is underwater on its residential housing."
He stressed the proposal targets a specific subset of loans and never takes the property.
Nevada representatives for Mortgage Resolution Partners include Georgiou and developers Michael Saltman, The Vista Group; Richard Plaster, Signature Homes; and Daniel Greenspun, Greenspun Media Group. John Vlahoplus, a former executive with Zurich Financial Services Group, founded the group, which is based in San Francisco.
The group met with the Las Vegas Review-Journal's editorial board last month.
Georgiou said a house in North Las Vegas with a $300,000 mortgage balance and a value of $200,000 would be bought by the city using private money for less than its market value. As an example, $150,000 would be paid to any previous mortgage owners, saving them from potential losses if the home were to fall into foreclosure.
He said the city-owned mortgage would be refinanced with a higher loan — $190,000 — leaving the owner with a lower principal and some equity in the house.
The owners' monthly payment would also lower from about $1,750 to $907, giving them extra cash each month "to utilize in the community," Georgiou said.
The $40,000 spread between the purchase and the new loan price would cover costs and pay back the city and investors. Mortgage Resolution Partners would receive a flat fee of $4,500 per transaction, while the city would get a 5 percent fee, he said.
The North Las Vegas City Council declined at its March 6 meeting to approve an agreement with the company. But the council is scheduling a workshop for later this month to discuss the issue further.
Mortgage Resolution Partners eventually hopes to work with other local governments in Clark County. Georgiou said the program aims to create incentives for homeowners to "stabilize the community, avoiding blight and crime."
Four California cities — La Puente, El Monte, San Joaquin and Orange Grove — have contracted with Mortgage Resolution Partners. Georgiou said Mortgage Resolution Partners has not acquired any loans in California.
San Bernardino County and two of its cities in January abandoned a Mortgage Resolution Partners proposal that would use eminent domain to seize troubled mortgages and write down debt for homeowners.
The county and the cities of Ontario and Fontana formed a Joint Powers Authority last year to study the issue. David Wert, a San Bernardino County spokesman, said the group decided to give up because there was no public support.
"We are talking about a start," Georgiou said. "It doesn't solve the whole probelm, but you have to start somewhere. What we are doing now is essentially nothing."
Contact reporter Chris Sieroty at
csieroty@reviewjournal.com or 702-477-3893.
Follow @sierotyfeatures on Twitter.