Pulte revives large Summerlin project planned before recession
September 16, 2016 - 3:36 pm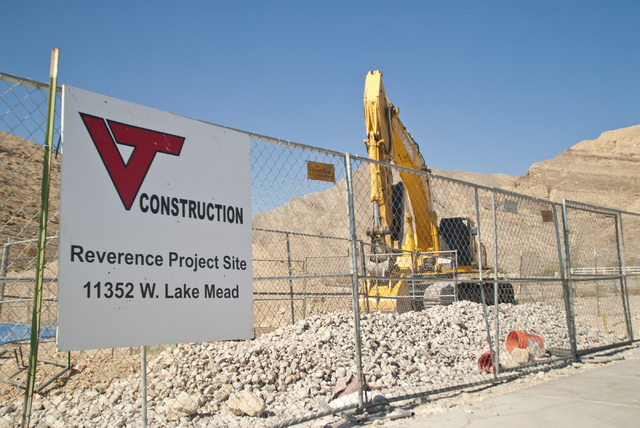 Planned before the economy crashed, a 300-acre housing development in Summerlin is still on the drawing board — but don't expect home construction just yet.
Pulte Homes, which bought half the project site for Reverence in 2006, bought the other half this year for a fraction of the price, property records show. The builder expects to start sales in spring 2017, said Jason Demuth, director of marketing for parent PulteGroup's Las Vegas division.
In a brief statement to the Las Vegas Review-Journal, Demuth attributed the project's delay to "market conditions" but did not elaborate.
Efforts to interview Pulte officials were unsuccessful, and Demuth did not answer some questions sent to him, including when Pulte expects to start building homes and when it expects to finish the project.
Reverence, west of the 215 Beltway between Lake Mead Boulevard and Cheyenne Avenue, at the northern tip of Summerlin, is slated to have a recreation center, parks, trails and a detention basin, according to Las Vegas city records.
"We will have a lot more to tell in the coming months, and I look forward to sharing that information with you as soon as we can," Demuth said.
Reverence would be one of the largest single-builder projects in Southern Nevada in recent years, but the project won't be finished overnight. Home construction has picked up in Las Vegas after it evaporated during the recession though it's nowhere near the levels of the bubble era.
Builders closed 4,008 new-home sales in Clark County this year through July, up 10.5 percent from the same period in 2015. By comparison, builders closed almost 39,000 sales in 2005 alone and just 3,900 in 2011, according to Home Builders Research.
Pulte bought 150 acres of the Reverence site in late 2006 for $123 million from Summerlin developer Howard Hughes Corp., county records show. Howard Hughes announced the project in spring 2007, saying Reverence would be the master-planned community's "greenest and most environmentally sensitive village." It also said the project was expected to have as many as 1,500 homes.
The Review-Journal reported in mid-2007 that Pulte planned to buy the remaining 150 acres by the end of that year. But the economy went into a tailspin in 2008, and no homes have been built.
Pulte bought the rest of the project site in March from Howard Hughes, but at a substantial discount from the first sale: It paid $40 million for 147 acres, county records show.
Howard Hughes spokesman Tom Warden confirmed in an email that Reverence would be the largest single-builder project in Summerlin in recent years, though efforts to interview him and Summerlin president Kevin Orrock were unsuccessful.
Dennis Smith, founder of Home Builders Research, said other builders aren't launching developments of that size today because they can't get enough land.
If they could assemble a few hundred acres, they "might" launch one, Smith said, but builders probably wouldn't have bothered a few years ago.
The demand for new homes "wasn't as consistent" as it is now, Smith said, and the future looks "brighter today than it did a couple years ago."
Contact Review-Journal writer Eli Segall at (702) 383-0342. Follow @eli_segall on Twitter.