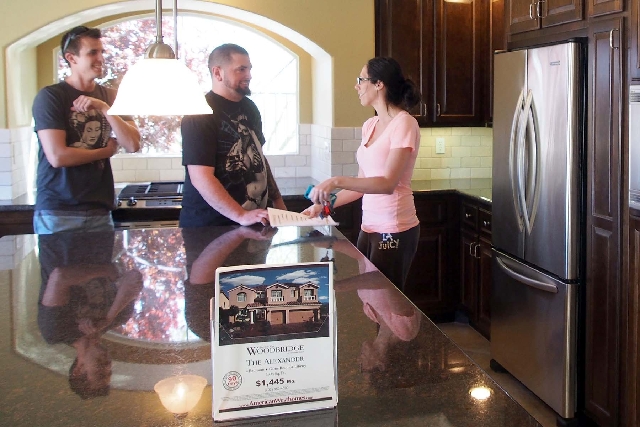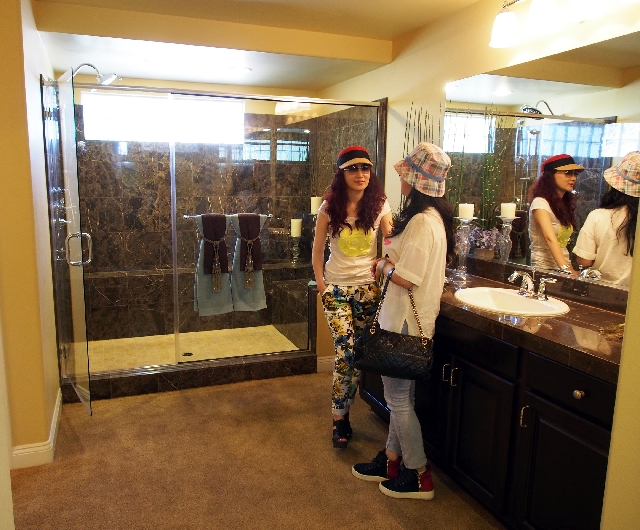 It's not normal, but it's normal for now.
That was the word Friday on Southern Nevada's residential real estate market, with a panel of experts at the Las Vegas Housing Outlook telling an audience of sales agents, builders and lenders they can expect more investors and higher prices in the next year.
"There are going to be some big booms and little busts," said panelist Marcus Conklin, a former assemblyman who is associate director of UNLV's Lied Institute for Real Estate Studies. "The difficulty is figuring out what is happening in the short and long run so you can plan your business to give you the biggest likelihood of success in the long run."
Here is what we know about the short run, at least: After cratering in the downturn, consumer demand for new homes has rebounded.
Take weekly traffic per subdivision, which roughly doubled in the past year. Net weekly sales per subdivision have skyrocketed, too, from around 0.1 in late 2011 to 1.3 today. That approaches the 1.6 sales per week of January 2006, though the market has just a third of the new-home subdivisions it had back then. Still, anything above 0.7 weekly sales is strong, said Dennis Smith, president and CEO of Home Builders Research.
Overall, local builders closed on 5,544 homes in 2012, up from 3,894 in 2011, and Smith projected they will sell 7,000 in 2013.
As sales have grown, so have prices. The median new-home price has jumped to $227,081, compared with less than $200,000 last summer.
There's a catch to this hot market, though. Builders aren't replacing what they're selling, and that could drive up prices even more. Fifteen percent of the market's 131 subdivisions have fewer than 100 lots left, and another 44 percent have fewer than 50. Sure, builders are buying raw land, but those parcels are a year or more away from construction, Smith said.
Plus, the lots builders do replace will come at a much higher cost, and that could mean higher home prices a year from now. Where an acre of unimproved residential land ran $175,000 in December, it cost $300,000 by early March. Builders will need to price that increase into their homes.
Investor interest should continue unabated in the near term.
"To expect changes that would dump a bunch of houses out there at once is not the way to think. It's not going to happen," Smith said. "Hedge funds have an unlimited amount of money to buy up product, and they're going to keep doing it. Get used to it. They're willing to accept 4 percent returns on a deal, and the small investor can't compete with that. It will stay that way awhile."
But panelist Zolt Szorenyi, president of real estate brokerage Lenders Clearing House, said he thinks investor traffic will taper off in about a year, as their favored inventory of newer homes in Summerlin and the southwest valley dwindles.
Nor did panelists predict a glut of homes in the next year as investors flip homes and the Legislature patched a state law that all but froze foreclosures.
First, consider those investors. You can't discount the fact that they're a huge part of the market, said panelist Ken LoBene, field office director for the U.S. Department of Housing and Urban Development. They still make up 50 percent of purchases here, double their 24 percent national share. As prices rise, their returns will fall, and they could start selling. How that affects the market will depend on how many properties hit the Multiple Listing Service at once.
Still, Szorenyi didn't sound any alarm bells. Even the largest investor groups don't own more than a few hundred homes, so it's not like any one group can dump thousands of homes on the market at once, he said.
"I don't see a big flooding of inventory when they do decide to sell," he said.
Don't count on a big jump in foreclosures, either. Since 2011, after Assembly Bill 284 passed, banks wanting to foreclose in Nevada have needed personal knowledge of who owns the promissory note on a loan, a tall order in an industry that bundled and sold off mortgages as securities. Assembly Bill 300 would ease personal knowledge requirements.
Though some industry experts have warned AB300 would open the foreclosure floodgate, Conklin disagreed. Foreclosures have inched up steadily anyway, he noted. Smith's numbers show that monthly notices of default on single-family homes have risen from 44 in October 2011, right after AB284 passed, to 1,561 in March.
"The uptick in foreclosures represents the willingness of banks to move forward slowly under current conditions," Conklin said. "This (AB300) will help them along, but I don't see the banks releasing 5,000 or 7,000 homes a month. (AB300) will have a marginal impact at best. When I talk to people at the banks, I get the same impression."
Smith said short sales, which are homes sold for less than the mortgage owed, are here for the foreseeable future. But, he said, their numbers should drop as marketwide prices rise. Higher prices mean more sellers with equity, which would make short sales increasingly unnecessary.
Other factors that could affect the market in the year ahead include the Department of Housing and Urban Development, which said it wants to back away from guaranteeing so many mortgages, and the federal Bureau of Land Management, which owns vast tracts of land across Southern Nevada.
LoBene said HUD backs 68 percent of local mortgages through its programs, but the agency wants to ease that down to 6 percent to 8 percent. The department is writing a definition of a qualified mortgage that will be more onerous, he said.
"We ultimately want to drive people to other forms of financing, and get back to using HUD for first-time and entry-level buyers," he said.
LoBene also said the Bureau of Land Management is "one of the large structural issues" the local real estate market faces. The bureau's imperative is to hold onto land until prices are high and bid up prices further in auctions that maximize values. The agency isn't interested in helping the valley grow at a reasonable rate, he said.
"It's perverse. The federal government is holding land until they can get the most money, and that's driving up housing costs," he said.
Panelists said they're also watching state Senate Bill 424, which would give homeowners first right of refusal to buy their single-family property back from the bank if they lived in the home continuously.
Say a homeowner defaults on a $200,000 mortgage, and the bank sells his home for $80,000 in a foreclosure sale. He would get first dibs on buying the home back at that lower price.
The audience gasped at the law's provisions when Conklin outlined them, with some attendees saying the bill would only encourage more foreclosures.
Contact reporter Jennifer Robison at jrobison@reviewjournal.com or 702-380-4512. Follow @J_Robison1 on Twitter.