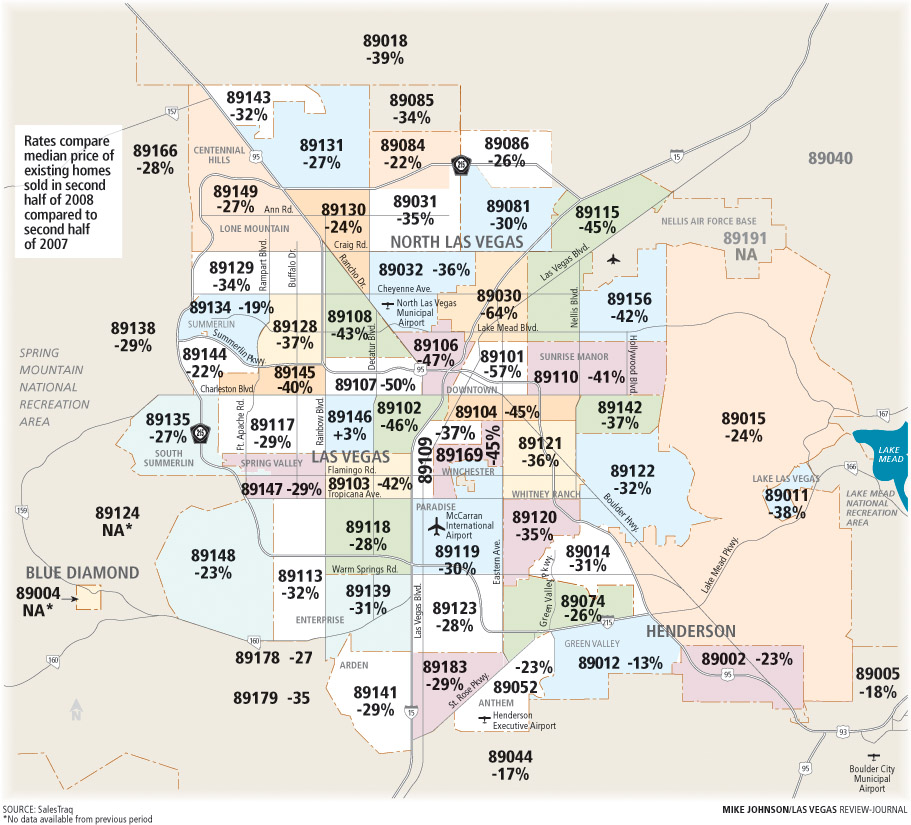 There was a time a few years ago when you could throw a dart at a ZIP code map of the Las Vegas Valley and be guaranteed to hit an area where home values are going up.
Now you'd need a marksman's aim to pinpoint ZIP code 89146, a small, mature neighborhood bounded by Charleston Boulevard to the north, Spring Mountain Road to the south, Decatur Boulevard to the east and Rainbow Boulevard to the west.
It was the only one of 58 local ZIP codes that showed any amount of home appreciation in 2008. Median prices in the area rose 3 percent, or $7,500, to $232,500 in the second half of the year, compared with $225,000 in the second half of 2007, SalesTraq, a Las Vegas-based research firm, reported.
The area has a large number of custom homes built in the 1970s on half-acre lots, SalesTraq President Larry Murphy said.
"(ZIP code) 89146 did not enjoy the big boom," he said. "Prices went up modestly in 2004 to 2006, probably 4 (percent) to 5 percent versus 20 (percent) to 30 percent."
The rest of the valley was plastered with declining percentages in double digits, led by a 64 percent plunge in 89030, a ZIP code in North Las Vegas that shows up among the hardest-hit foreclosure areas in the nation. Median home prices there dropped to $64,900 from $180,000, a difference of $115,100.
It was among 13 ZIP codes in which median prices fell by more than $100,000 in one year. ZIP code 89109, home to luxury high-rise Turnberry Place and its new sister property, Turnberry Towers, lost $185,000 on median prices. Another big loser was the inner-city 89101, where median prices dropped 57 percent, or $105,000.
"My, my, how times have changed," said Murphy, who reported 40 percent and 50 percent ZIP code appreciation rates in 2004. That fell to 20 percent in 2005 and 4 percent in 2006, then turned negative in 2007, down 4 percent.
Overall, median existing-home prices declined 27.7 percent in 2008 to $205,893 from $274,000 the previous year, SalesTraq reported.
Murphy notes that not all homes in a particular ZIP code lost value as indicated. The median price simply means that half the homes sold for more than that amount and half sold for less than that amount.
The 30,000-plus foreclosures in Las Vegas are largely to blame for falling prices. Of the 3,140 existing-home closings in December, 65 percent were bank-owned homes with a median closing price of $150,000, SalesTraq reported. The remaining homes had a median price of $183,000.
Even with so much gloom and doom in the market, real estate consultant John Burns of California ranks Las Vegas as one of his favorite long-term markets, along with Phoenix, Atlanta and Orlando, Fla. Those markets were speculator favorites, and that's why their corrections have been so steep, he said.
Just as homes in Las Vegas were overvalued a few years ago, Murphy thinks they're equally undervalued now.
"First of all, we recognize there's no such thing as absolute value," he said. "However, regardless of what these homes are selling for, what is the replacement cost? I would say it's undervalued when you can't re-create it for that price. There are homes selling at less than it costs to build."
It's like going to a pawn shop to sell a diamond ring for less than true value, Murphy said.
"Why do you do it? Because you're desperate, you need money," he said. "Same with builders. Some of them have had to sell homes at or below cost just to move the inventory."
Historically, stable housing markets are less affected by downturns, said Michael Ela, president of HomeSmartReports.com, a San Juan Capistrano, Calif.-based collateral risk analysis firm. Even in tough markets, property in stable areas tends to sell faster than those in volatile markets, he said.
"As you know, residential real estate is a world of micromarkets," Ela said. "I'm sure there are local markets in Las Vegas that have done considerably better — or lost less equity — than others. That's why I beat the drum for people to understand risk before they dive in. Knowing the price just isn't enough."
Frank Pankratz, president of Executive Home Builders, said there's somewhat of a "disconnect" between the 40 percent decline in ZIP code 89145 prices and what he's seen at One Queensridge Place, the luxury condo tower developed by his company.
"Everything has lost value," Pankratz acknowledged. "We're in that environment where values have been driven down by foreclosures. They're 70 (percent) to 80 percent of the market. That's going to be a fact of life for some time. Fortunately, we haven't had any foreclosures, but we have perception that becomes reality."
To the extent that the housing market is down, that represents opportunity for many, he said.
Realtor Robin Camacho of American Realty posts an online list of top 10 real estate values in Las Vegas and came up with a three-bedroom, 1,400-square-foot home near Boulder Highway and Sahara Avenue for $32,900. It last sold for $225,000 in 2005.
She just added her No. 3 pick, a four-bedroom, 4,500-square-foot home in the southwest valley for $349,000. It has granite countertops, upgraded tile, cherry cabinets, a spacious loft and master suite with a Roman tub and custom shower, all on a huge lot, Camacho said. It sold new in 2007 for $1.2 million.
"I showed a home that backed up to Desert Rose Golf Course … $59,900," she said. "It will go for about $75,000 and needs at least $30,000 in repairs to be a decent home, on a golf course on the east side, for $105,000."
Murphy of SalesTraq said everyone is looking for value and he can see people putting their money in gold as the value of the U.S. dollar falls. But you can't eat gold, you can't wear it (other than as jewelry) and it won't keep you warm, Murphy said.
"I'll tell you what has value," he said. "Food has value. People like to eat. Food, clothing and shelter. After that comes self-esteem and sex and all the things we learned in Maslow's hierarchy of needs."
Contact reporter Hubble Smith at hsmith@reviewjournal.com or 702-383-0491.
ON THE WEB
Download the PDF of home prices
+3%
89146
Percent increase for the Las Vegas ZIP code with the best home valuation for the last full year.
-27.7%
MEDIAN HOME PRICE
Percent drop in median existing-home prices in 2008. Now $205,893 from $274,000 the previous year.
-64%
89030
Percent decrease for the Las Vegas ZIP code with greatest decline in home valuation for the last full year.