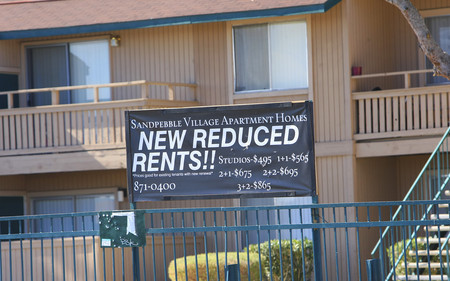 A drop in Las Vegas apartment rents may be sobering news for landlords and owners, but it comes at the right time for budget-conscious renters in the worst economic times since the Great Depression.
A December survey from Novato, Calif.-based RealFacts showed average rent of $768 a month in Las Vegas, an 8.2 percent decrease from $837 in the third quarter and a 12.5 percent drop from a year ago.
Of the 37 markets covered in RealFacts' quarterly report, only Phoenix had a steeper quarterly decline — 8.7 percent to $695 a month. Other markets posting big declines were Salt Lake City (7.3 percent to $745); Denver (6.1 percent to $819); Vallejo-Fairfield, Calif. (5.7 percent to $1,092); Seattle (5.4 percent to $981); and Reno (4.9 percent to $776).
Nearly 70 percent of markets showed a decrease in fourth-quarter occupancy rates, which is a precursor to falling rents, RealFacts spokeswoman Sarah Bridge said. That's in contrast to the previous two quarters, when occupancy was on the rise or holding steady.
RealFacts compared unemployment and vacancy rates and found that they're nearly identical when tracked over a period of time. It's safe to assume that changes in apartment vacancy will occur to the same degree as unemployment, Bridge said.
"There was an increase in employment in Las Vegas, and because that's not happening, because of job losses, people are actually moving out," she said. "That market has always been a transient location. People come in because they think there's an opportunity to make some money. They don't settle in for life. They move somewhere else. It's not an uncommon phenomenon. That's pretty much what happened all over the country."
Las Vegas saw occupancy levels drop just 1 percentage point from the previous quarter to 90.1 percent. Boise, Idaho, saw a decrease of 2.8 percentage points to 89.9 percent; Fresno, Calif., was down 2.2 points to 91.7 percent; and Salt Lake City was 1.9 points to 91 percent.
Spencer Ballif, apartment specialist with CB Richard Ellis in Las Vegas, reported 11.06 percent vacancy in December, down from a high of 11.4 percent in September.
"It actually went down, which is surprising," he said. "Things are still going to decline. We had rents decline 14 percent for the year. I think rents will go down, but maybe 5 percent to 7 percent."
New construction is projected to shrink to 2,400 units this year, compared with 6,400 in 2009, Ballif said. Apartments compete with "shadow rental" homes on the market, single-family homes renting for $800 to $1,000 a month.
Privately owned condos listed for rent aren't counted in market statistics. John Tippins of Valley Residential Services is listing two luxury high-rise condo rentals at Park Towers for $6,800 and $7,200 a month. He also has a large inventory of condos for lease on the Strip.
In addition to rent reductions, RealFacts found concessions offered at about 60 percent of properties surveyed. Common deals include one month of free rent for long-term leases and "look and lease" specials, or $200 to $500 savings for signing a lease on the first visit.
Las Vegas is one of several "code red" cities in which market conditions cause income-property "hemorrhage," Bridge said.
"In this instance, deep discounts in pricing aren't functioning as the tourniquet to stop occupancy rates from falling," she said.
Rents appreciated by an unprecedented 6 percent a year during the building boom in Las Vegas, but all of those gains have been lost, Bridge said.
"Usually, you don't see rising rents in Las Vegas like you saw," she said. "It seems that with the sinking of that (building) industry, that rents and occupancy have also gone down."
RealFacts reported on 106,680 apartment units in Las Vegas at 373 properties. Average rent ran from $506 for a 422-square-foot studio to $1,231 for a four-bedroom, 1,862-square-foot apartment.
Las Vegas-based Applied Analysis showed average rent of $770 in the fourth quarter, compared with $841 in the previous quarter and $881 a year ago.
Apartment rents are at a four-year low and property owners continue to adjust pricing to market realities, Applied Analysis principal Brian Gordon said. The accelerated downward trend follows a similar track in median resale home prices over the prior 24 months.
"Movements within the rental market tend to lag those in the for-sale market," Gordon said in his fourth-quarter market report. "Should historical relationships hold true to form, we would expect to see rental rates start to report flattening in three to five quarters."
A national apartment report from Marcus & Millichap Real Estate Investment Services moved Las Vegas up one place to No. 43 in a ranking of 44 markets based on supply and demand conditions.
Forecasts for weak job growth, rising vacancy and steep rent declines caused Las Vegas to remain near the bottom of this year's rankings.
Asking rental rates are expected to drop 4.8 percent this year to $782 a month, while effective rents, which account for concessions, will drop 6.6 percent to $708 a month.
Following the loss of 57,000 jobs last year, local employers are forecast to add 2,500 positions in 2010, or a 0.3 percent gain to metrowide payrolls.
Contact reporter Hubble Smith at hsmith@reviewjournal.com or 702-383-0491.