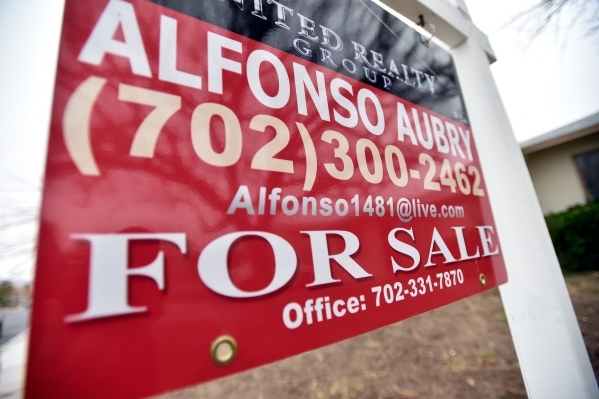 Las Vegans' window to break even financially on a home purchase lengthened slightly in the fourth quarter of 2015 compared with a year earlier, Zillow reported.
In its recently released Breakeven Horizon Index, the Seattle-based home research company said Las Vegas homeowners' break-even horizon was 1.7 years in the fourth quarter; in other words, a homeowner would have to stay in the house 1.7 years to recoup the purchase price.
Zillow says its median Breakeven Horizon gauges the number of years someone would have to live in a home for the accumulating costs of renting to exceed those of buying in a given area. After buying and living in a home for longer than the Breakeven Horizon, Zillow said it would expect homeowners would start to have more money and assets than if they had rented the same home over the same time.
The fourth-quarter result is up from 1.5 years in the fourth quarter of 2014. The latest result ranked Las Vegas 25th of 35 U.S. cities listed on Zillow's index.
The longest break-even horizon was 4.5 years for Washington, D.C. The shortest was 1.3 years, shared by Indianapolis and Dallas.
The national average break-even horizon was 1.9 years. In 70 percent of U.S. metropolitan areas, Americans can break even on a home purchase in less than two years, Zillow said in a statement, thanks to low interest rates, healthy home value forecasts and the relatively fast pace of rent increases in recent years.
Rents are flattening and expected to keep stabilizing nationwide, Zillow said, which could lengthen break-even horizons as homes continue to appreciate in value. Because of association fees, condominiums have a longer break-even horizon, Zillow said.
The three-plus-year break-even horizons for Washington, Los Angeles (4.1 years), San Diego (3.4 years), San Jose, California (3.2 years), New York City-northern New Jersey (3.1 years), Boston (3.1 years) and Baltimore (three years) may keep millennials from buying homes in those cities, Zillow said. Even if mortgages were more affordable in those cities, millennials typically average three years in the same workplace before moving on, the company said.
Visit http://prn.to/1SNyHVb to see the full Breakeven Horizon Index.
Find Matthew Crowley on Twitter @copyjockey