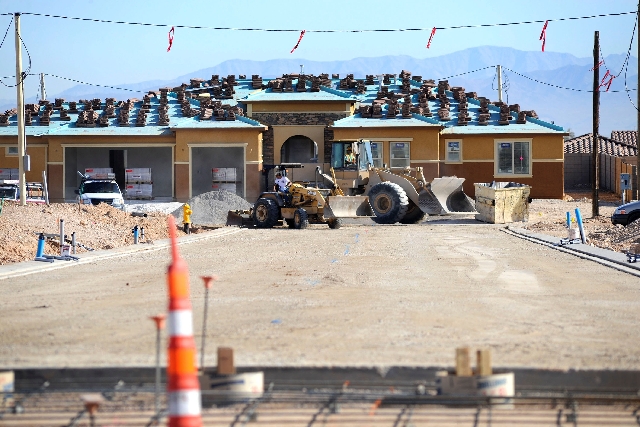 You've probably forgotten what a normal housing economy looks like.
But the latest numbers from the Greater Las Vegas Association of Realtors could give you a little reminder.
More than half — 55 percent — of home sales in March were traditional sales by homeowners, rather than banks selling through foreclosure or short sales. The share was roughly 33 percent in March 2012.
"I look at these statistics and see more signs of stability in our local housing market," said association President Dave Tina.
Some indicators were still out of whack, though.
The market saw fewer sales, and short supplies kept price appreciation unusually high. Association members sold 3,642 homes in the month, down from 4,388 units in March 2012.
The median sale price of a single-family home was $161,000, up 30.9 percent from $123,000 a year earlier. That's well above the 5 percent to 6 percent gain the market averaged in 2002, the year before the housing bubble began to inflate. The median existing-home price in the first quarter of 2002 was lower as well, at $137,000.
Credit for today's price gains goes to the usual suspects of the past year or so — strong demand and limited housing supply.
The association reported just 2,839 single-family homes listed without any offers. That was down 6.8 percent from 3,047 homes in February, and down 42.1 percent from 4,901 homes in March 2012. Experts link much of the supply crunch to a 2011 state law that makes it harder for banks to foreclose. Foreclosure sales have slipped to 9.5 percent of all sales, down from 80 percent in 2009. An additional 33.3 percent were short sales.
Median prices on bank-involved single-family home sales were below average, at $139,500 for foreclosure properties and $135,000 for short sales.
Tina said he expects short sales to stay strong through 2013, because Congress extended the Mortgage Forgiveness Debt Relief Act, which exempts forgiven loan amounts from income taxes, to the end of the year. If the law isn't renewed after Jan. 1, short sales could taper off, he said.
Plus, a state law before the Legislature now would tweak existing statutes that have made it tougher for banks to foreclose.
Despite their big March gains, local median prices were a little more than half of their 2006 peak of more than $300,000.
Contact reporter Jennifer Robison at jrobison@review
journal.com or 702-380-4512. Follow @J_Robison1 on Twitter.