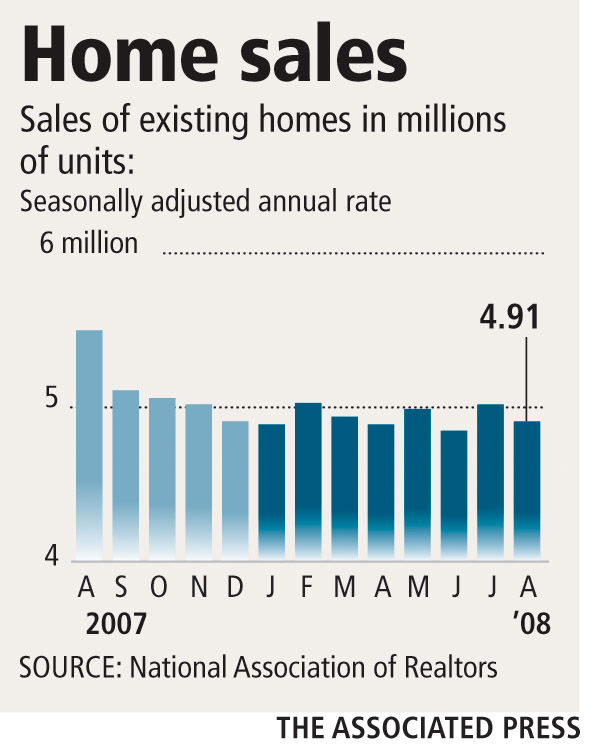 Sales of existing homes in the West climbed higher in August from a year ago, bucking a national trend as buyers snatched up sharply discounted foreclosed properties in Nevada, California and Arizona, according to two reports Wednesday.
The Las Vegas metro area, which has had some of the highest foreclosure rates in the nation for more than a year, had the biggest sales spike, according to The Associated Press-Re/Max Monthly Housing Report.
About 106,000 existing homes and condos were sold last month in the 13-state region. Without adjusting for seasonal factors, that number is up about 1 percent from the same month last year and flat versus July's figures, according to the National Association of Realtors.
The median price in the West slumped by almost 24 percent from a year ago to $251,600, the association said.
Nationally, existing-home sales declined 15 percent from August last year, on an unadjusted basis, and the median price tumbled 9.5 percent to $203,100.
In the Western region, states such as California and Arizona remain saddled with bank-owned homes, many of them bought during the housing boom with risky loans that have led to the current U.S. financial crisis and calls for a $700 billion bailout.
But heavy discounting has been gradually luring buyers in recent months, and August continued that trend.
"People are taking advantage of those lower prices now," said Luke Tilley, a senior economist with Global Insight in Philadelphia.
Four metropolitan areas — Los Angeles, San Francisco, San Diego and Phoenix — were among the top five markets with the steepest median home price declines in the nation last month, according to the AP-Re/Max report released Wednesday. The data includes all home sales recorded by all local agents, regardless of company affiliation.
Seattle and Portland, Ore., meanwhile, were among the top 10 metros in the nation with the most pronounced drop in home sales.
In Las Vegas, sales of existing homes rose 60.9 percent from a year ago to 3,218 in August, local research firm SaleTraq reported. It's the second straight month of more than 3,000 sales. The median price was $200,000, down 27 percent from a year ago. The year-to-date total of 18,799 existing-home sales is down 5.2 percent from a year ago.
"It's really been a resurgence of the first-time homebuyer and investor that have come back into the market with the increase in foreclosure sales," said Jason Braford, ZipRealty Inc.'s district director in Las Vegas.