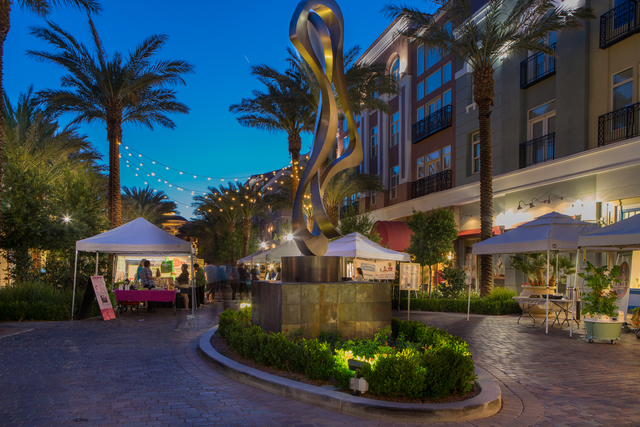 Henderson city officials this week approved plans expected to create a residential and commercial center in the western part of the city.
The Henderson City Council voted Tuesday to move forward on its West Henderson vision by allowing future development to include a variety of residential and commercial uses, including high-rise residential, courtyard apartments, retail, offices, movie theaters, a hotel and recreational areas.
"It's building a center for, potentially, the entire west side of Henderson," William Fain, partner at Johnson Fain, the Los Angeles-based architecture firm leading the project, told the council. Being close to Interstate 15, "this area becomes a gateway to Henderson and the entire valley."
A development agreement is projected to happen in the next eight to 10 months, according to attorney Tom Amick, partner at Kaempfer Crowell.
After almost 15 years of standing vacant, The District at Green Valley Ranch is getting a new neighbor. The City Council also approved Centerpointe Senior Living, which is planned on 3 acres at 2151 Village Walk Drive.
The age-restricted facility for residents 62 and older will provide congregate care, assisted living and memory care.
While The District and senior housing do not seem to mix, David Crockett, manager at District Holdings LLC, who represents the owner, assured the council that it will be a harmonious partnership, because seniors and their relatives are potential customers for The District.
Jocelyn Holzwarth, a representative of the Green Valley Ranch Community Association and member of the planning commission, also came out to support the project. She said none of the residents in the roughly 4,000-home community has told the board they oppose this project.
"I couldn't think of anything better than this project for this property," Holzwarth said.
Contact Sandy Lopez at slopez@reviewjournal.com or 702-383-4686. Follow @JournalismSandy on Twitter.
2151 Village Walk Drive, Henderson NV