Rising interest rates cast shadow over valley's housing market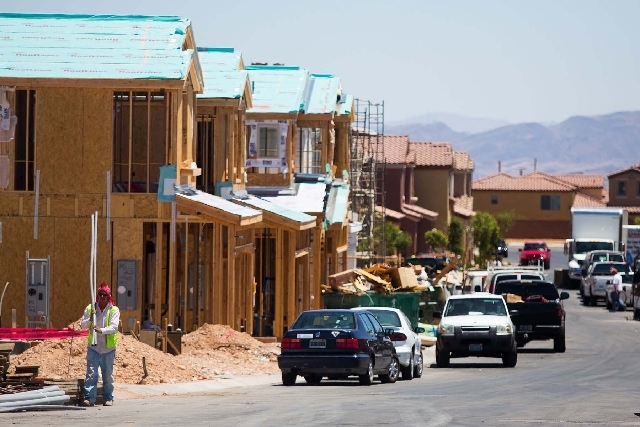 Forget rising home prices.
These days, home buyers are obsessing over higher interest rates.
So much so that rising rates have catapulted past price gains as the No. 1 worry among consumers, according to a June survey by real estate website Trulia. And 56 percent of buyers told Trulia that they would rethink buying if rates hit 6 percent.
Rates remain well below 6 percent, and industry observers say that'll be the case for the next few months to a year. But as rates creep up, buying patterns could change.
Some consumers will abandon the market.
Others will decide to buy sooner.
Either way, builders and real estate brokers are paying close attention, already strategizing on how to handle spikes.
"Absolutely, we're watching rates. You have to monitor anything that affects the buyer's ability to qualify for a home," said Robb Beville, president of Las Vegas-based Harmony Homes. "If it starts to affect our sales, we'll react to it."
FIXED MORTGAGES JUMP
If rates haven't affected sales yet, it's only because increases are recent. Rates started ticking up in early May, and jumped noticeably in June after Federal Reserve Chairman Ben Bernanke said the agency might phase out federal bond buys that kept rates low. Bernanke reversed course a bit Thursday, saying bond purchases will continue as long as unemployment stays high. Still, the average rate on a fixed, 30-year mortgage jumped to 4.68 percent the first week in July, according to the Mortgage Bankers Association. That was up from 3.35 percent in May, and the highest average since mid-2011. That means bigger payments: The monthly installment on a $175,000 loan is $771 at 3.35 percent, but $906 at 4.68 percent.
It's hard to say just how higher rates will affect local sales. On one side, they can curb closings: With bigger monthly payments, fewer buyers qualify for a loan, said Nat Hodgson, executive director of the Southern Nevada Home Builders Association. Numbers from the association show that every $1,000 increase in the cost of buying prices 1,400 local households out of the market. That hits entry-level and first-time buyers the hardest, because they're particularly payment-conscious, Beville said. Tacking just $10 or $20 onto a payment can price out some first-timers.
Moreover, fewer people may try to buy if they think pricier loans will keep them from qualifying. Loan applications have stumbled for four weeks straight, including a 4 percent drop in the week that ended July 5, and an 11.7 percent decrease a week earlier, the Mortgage Bankers Association said. Loan applications are down about a third from July 2012.
But as word gets out about rate hikes, more buyers may jump in before rates go up even more. With land prices doubling over the past five months and median home prices spiking more than 30 percent year-over-year in spring and early summer, higher rates only add to the urgency, said Dennis Smith, president and CEO of Home Builders Research in Las Vegas.
Throw in an uncertain jobs market and rising equity, and it's tough to get a clear read on how interest rates alone might move new-home sales, Hodgson said.
It's just as hard to determine whether higher rates will affect resales. Richard Lasica, a broker with Realty Executives, said his clients haven't complained about rates — yet.
A few buyers have said they need to buy less house, but there's no ground swell against the increases.
"But let those interest rates sit around a month or two more, and you'll start to hear it. I guarantee it," Lasica said. "People will say, 'This isn't as good a deal as I thought it was.' "
HIGHER RATES EQUAL LOWER SALES
Those deals could get worse. Industry observers agree rates are headed up by a half to a full percentage point in the next year or so. That would put rates in the mid-5 percent range, closing in on that 6 percent threshold that would make more than half of consumers reconsider buying. And that'll be on top of what's likely to be another year of price gains.
"I think the combination of higher rates and prices will slow sales down somewhat. It'll have to," Lasica said.
But if the sales drag is noticeable, builders and sellers will adjust their marketing tactics, and that could blunt the rate fallout.
Beville said Harmony won't tinker much with incentives if a subdivision's monthly sales drop from six homes to five. If those six closings fall to one, though, expect Harmony and other builders to help buy down interest rates, or offer more help with closing costs, he said. Lasica said builders might also throw in free appliances and other upgrades to keep homes affordable. And though resale sellers are typically behind the curve on incentives, Lasica said brokers would encourage them to help pay closing costs if sales slump. But builders and sellers may not have to make many concessions. Sure, rates will keep rising, but the gains should be gradual enough to avoid rate shocks that stop sales cold, Beville said.
Plus, the economy's improving, and that should spur housing demand, said Jed Kolko, Trulia's chief economist. Also, as rates rise, refinancings dry up, and that could force banks to make more home loans, Kolko added.
And even at 5 percent to 6 percent, rates would be historically low, so buying would be a better deal than renting. In Las Vegas, interest rates would have to reach 10.8 percent before it made sense to sit out the market, Kolko said.
"I suspect a lot of consumers will be redoing the math to see what they can afford at higher rates. Some people might give up on searching altogether, but many will keep searching with a lower maximum price in mind," Kolko said.
Contact reporter Jennifer Robison at
jrobison@reviewjournal.com or 702-380-4512.
Follow @J_Robison1 on Twitter.