Sales prices for Las Vegas apartment complexes rising quickly
September 20, 2016 - 6:19 pm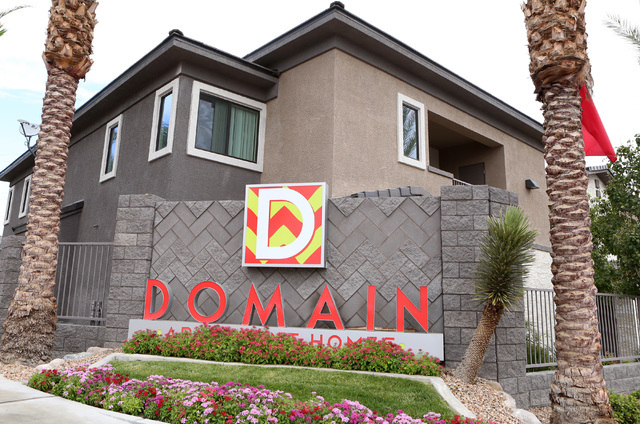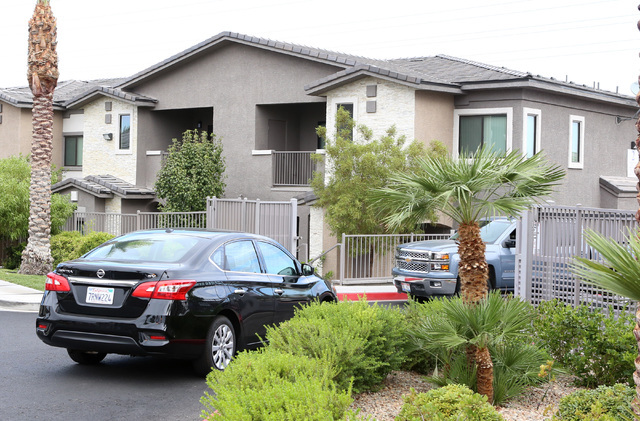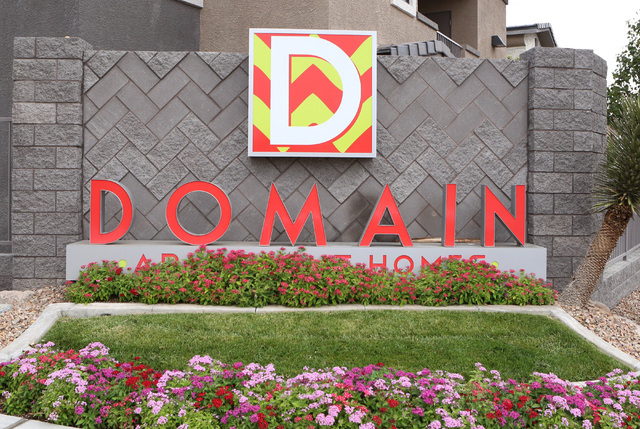 In the suburbs of Henderson, across from a strip mall with Trader Joe's and Kmart, the Domain apartment complex boasts poolside cabanas, a pet wash and a 50-inch TV in every home.
It also filled with tenants and, like other rental properties in the valley, sold for big money this year, with the new owners paying more than double the market's average last year.
Sales prices for Las Vegas Valley apartment complexes are rising fast, just a few years after the market was awash in foreclosed or underwater properties that sold at steep discounts. Rents are rising, vacancies are shrinking and developers are building a burst of properties – perhaps too many, observers say – making the apartment sector one of the busiest in Southern Nevada commercial real estate.
Investors are paying an average $110,000 per unit this year for Las Vegas-area apartment complexes, up from about $71,840 per unit in 2015, according to brokerage firm Colliers International.
These pricey deals could cause problems for buyers if rents drop – or don't rise as fast as they hoped – and vacancies climb amid all the new competition. But for now, with properties filling up and tenants paying above-average rents, landlords also are paying more.
"It's a very hot market," said John Stater, Las Vegas research manager for Colliers.
Amid a national apartment boom, the valley's market has surged because of soured personal finances and changing tastes. Many people could not afford or qualify to buy a home after the economy collapsed, pushing them into rentals, and many people, especially younger adults, simply prefer to rent.
The average asking rent for local apartments in the second quarter was $927 per month, up 12 percent from the same period in 2012, and the vacancy rate was 4.2 percent, down from 7.5 percent, according to Reis Inc., a New York-based research firm.
Notable sales this year, some involving the same groups, include:
— Nevada West Partners, one of the biggest apartment developers in the valley, sold Domain, 831 Coronado Center Drive, for $58.2 million, or almost $189,000 per unit, to Houston-based Hines.
— Nevada West sold The Wyatt, 7017 S. Buffalo Drive, for about $57.3 million, or roughly $185,900 per unit, to Illinois-based Inland Real Estate Group of Cos.
— Houston's Camden Property Trust sold 15 apartment complexes, a retail center and 20 acres of land for $630 million to Bascom and Los Angeles-based Oaktree Capital Management, in what's said to be the most lucrative Las Vegas apartment sale in memory.
One reason for the higher investment prices is that newer, more expensive "Class A" buildings are being sold. There are fewer foreclosed or underwater properties on the market, although three of four years ago, "that's basically what you sold to make a living," said broker Doug Schuster, of Newmark Grubb Knight Frank.
More than a few people have questioned whether investors are overbuilding. Population and employment growth, however, have boosted demand for housing, and rents and occupancy rates "have held their ground" despite all the construction, said Brian Gordon, a principal with Las Vegas consulting and research firm Applied Analysis.
New properties have filled with tenants. Domain, which opened in 2014, was 95 percent occupied around the time it sold, and The Wyatt, which opened last year, was 96 percent occupied, the buyers said.
Such properties aren't the only ones fetching big prices: Class B buildings, which are typically older, have fewer amenities and charge lower rents than Class A, are selling for more than $100,000 per unit.
Los Angeles-based TruAmerica Multifamily, which buys mostly Class B, acquired three local properties this month – Oasis Gateway, 6501 Vegas Drive; Oasis Palms, 2500 N. Rainbow Blvd.; and Oasis Vinings, 6100 Carmen Blvd. – for $83.5 million combined, or about $104,115 per unit.
Despite the increased activity, Las Vegas' market isn't as heated as other cities, though in some ways it's approaching boom-era levels.
CBRE Group broker Spencer Ballif puts the current average sales price at $109,000 per unit. That's far above the average $36,000 that investors paid in 2011 but below the average $112,000 paid in 2007, before the economy went into a tailspin.
Moreover, the average asking rent for U.S. apartments in the second quarter was $1,252 per month, up 15.6 percent from the same period in 2012, according to Reis.
Rents in several cities have reached new highs, industry executives say, but not in Las Vegas – at least not yet. Ballif expects local rents this quarter to surpass the previous peak, reached in 2007.
"We're probably the last one to get there," he said.
Contact Review-Journal writer Eli Segall at (702) 383-0342. On Twitter at @eli_segall