Shea Homes' Ardiente site features solar-powered units
October 6, 2012 - 1:04 am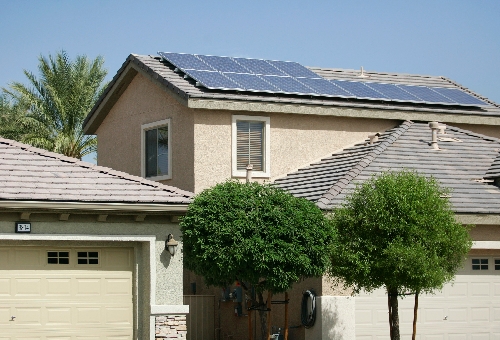 Live in the desert, run your air conditioner and pay nothing on your electric bill.
Sound too good to be true?
Not at the Ardiente subdivision by Shea Homes in North Las Vegas, where a solar power system generates as much electricity as the average two-person household would need for an entire year, sales manager Ryan Smith said.
They're called SheaXero homes, named for the zero dollars homeowners pay for electricity each month, Smith said.
"It's more than just solar. It's an ultra-efficient home that's designed to use 50 percent to 60 percent less than a conventional home," he said. "The neat thing about the system is it's truly designed to produce a net-zero bill and it's worked out very well so far."
Smith said Ardiente had its best sales month with nine closings in September, which is normally a slow month. Shea has doubled its year-over-year sales since launching the SheaXero homes in February, he said.
The homes are based on software models set up by the Department of Energy that calculate the average energy consumption for two people. The solar power systems are designed to produce enough electricity for an entire year.
Most residents at the age-restricted Ardiente community are on fixed incomes, so it's important for them to save money, Smith said. The savings can add up to thousands of dollars a year, especially with escalating energy rates.
"You still have a $10 connection fee," Smith said. "We have a couple who've had the system for two years without a bill."
Bob Boehm, mechanical engineering professor and director of the Center for Energy Research at University of Nevada, Las Vegas, said there's no way to predict how much of an effect energy-efficient homes will have on the housing market.
When the cost of a solar system is wrapped into the mortgage, the savings in monthly electric bills is larger than the increase in the mortgage payment, so net saving is generally positive, Boehm said.
He collaborated with home builder Pulte Homes and NV Energy to design a zero-energy house. Working on a contract from the Department of Energy, he developed a solar photovoltaic system that would decrease peak electrical demand in residential developments by 65 percent.
"I think it's on its way," Boehm said. "What's happened generally in the PV market is efficiency has gone up and pricing has come down. When you couple those, that makes a good combination."
Smith of Shea Homes said there's no extra cost for the solar package at Ardiente. The base price for a 1,580-square-foot home that includes the photovoltaic system is $197,990. Other builders charge about $35,000 more for a "green home," he said.
Scottsdale, Ariz.-based Shea Homes has partnered with Solar City, one of the top companies in the nation for implementing and integrating solar systems.
Shea has built 3,000 green-certified homes since 2007 with features that include Energy Star appliances, dual-pane vinyl windows, blown-in recycled cellulose insulation and the solar power system.
To date, those homes have saved homeowners a collective $7 million, or about 65 million kilowatt hours of electricity, the company said.
Contact reporter Hubble Smith at hsmith@reviewjournal .com or 702-383-0491.