Shopping for a new home? You might get a break on mortgage rates
Updated May 31, 2023 - 6:45 pm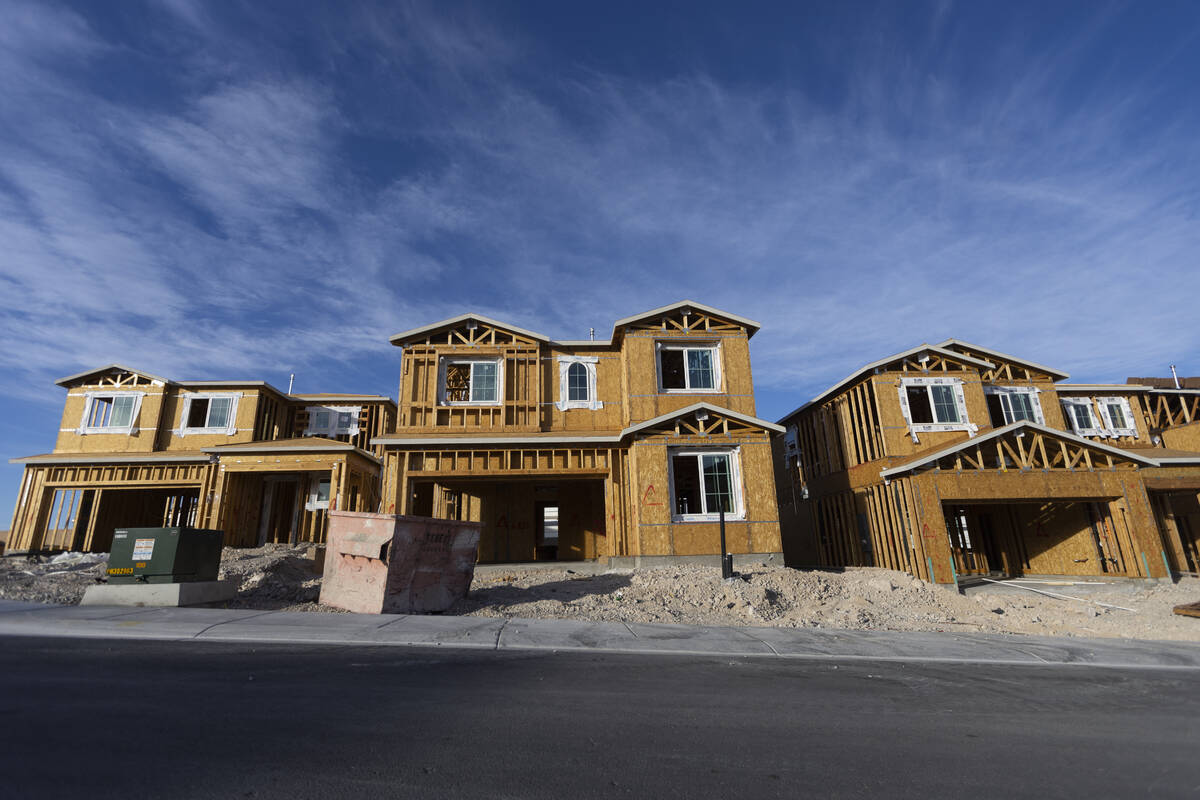 With mortgage rates at their highest level since mid-March, homebuilders in Las Vegas are employing a long-used tactic to help keep sales flowing during a tight market — reduced mortgages.
Klif Andrews, the division president for Tri Pointe Homes, one of the largest homebuilders in the country, said that "most homebuilders have an affiliated mortgage company," which offers them some flexibility. He said, as an example, homebuilders can sometimes offer a new-home buyer a mortgage rate reduced by 1 percentage point for a specific period of time.
"Some people just want to see their monthly payment a bit lower and it's easier to budget for that," he said. "It's easier to understand that they've got a cheaper mortgage responsibility, and often that rate incentive that we offer might be a temporary one. We might offer it for the first two, three years of a home."
High rates can add hundreds of dollars a month in costs for homebuyers, limiting how much buyers can afford in a market.
According to online real estate brokerage Redfin, the typical U.S. homebuyer's monthly mortgage payment hit a record-high $2,614 last week. Mortgage buyer Freddie Mac also reported that the average rate on the benchmark 30-year home loan rose to 6.57 percent — the highest since mid-March — from 6.39 percent last week. The average rate a year ago was 5.10 percent.
The rise in mortgage rates comes amid the backdrop of a longstanding inflation crisis and with lawmakers in Washington working to sell a deal that would raise the debt ceiling to avoid a government default.
Redfin Economics Research Lead Chen Zhao said in a release that these factors are playing into the latest surge in rates.
"People may be wondering why rates are surging as we come up against a potential debt crisis. Right now, the way investors are reacting is the driving force. Mortgage rates have increased over the past two weeks because it looks more likely that the U.S. government will avoid hitting the debt ceiling," Zhao said.
"That may seem counterintuitive, but optimism is driving rates up because an economic crisis would lead to the Fed (Federal Reserve) lowering rates as they try to prevent a recession. Financial markets felt the risk of default was unusually high for the last month or so, which caused rates to stay lower than they otherwise would have been. Now that Democrats and Republicans have come to the negotiating table and are making some progress toward a deal, rates are going up," Zhao added.
Nicholas Irwin, an assistant professor in the Department of Economics at the Lee Business School at the University of Nevada, Las Vegas, said inflation is the No. 1 economic worry for the government. He said there have been indicators that interest rates may in fact drop sometime soon, however he's not betting either way.
"We have seen signs that things are slowly down," Irwin said. "Inflation isn't growing as fast as it was, but it hasn't started to turn around as quickly as we like."
Irwin said the economy is in "uncharted territory." But the fact that gas prices have dropped and the pandemic appears to be over means there is a chance of market stability.
Andrews said the tactic of offering to help with home buyers' mortgages is one homebuilders generally employ when interest rates are high. He noted they also offer reduced pricing or cash at their design studio as other incentives.
Andrews said he sees the real estate market as reentering an "equilibrium" after a red hot previous two years dating back to the start of the pandemic when an unprecedented buying frenzy took off across the nation.
He said the mortgage rate issue is a temporary "headwind" and mortgage-based incentives for homebuilders are a way for them to keep sales active during such a period.
"Homebuilders do this in different cycles of the market. This is not new, I've been in this business for 35 years and we've offered this during numerous cycles," he said. "And typically we offer this when interest rates are high when affordability starts to become a problem for the buyer, and it's also a benefit for the home buyer because we are able to offer something that a resale home seller can't."
Contact Patrick Blennerhassett at pblennerhassett@reviewjournal.com or 702-348-3967.