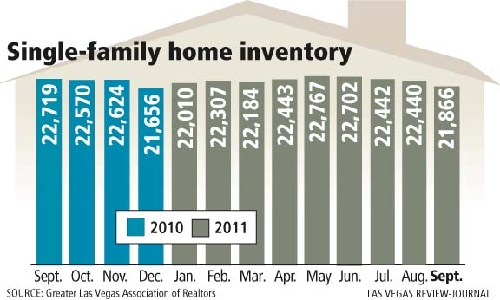 Sales of single-family homes in Las Vegas increased 15.5 percent in September from a year ago, while the median price fell 8.6 percent, the Greater Las Vegas Association of Realtors reported Monday.
It's a trend that's been prevalent throughout the year as investors take advantage of discounted prices on bank-owned homes and short sales, or sales for less than the mortgage owed.
Las Vegas Realtors sold 3,242 homes in September at a median price of $123,400, a 2.8 percent increase from the previous month.
Inventory of homes on the Multiple Listing Service decreased 3.8 percent, to 21,866 in September. Of those, 10,678 are available without pending or contingent offers.
Combined with condos and townhomes, Las Vegas home sales are on pace to reach about 47,000 this year, which would surpass last year, Realtors association President Paul Bell said.
"We had slightly higher sales level in the third quarter over the second quarter, and that consistent activity bodes well for the remainder of the year," Bell said. "We're seeing the effects of more retirees moving here and buying in all price ranges, particularly below $250,000."
About 45 percent of September home sales were real estate-owned, or bank-owned, and 25 percent were short sales. The rest were traditional sales, including homes purchased by investors at trustee auction sales.
"I think we'll see more cash buyers, at least for the next six months," Bell said. "With the expansion of the Switch (computer server) facility and the opening of the VA hospital in North Las Vegas, they'll need more medical employees and tech employees. These cash buyers see the future of Las Vegas growth."
Frank Nason of Residential Resources said he has heard a lot of talk about "fixing" the housing market coming from several different quarters. Most analysts agree the market must get rid of the "junk" inventory — foreclosures and short sales — clogging the pipeline before it can rebound.
"What happens after the REO (real estate-owned) and short sale inventory is finally reduced to a much more normal level?" Nason asked.
Las Vegas-based Home Builders Research estimates 3,500 new-home sales this year, the lowest level on record and less than one-tenth of resale activity. The notion that REOs and short sales are taking away from new-home sales is undeniable, Nason said.
"I don't make these points to beat up on the new-home developments. They've been whacked enough as it is," he said. "But to foster the idea that clearing out the REO and short sale inventory will make the market all rosy is ignoring the junk that exists in the lot inventory held by new-home builders and developers.
Unless the land plans developed during the run-up to the collapse are liquidated at the same time as the REO and short sale inventory, there are other structural issues that will continue to impact our market."
Bell said he's seeing a gradual improvement in prices and tightening inventory of homes available for sale in master-planned communities and near employment centers.
Total single-family home sales volume for September was $494.6 million, a 3.8 percent increase from September 2010.
Contact reporter Hubble Smith at hsmith@reviewjournal.com or 702-383-0491.