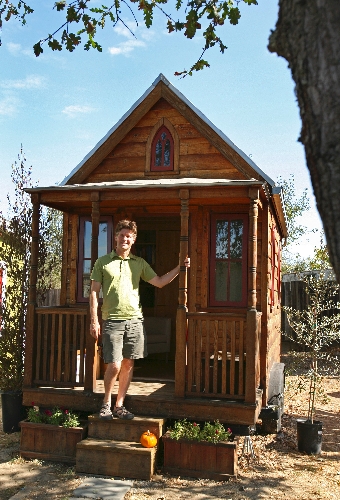 GRATON, Calif. — As Americans downsize in the aftermath of a colossal real estate bust, at least one tiny corner of the housing market appears to be thriving.
To save money or simplify their lives, a small but growing number of Americans are buying or building homes that could fit inside many people's living rooms, according to entrepreneurs in the small-house industry.
Some put these wheeled homes in their backyards to use as offices, studios or extra bedrooms. Others use them as mobile vacation homes they can park in the woods. But the most intrepid of the tiny-house owners live in them full time, paring down their possessions and often living off the grid.
"It's very un-American in the sense that living small means consuming less," said Jay Shafer, 46, co-founder of the Small House Society, sitting on the porch of his wooden cabin in California wine country. "Living in a small house like this really entails knowing what you need to be happy and getting rid of everything else."
Shafer, author of "The Small House Book," built the 89-square-foot house himself a decade ago and lived in it full time until his son was born last year. Inside a space the size of an ice cream truck, he has a kitchen with gas stove and sink, bathroom with shower, two-seater porch, bedroom loft and a "great room" where he can work and entertain — as long as he doesn't invite more than a couple guests.
He and his family now live in a relatively sprawling 500-square-foot home next to the tiny one.
Shafer, co-owner of the Tumbleweed Tiny House Co., designs and builds miniature homes with a minimalist style that prizes quality over quantity and makes sure no cubic inch goes to waste. Most can be hooked up to public utilities. The houses, which pack a range of amenities in spaces smaller than some people's closets, are sold for $40,000 to $50,000 ready-made, but cost half that if you build it yourself.
Tumbleweed's business has grown significantly since the housing crisis began, Shafer said. He now sells about 50 blueprints, which cost $400 to $1,000 each, a year, up from 10 five years ago. The eight workshops he teaches around the country each year attract 40 participants on average, he said.
"People's reasons for living small vary a lot, but there seems to be a common thread of sustainability," Shafer said. "A lot of people don't want to use many more resources or put out more emissions than they have to."
Compared to trailers, these little houses are built with higher-quality materials, better insulation and eye-catching design. But they still have wheels that make them portable — and allow owners to get around housing regulations for stationary homes.
The homes would not be permitted in Clark County because they don't meet minimum square footage requirements set forth in development ordinances, said Monica Caruso, spokeswoman for the Southern Nevada Home Builders Association.
"I saw them. They're really cute," she said. "I could see them in a village, maybe a cluster with a mini park."
The smallest home sold in Clark County in the past three years is a 335-square-foot apartment conversion in Mesquite, housing analyst Larry Murphy of Las Vegas-based SalesTraq said.
"I think this idea is more of a novelty, a niche thing," Murphy said. "If you look at density on that, you still have to have a minimum-size lot. You wouldn't want to put 436 of those on an acre. It reminds me of seeing row after row of shacks in Mumbai in 'Slumdog Millionaire.' I think of one word — claustrophobic."
Review-Journal writer Hubble Smith contributed to this report..