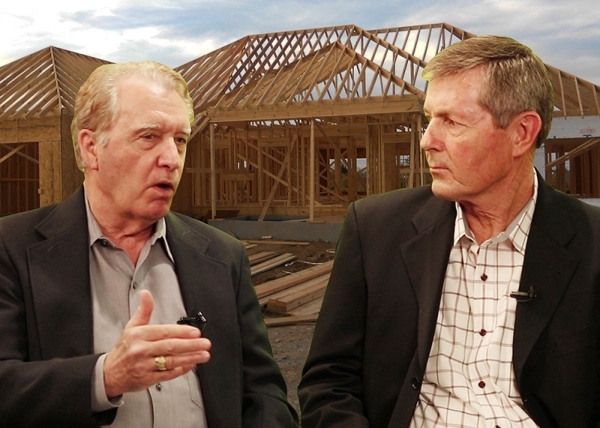 New homes are getting more energy efficient, remotely wired and trendy and there will be more of them built than in recent years, according to the new president of the Southern Nevada Home Builders Association.
But they're not getting any cheaper.
A combination of an improving economy and still historically low-interest rates should mean the rebounding new-home market should continue to improve, said Frank Wyatt, 2016 SNHBA president and head of Pinnacle Homes of Las Vegas. It's his second stint as leader of the homebuilders' group; the first time was in 2009, in the depths of the housing crunch.
The home-building industry seems to be out of the woods now, at least in Las Vegas, he said. But that doesn't mean anything like the new-home production that was springing up during the hey-day years that preceded the recession.
"By historic terms, Las Vegas used to build between 20,000 to 30,000 homes a year — during very good times — and we're back to building roughly between 7,000 to 8,000 homes," Wyatt said. "Maybe we'll get to 9,000 or 10,000 in the next year or two. I believe that's closer to the new normal than the 20,000 or 30,000."
Thanks to innovation, building codes and consumer demand, new homes use much less energy than previously, he said. Some of that is the big stuff, like the construction materials and processes or how the house is situated on the lot, and some are seemingly small. Wyatt noted that window frames used to be made of aluminum but now are vinyl, which transmits less heat.
"So the houses we're building now are way more energy efficient than 20 to 30 years ago," he said.
They're also more water efficient, he added.
More features in newer homes also can be engaged more remotely and easier than before, he said, with cool tech features like light switches and other powered features — including cameras that can watch the dog or alert owners to problems — that can be turned on or off or adjusted from a cellphone or remote device.
Wyatt expects home prices to creep up this year, not rapidly but certainly. The average price of a new home in Las Vegas now is north of $300,000.
"I don't think they're going down," he said. "Land is not getting any cheaper. Land is not any easier to find."
The cost of construction materials also is rising, he said.
That's even more of an issue in the areas that have attracted the most buyers of late, he added, like Summerlin or Green Valley.
"Land is extremely expensive there, so it's a challenge for builders to deliver a house at the $300,000 price range," Wyatt said. "In fact, I'd say you'd be hard pressed to find a house at that price range down there."
He expects interest rates, which are now around 4 percent to follow the same path: Creep up slightly but still be low by historical comparisons.
"Most experts would tell you the rates are going to go up this year, but if they do, they're probably not going to rise substantially," Wyatt predicted. "It's a good time to lock a rate in, and if you're able to buy a home right now, you're not going to get a better price on a home and you're not going to get a better interest rate than you can today."
Las Vegas has a good mix of new housing that ranges from less expensive, often single-builder infill neighborhoods without all the frills and gates to the amenity-laden master-planned communities with trails, parks, clubhouses and places to exercise and play, he said.
Builders of smaller communities can put together a pleasant feel for a neighborhood with perimeter and interior landscaping, and sometimes an entry gate or feature, he said, which can provide less expensive homes for those who might not have kids or want (or be able to afford) all the extras
"But you have a limit on what you can do at a small size. As you get into the bigger master plans, the scope of the landscape and just the way the streets are designed become a big asset," Wyatt said."You've got walking trails; you got parks for the kids with playgrounds, that kind of thing. I think, for people with families, the master plans seem to be the most sought after."
He also expects the once-old, now-new feature of two-generation homes to continue, "even in smaller homes." Those models offer an updated version of a pre-World War II throwback of Dad and Mom living with adult-age sons and daughters — or the other way around. In some versions, the multigeneration space is like a small apartment, often with a kitchen area, "so they can live somewhat separated from the rest of the family but still connected."
Pinnacle, Pardee, Lennar, Woodside and others offer multigeneration models.
Hal DeKeyser is director of product development for the Review-Journal.