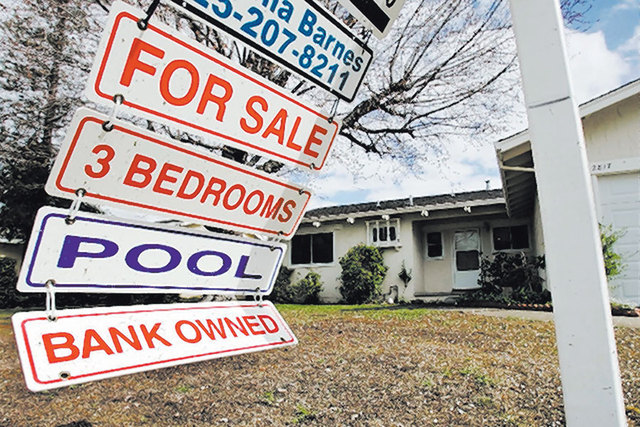 Lenders aren't targeting nearly as many homes in Las Vegas as they used to, but Southern Nevada still has more repo activity than most areas, a new report shows.
One in every 83 homes in the Las Vegas area, or 1.2 percent of properties, was hit with a foreclosure filing last year, according to national housing tracker Attom Data Solutions.
Las Vegas had the 15th highest rate among 216 metro areas listed in the report, all with at least 200,000 people.
Atlantic City held the dubious No. 1 spot last year, with one in every 30 homes hit with a foreclosure filing, or 3.4 percent of properties. Its foreclosure activity has soared 421 percent since 2011, according to Attom.
Among states, Nevada's rate was sixth-highest last year but New Jersey's topped the list.
Attom, based in Irvine, California, tallied default notices, scheduled auctions and bank repossessions for the report.
A poster child for America's housing boom and bust, Las Vegas has grappled with some of the highest rates of foreclosures and underwater borrowers in the country for years, although both problems have eased considerably amid a nationwide rebound.
The valley's foreclosure rate last year was down 17 percent from 2015 and 89 percent from 2009, when almost 95,000 homes were hit with foreclosure filings, according to Attom.
Nationally, 0.7 percent of homes were hit with foreclosure papers last year, the lowest share since 2006, or during the housing bubble, Attom reported.
Meanwhile, an estimated 16.8 percent of Las Vegas-area homeowners with mortgages were underwater – meaning their debt outweighed their home's value – in the third quarter last year.
That's down from 22 percent in same-period 2015 and far below its peak of 71 percent in early 2012, but it's still second-highest among large metro areas, according to home-listing service Zillow.
Contact Eli Segall at 702-383-0342 or esegall@reviewjournal.com. Follow @eli_segall on Twitter.