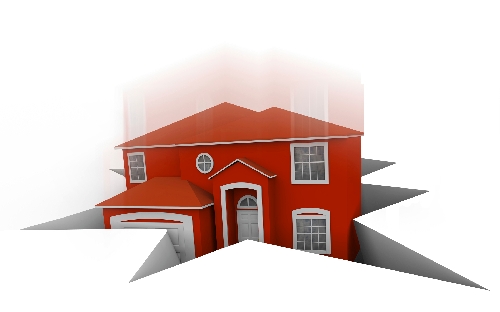 No matter how many billions of dollars the government throws at the problem, nothing appears to be easing the housing crisis in Las Vegas, one of the hardest-hit cities in the Great Recession and often cited as "ground zero" for subprime lending and mortgage fraud.
Las Vegas continues to lead the nation in foreclosures and ranks second in mortgage delinquency.
Median prices have fallen more than 60 percent from their peak in 2006, and for the past 18 months appear to be bouncing along the bottom. It could be decades before buyers caught at the top of the market recover lost equity.
An estimated 80 percent of Las Vegas homeowners with a mortgage are "underwater," owing more than their home is worth, and nearly 15 percent of the work force is unemployed.
These dynamics have inspired many homeowners to walk away from their mortgage obligations and take a hit on their credit rating rather than stay in a hole with little hope of digging out.
The situation is unlikely to improve. Economic recovery in Las Vegas lags the nation and probably won't gain traction until the housing market returns to some stage of prosperity.
"The only thing that will truly be a turning point for our industry to get out of the housing recession is job creation," Las Vegas housing analyst Dennis Smith said. "As much as some would like us to believe that big government spending will do this, to date it has been woefully inadequate."
The Obama administration's $75 billion Home Affordable Modification Program has been widely criticized for its failure to help Nevada homeowners get loan modifications, or changes to the terms of their mortgages. Many lenders offered to lower interest rates or defer payments, but few have been willing to reduce the principal mortgage, the first wish of underwater homeowners.
The federal homebuyer tax credit breathed life into the housing market until the credit expired in April.
Home Builders Research reported 3,405 new-home sales in Las Vegas through July, compared with 2,741 in the year-ago period. Existing-home sales increased 3 percent to 25,365 during that period.
Smith, president of Home Builders Research, said resale transactions have been steady and will not rise significantly given tight credit markets and difficulty in qualifying for a loan. The fourth quarter could be the most difficult quarter Las Vegas has seen in some time in terms of home sales, he said.
"They're already talking about another tax credit, but you can't listen to it," he said. "The problem is so big, so broad and so deep that the whole system needs to correct, not just bits and pieces of it. Throwing money at foreclosures is not helping people who could potentially be in foreclosure next year."
ForeclosureRadar, a Discovery Bay, Calif.-based foreclosure database, reported that Nevada's foreclosure notices dropped in August. Notices of default declined 7.5 percent from July and nearly 42 percent from a year ago. Notices of trustee sales, or homes being sold by the bank, were down 3.35 percent from the previous month and almost 30 percent from last year.
Third-party sales, typically investor purchases, increased 26.6 percent, the firm found. Winning bids at auction were down 4 percent for the month, but up 4.1 percent from a year ago.
"There's been a little bit of price increase over the last year," ForeclosureRadar Chief Executive Sean O'Toole said. "We'll lose that and go back to the bottom and then correct again. Not a huge difference. We've been close to that bottom for a while. I think we'll see a little dip in price, but not huge."
Inventory of homes for sale has increased and they're staying on the market longer, though the time period varies for foreclosures, short sales and regular transactions, said Frank Nason, president of Residential Resources in Las Vegas.
"I am seeing homes in desirable areas staying on the market without offers far longer than when the tax credit was in place," he said.
Nason said the lengthy approval process of most short sales — whether by design as a negotiating strategy or simply due to incompetence — seems as if it would diminish the spread between proceeds on short sales and foreclosures. Also, the likelihood of a short sale running into an appraisal issue as the process drags on seems to be increasing, he said.
"I am seeing more short-sale negotiators asking for higher purchase prices or cash from the sellers," Nason said. "That seems a risky strategy, too, as more sellers will just completely walk away and buyers will refuse to pay a higher price."
Home Builders Research's Smith said an important trend is the creeping increase in inventory of real estate-owned, or bank-owned, homes.
"It's not really enough to affect prices yet, but if that trend continues, eventually it will have an effect," he said.
A Las Vegas housing report from St. Petersburg, Fla.-based Raymond James & Associates showed sales stabilizing in August, but trouble still brewing with foreclosure inventory.
Specifically, June data from the Mortgage Bankers Association showed that 23.6 percent of Nevada mortgages are in some form of delinquency or foreclosure, well above the national average of 14 percent and second only to Florida's 25 percent.
"We remain concerned about the potential for future price declines given Las Vegas' large foreclosure pipeline," real estate analyst Buck Horne wrote in the report. "We continue to believe any meaningful acceleration in the liquidation of the current foreclosure backlog could easily result in new downward pressure on prices."
Las Vegas-based SalesTraq reported a median existing-home price of $120,000 in July, down 1.6 percent from a year ago. The median price for new homes was $210,000, a decrease of 0.4 percent, or $745, from July 2009.
After slipping 3 percent in July, median single-family home prices in Las Vegas rose by the same amount in August to $140,000, signaling that prices are not in free fall, Raymond James reported. However, the price can fluctuate based on the mix of homes sold.
Meanwhile, median price per square foot has flattened out at $76 for single-family homes in Las Vegas, albeit 60 percent down from the 2006 peak, San Diego-based real estate research firm Dataquick reported.
"I think it's going to get worse in October and November," said Eric Stafford, president of Las Vegas startup homebuilder Discovery Homes.
The builder recently closed escrow on the first of nine homes under contract in the master-planned Mountain's Edge community.
"Look at the ghost homes, the bank-owned homes. We're going to continue to struggle," Stafford said. "There were 47 net sales last week. Pulte had eight, not very good as market leaders. It's pretty rough."
Brad Malkin, vice president of sales at Southern Fidelity Mortgage, pulled a graphic from the Office of Federal Housing Enterprise Oversight to show how affordable and underpriced housing is in Las Vegas. It's fallen far below the rate of inflation over the last couple of years.
Undervalued prices combined with the lowest interest rates in 40 years create a great opportunity for buyers, he said.
"Although the number of purchase transactions has recently slowed, I wouldn't be surprised if there was a bounce in prices on the horizon," Malkin said.
The depth of the housing market crash will continue to generate high unemployment for the next five years locally and nationally, Las Vegas economic consultant John Restrepo said. Housing drove economic recovery after the technology stock bubble burst in 2001, he said.
"That said, there was massive misallocation of capital to the housing market with very little attention to the associated risk of doing this," Restrepo said. "So the financial sector was the primary culprit, followed by regulators not properly policing the situation. The result was the Great Recession, which then cratered the job market."
Troy Kearns of Gavish Realty said there's been a slowdown in the market since the tax credit expired in April. Banks aren't releasing as many foreclosures and the only clients with volume are government-sponsored enterprises. Fannie Mae and Freddie Mac are keeping people busy with those accounts, he said.
"My assessment of the market is that it's stabilized, based on the government stepping in and controlling the flow of inventory," Kearns said. "The lower-priced homes seem to be staying constant if not going up in value because they are such good buys."
Homes priced above $300,000 will come down more, especially those in the million-dollar range because there aren't that many buyers out there for those homes, Kearns said.
More U.S. homeowners slashed their asking prices for a third straight month in August to lure buyers into a market hindered by high unemployment, a study from San Francisco-based real estate website Trulia.com showed.
The average listing price for homes for sale in Las Vegas was $279,279 for the week ended Sept. 8, a decrease of 5.1 percent, or $15,074, compared with the previous week, Trulia reported.
"On the surface, the latest price reduction data carries with it conflicting messages," Trulia Chief Executive Pete Flint said. "Nationwide, sellers continue to slash prices and this is a worrisome trend. However, we're seeing gradual improvement in many U.S. cities — several for consecutive months.
"What this shows us is that while we're in for a long climb to bring stability back to the housing market and while it's going to take time, that climb appears to at least be under way in some parts of the country."
Perhaps the housing collapse was best summarized by statements made to the Federal Crisis Inquiry Commission that met in September at the University of Nevada, Las Vegas.
Jay Jeffries, former regional sales manager for Fremont Investment and Loan, was asked whether he had ever thought about borrowers' ability to pay subprime mortgages that his company originated in Nevada, Arizona, New Mexico and California.
"That was not my job. My job was sales," Jeffries testified. "I did not underwrite loans. It's not my job to comment on whether the underwriting guidelines are too stringent or too soft."
Contact reporter Hubble Smith at hsmith@reviewjournal.com or 702-383-0491.