That's a wrap: Las Vegas Sands finishes condos with giant cloths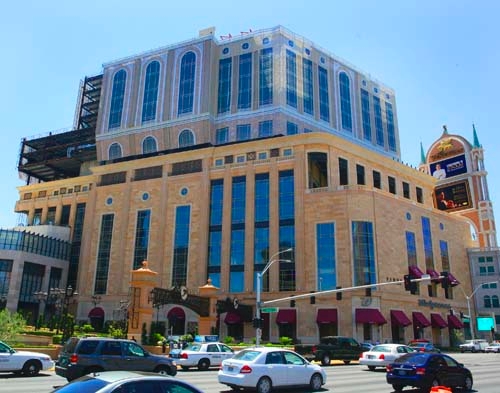 Two-and-a-half years after construction halted, Las Vegas Sands Corp. is now finishing the St. Regis Residences condominiums.
Not that any buyers are moving in.
Instead, the company is wrapping the unfinished portion of what was to be a 50-story tower with giant sheets of cloth printed with the image of a completed building, rather than continue to leave the bare steel framework exposed to the Strip.
Until the company decides what to do with the St. Regis, "We thought it was appropriate to improve it aesthetically in the meantime," said spokesman Ron Reese. "We wanted it to look a little more like it belongs between a pair of five-diamond resorts like The Venetian and Palazzo."
Already, the crane sticking out the top has been dismantled.
Unfinished buildings dot the valley as painful reminders of a real estate bubble that suddenly popped, but few have resorted to what David Baird, the director of the University of Nevada, Las Vegas School of Architecture, termed "urban camouflage."
The Harmon Hotel, part of MGM Resorts' CityCenter, is a reflective glass shell that cannot be razed due to litigation over construction defects. The Octavius Tower at Caesars Palace also has a bare interior, but owner Caesars Entertainment in April completed financing to finish it.
But until now none have tried the kind of wrap that surrounded the Washington Monument during a renovation project in the late 1990s.
Instead, owners simply locked the gates behind them when the money taps were shut, such as at the Echelon and Fontainebleau farther north on the Strip.
Jeff Roberts, a shareholder at the architecture firm Lucchesi Galati, called the wrap an "acceptable" technique to mask unfinished construction.
"I think it is just acknowledging reality," he said.
But for pedestrians on the Strip, he wondered how much of a difference it would make. "If you are right under it, you probably won't see it," he said. "If you are a few blocks away, you might wonder what it is."
He did think it held potential for lighting it up during Halloween.
Baird considers wraps to be psychological salves, removing from immediate view mementos of how far the economy has fallen.
Las Vegas Sands announced the project in September 2008 as a joint venture with Starwood Hotels and Resorts Worldwide, part of a condo tower fad sweeping the valley at the time. The St. Regis was planned to contain 398 residences, with prices estimated to top $1 million each.
But as the economy slid badly and its finances deteriorated, Las Vegas Sands halted work two months later, one of several moves taken to bolster the balance sheet. According to company financial statements, $173 million in construction expenses were capitalized, not including $60 million put the tower in mothballs.
Reese did not disclose the cost of the wrap.
Contact reporter Tim O'Reiley at toreiley@reviewjournal.com or 702-387-5290.