U.S. foreclosures down 11 percent but Clark County numbers defy trend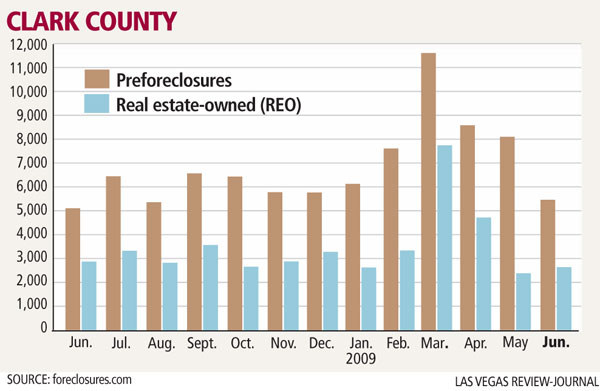 Maybe it's the moratorium, maybe it's the government bailout. Perhaps President Barack Obama's loan modification program is starting to take hold.
Whatever the reason, foreclosures declined to 205,301 in the second quarter, down 11 percent from the previous quarter, according to the U.S. Foreclosure Index from Sacramento, Calif.-based Foreclosures.com.
Clark County's numbers were less upbeat, with foreclosures rising to 2,686 in June, compared with 2,397 in May, the online investment firm reported. That number was down from last June's foreclosures when there were 2,867 foreclosures, the firm reported.
Preforeclosure filings, which include notices of default and notices of foreclosure auction, dropped sharply to 5,443 from 8,107 in May. They're up from 5,103 in the same month a year ago.
For the first six months, Clark County foreclosures nearly doubled, to 23,588 from 12,800 last year. Preforeclosures increased 34.8 percent, to 47,467 from 30,922 a year ago.
Nationally, preforeclosures fell 10 percent in the second quarter to 494,078, with the largest drop of 42 percent in the Midwest, the index showed.
"These huge drops — double digits in many parts of the nation — are a sigh of relief for the economy and housing markets as they bump along toward recovery," Foreclosures.com President Alexis McGee said.
The real surprise, she said, was the 2 percent to 3 percent drop in both foreclosures and new filings this year compared with 2008.
"This may not be a big drop, but the fact is 2009 has not seen a total increase in new filings as everyone has expected," McGee said.
Frank Nason of Residential Resources in Las Vegas said it's a temporary lag. He's seen industry reports vary from 10,000 to 20,000 real estate-owned homes that banks have been purposely keeping off the market.
He doesn't know if it's by design or to stabilize the market or sheer inability to handle the volume.
"I find the argument for a buildup in properties that must be released to the market more compelling than those who say otherwise," Nason said.
Although the number of REOs has fallen from 51 percent of all home listings in January to 39 percent in June, the number of short-sale listings increased from 38 percent to nearly 55 percent, Residential Resources reports. Of all closings in June, less than 9 percent were short sales.
Nason said he finds this trend "quite disturbing" given the deteriorating job market and overall economic indicators. It means 10,000 more units will be entering foreclosure, many ultimately sitting vacant with no utilities. Some will get trashed by frustrated owners, he said.
Timothy McFarlin, a loan modification attorney in California, said the 26 percent decrease in second-quarter REOs in California could be due to a new law there. It requires lenders to give the borrower 90 days to work out a foreclosure solution before filing a notice of default.
"That wouldn't account for changes in Nevada, of course, but possibly it's throwing a wrench in the lenders' systems and everyone gets extra time," he said.
Contact reporter Hubble Smith at hsmith@reviewjournal.com or 702-383-0491.