Underwater homeownership in Las Vegas dips below 20 percent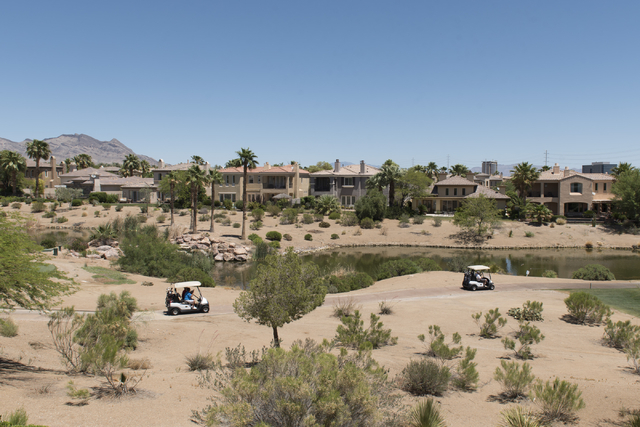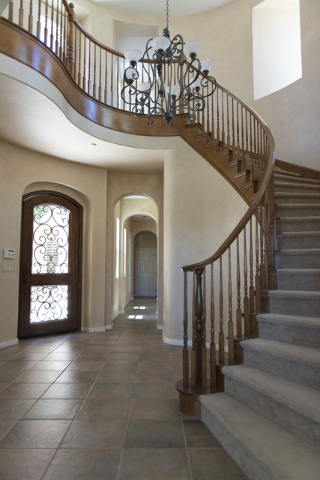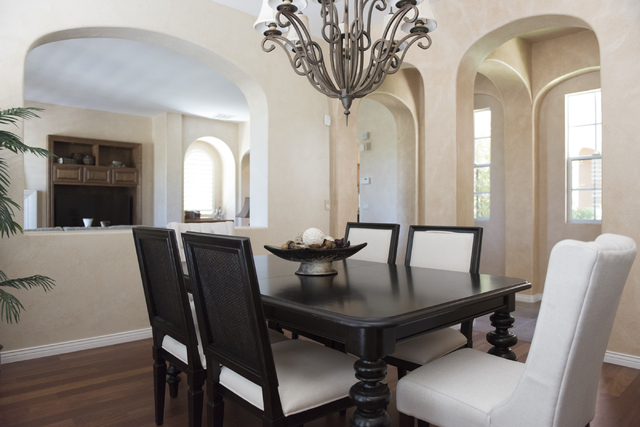 When the Betsy and Chris Zikakis bought their home in Red Rock Country Club in 2005, a collapse in the Southern Nevada real estate market was the last thing on their mind.
They paid $1.275 million for their 4,400 square-foot home in the guard-gated community in Summerlin. When the couple bought a business and prepared to move to Santa Barbara, California, the prospect of selling their home wasn't appealing.
A similar home nearby sold for about $750,000 – half of what owners paid for it without including $200,000 in upgrades. The Zikakis' family listed their home in 2008, but there was little interest from buyers despite the home's picturesque views.
It's a plight many Las Vegas homeowners have faced with the loss of equity in their homes, especially if they bought near the top of the housing market in 2006.
The Zikakis' family put down a sizable down payment to reduce their mortgage payment. While their home wasn't underwater, but they stood to lose a sizable amount on their investment. They rented it for eight years waiting for the market to recover, and stayed on the sidelines until now.
"That's a good example to me of someone having the ability to ride out the market, and it has paid off in the amount of appreciation they have been able to garner," said Tanya Murray, a Realtor with Realty Executive of Nevada.
Added Betsy Zikakis: "It would have been a huge loss to us to sell it in 2008. There was no reason for us to take that much of an equity hit, and we were fortunate to rent it. We knew the prices would rebound in Red Rock. We started seeing that homes were selling in Las Vegas, and it was time."
A BIGGER TREND
What's happening with the Zikakis family is expected to become a bigger trend as home prices continue to rebound. More homes will come on the market as people recoup more of their investment. The Zikakis have now listed their home for $950,000, which is more than enough to cover their remaining mortgage.
The Greater Las Vegas Association of Realtors reported the median price of homes sold in May was $229,250. That's nearly 15 percent higher than the median price of $200,000 in January 2015.
That price appreciation is reducing negative equity in the Las Vegas home market and the latest report from CoreLogic, a property analytics firm, showed that the percentage of homes in Las Vegas with negative equity fell under 20 percent for the first time since housing crisis.
The Las Vegas peak in negative equity hit 77.6 percent in the first quarter of 2010. It fell to 19.9 percent in the first quarter of 2016, CoreLogic reported. Some 79,787 Las Vegas mortgages are underwater, down from 363,071 six years ago.
"We are getting closer but we're not there yet. We're just a couple of years away," said CoreLogic Chief Economist Frank Nothaft of the nightmare many Las Vegas homeowners have faced with lost equity.
Despite the drop, Las Vegas is still No. 1 in the nation, just ahead of No. 2 Miami at 19.6 percent. The national rate is 8 percent, down from 24 percent at its worse, Nothaft said.
The Las Vegas homeowners primarily affected today were those who bought up to the peak in 2004, 2005, and 2006. Nearly all are underwater, Nothaft said.
"You are still feeling the impact. There is no question about it. The reason the percentage is still so high is the huge decline in home prices after the 2006 peak," Nothaft said.
A MARKET OVERREACTION
Nothaft cited the economic recovery and job creation for creating demand to buy homes in Las Vegas and thus pushing up prices. In addition, the market corrected downward "too far" because of the foreclosure crisis, he said.
GLVAR President Scott Beaudry said home prices should continue to increase over the summer and over the next six months and that the percentage of negative equity will continue to drop. It said it could fall to 15 percent in a year.
That's only going to benefit the housing market whose sales have been limited in part because there's only a three-month supply of homes on the market compared to six months in a traditional one, Beaudry said. That's kept a lot of potential buyers out of the market because they can't find the home they want, he said. Add in reduced negative equity, and the market will get more active with sellers, he said.
"They aren't able to sell their home and move up because right now they can't they don't want a short sale because they don't want to mess up their credit," Beaudry said. "They know they have negative equity, and that it's not going to be forever, and as that number goes down more and more people will have the ability to put their home on the market and break even or make a slight profit."
No analysts are expecting the housing market to overheat, however, like it did last decade. Tougher lending conditions help prevent that, Nothaft said.
Dennis Smith, president of Home Builders Research said the ideal scenario is to have negative equity in Las Vegas fall below 5 percent like it was prior to the Great Recession. That's the direction the market is head but the rate of improvement has slowed as the numbers drop, he said.
"We can't expect it to go away very quickly," Smiths said. "It's still there. Vegas is still leading the country in negative equity. If we can get down to 10 percent that would be wonderful but when is that going to happen. I don't see it for another three years."