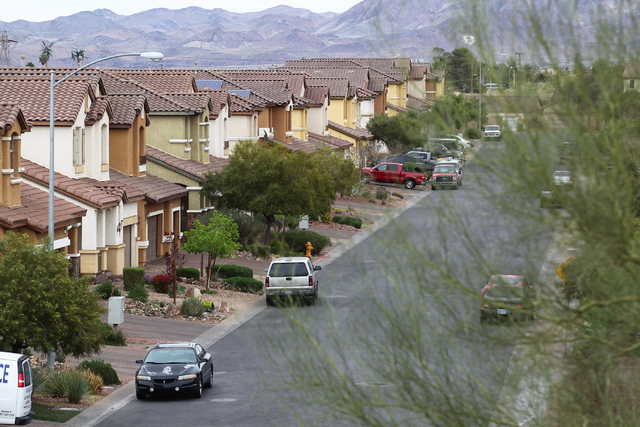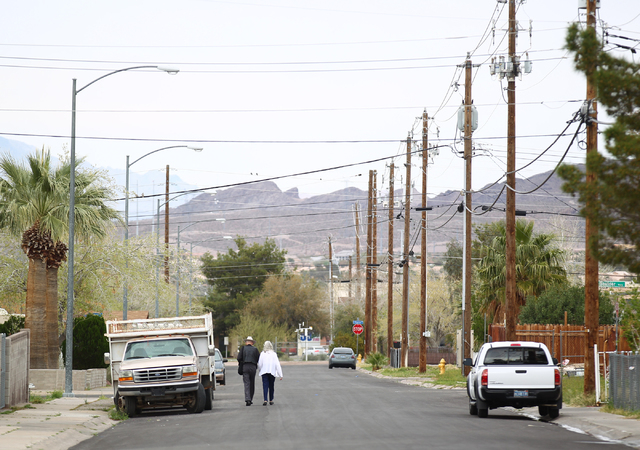 Average home prices in most Las Vegas Valley neighborhoods grew by double-digits in 2014, the second year in a row that values have appreciated in all of the valley's ZIP codes.
A new housing appreciation map released by real estate research company SalesTraq on Wednesday shows only one area, Spring Valley's 89146, failed to gain in value last year.
Homes near Henderson's eastern foothills, 89015, saw the biggest average price gain, picking up 28.5 percent since last March.
Median prices valley-wide rose 10 percent in 2014, an appreciation rate that was less than half of the 24 percent increases the market saw in 2012 and 2013.
Nine ZIP codes appreciated by less than the median, according to SalesTraq's figures, though two of those landed among the top five priciest neighborhoods tracked over the same period.
Recession-rocked neighborhoods on the east side of the valley saw some of the biggest average price jumps.
More affluent ZIP codes in Summerlin and Henderson lagged in terms of price gains than the broader areas, but retained a much higher median price-point, according to SalesTraq principal Brian Gordon.
Gordon said master-planned communities in those parts of town routinely make a better showing in terms of median home values, with prices buoyed by better schools and amenities. Because of how far home prices fell during the recession, ZIP codes looking to catch up with those neighborhoods still have a long way to go.
"The fastest appreciating ZIP codes are now coming off the floor later than some of those on the western side of the valley," Gordon said. "We're starting to see more normalized rates of appreciation, a more stable balance of supply-and-demand and lower sales volume."
'Normal' and 'stable' are far from a bad words in a town that witnessed the highest highs and lowest lows of the mid-2000s real estate boom.
Three straight years of 10 to 25 percent price appreciation might look like a lot in other cities, but for Las Vegas — hit by a 75 percent valley-wide decline in home prices during the recession — that's only halfway back up from the bottom.
"I think what we're seeing over the past three to four years is a rebound from the absolute bottom of the market," said Greater Las Vegas Association of Realtors President Keith Lynam. "I think what we're experiencing is stabilization, which is good, because I don't think anyone was comfortable on that wild ride we were on before."
GLVAR officials report Las Vegas Valley homes are sitting on the market longer and seeing fewer bids in recent months, in part because of some starry-eyed sellers' over-reliance on month-by-month or year-over-year appreciation figures.
Lynam said area Realtors aren't nearly as sensitive about rollercoaster appreciation figures. He figures flat housing value growth in parts of Spring Valley has something to do with a large number of "very similar" homes in the area, while big jumps on the east side of Henderson can be chalked up to that neighborhood's attractive schools.
Lynam expects price growth in the valley's second-fastest-appreciating ZIP code — downtown-adjacent 89104, which is home to the decades-old Huntridge and Hillside Heights neighborhoods — to continue, at least as long as Zappos shoe magnate Tony Hsieh and Downtown Project keep grabbing headlines.
Overall, he said, the housing market looks a lot like it did last year and the year before, which isn't a bad thing.
"Stability is a good thing in a marriage," Lynam added, "and it's a good thing in real estate, too."
Contact James DeHaven at jdehaven@reviewjournal.com or 702-477-3839. Follow him on Twitter: @JamesDeHaven.
See a PDF version of this map to display the text larger.