Humanists president offers custom Las Vegas weddings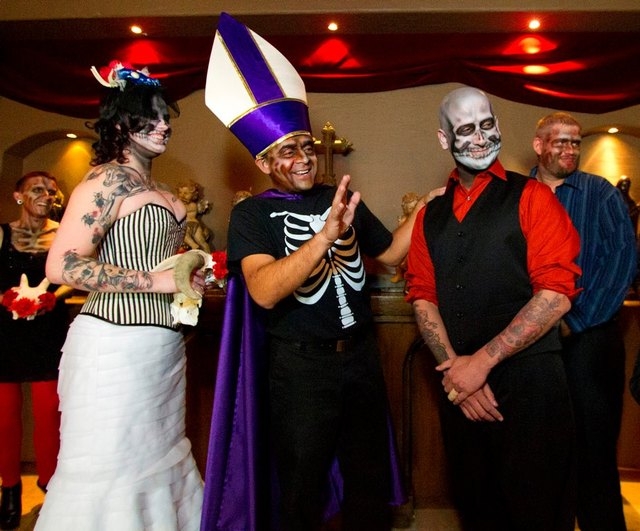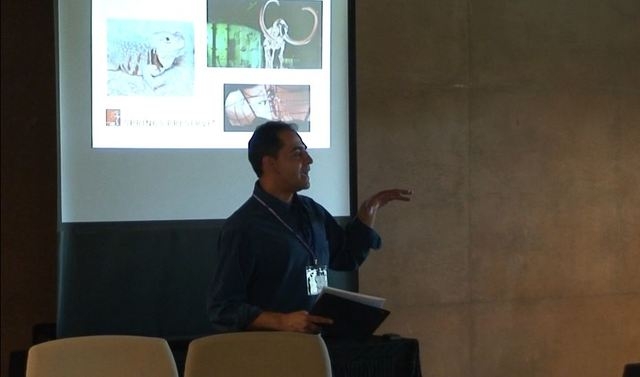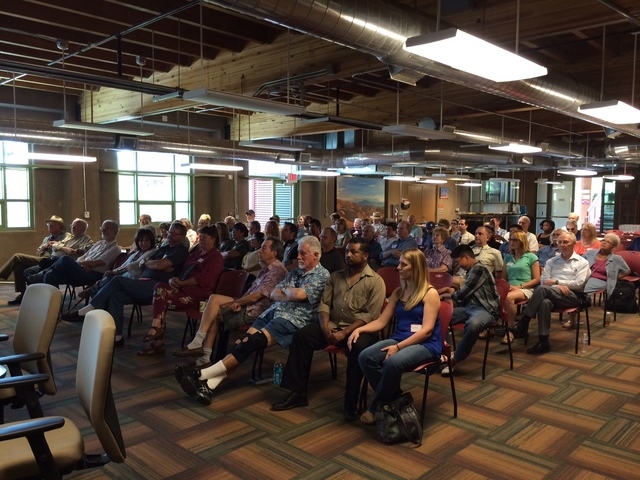 Las Vegas is known as the place where couples come to get hitched. The city offers many options: Couples can do a drive-thru wedding, get married at Denny's or become serenaded by Elvis impersonators. As demand continues, new alternatives to tie the knot are created.
Raul Martinez launched Vegas Modern Weddings in December to provide a non-religious alternative for couples with no religious affiliation, whether they are "humanists, atheists, agnostics or freethinkers."
"When you get married, even if you go to a chapel downtown, the priest or minister will ask you how much God do you want in your ceremony, from 0 to 10. When you ask for 0, as in no God in the ceremony, the priest or minister is not trained for that," Martinez said. "That got me thinking that there should be another option for atheists."
He launched the business after applying as an atheist for a certificate of permission to perform marriages in Nevada. He said he was denied with the explanation, "You are not in good standing with a church or religious organization."
After having his application denied twice by the county clerk for not being a member of a religious organization, he became one of the plaintiffs in a lawsuit filed by the American Civil Liberties Union of Nevada.
The lawsuit prompted the Legislature to change the law and to grant a secular option. Now, if someone wishes to perform weddings as a non-religious celebrant, he must first become a notary public, Martinez said.
He decided to apply under the humanist celebrant umbrella to give people an option to marry without mentioning any references to God.
"God is completely removed from ceremony itself, and instead, the ceremony is centered on the couple's love for one another," Martinez said. "Many atheists feel that the fact that the couple no longer believes in God is the main aspect of celebration. They're proud of fact that they have abandoned superstitions. It's not an easy path to take."
He offers people two types of wedding packages. Plain Vanilla is the most basic option that consists of a simple non-denominational service for $150.
Full Custom offers couples a more personalized ceremony for $300. Martinez said he would dress up as any kind of officiate the couple desire, whether it would be centered on a circus, intergalactic or a Hawaiian-themed wedding.
He will also write personalized wedding vows and provide couples with a questionnaire to further tailor their weddings.
"Once the wedding starts, I like it to flow like a performance or art piece," Martinez said. "I'm very passionate about this. It's a great privilege to share in such an important moment for a couple's life."
For the sake of family members and friends, Martinez will give the couple the option of flaunting their atheist beliefs or performing the ceremony discreetly, so that no one notices that religion is missing.
In addition, Martinez will also perform baby-naming events, memorial services and other ceremonial observances.
He was born in Mexico City and came to the U.S. in 1996. Martinez became a U.S. citizen in 2009.
Despite being raised Catholic, Martinez said his journey to becoming a humanist was led by his mother and father. His mother never forced religious activities on him, and his father took a scientific approach to life.
"A humanist approach lets me see what I can do to fix this world and make it a better place without any supernatural guidance and without expecting a reward after we die," Martinez said. "It's basically being good without God."
Although he launched his wedding business, Martinez keeps busy with his humanist causes. Earlier this year, he became president of Humanists and Atheists of Las Vegas. He is also program director for the group's monthly meetings at the Springs Preserve.
In addition, he wrote a children's book titled, "There is a Purple Dragon in my Washing Machine," which introduces children to the arbitrary nature of belief and the advantages of rational thought.
"Some people think atheists are devil worshippers who eat babies. There's a fear and prejudice in the term," Martinez said. "Through this business, I have the opportunity to increase diversity and offer an option without any supernatural components."
For more information, visit vegasmodernweddings.com or call 702-807-8343.
Contact North View reporter Sandy Lopez at slopez@viewnews.com or 702-383-4686. Find her on Twitter: @JournalismSandy.