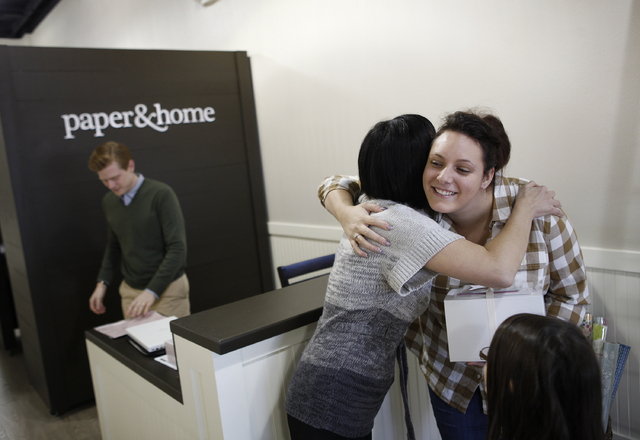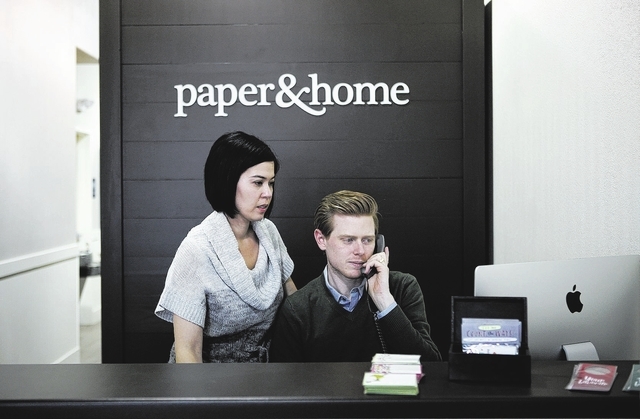 Brooke Coxen goes by the title founder/creative director, while husband Michael Coxen identifies himself as founder/shopkeeper.
Together, they have nurtured Paper &Home to the point that it moved out of a room in their Summerlin home to a regular shop on Nov. 21. In doing so, they have followed a course foreign to hundreds of small businesses: mapping out a business plan and having the discipline to stick to it.
"We like to do things a little differently," said Michael Coxen. "We're that odd mix of creativity and analytics."
They were both New Yorkers when they decided to launch Paper &Home, a custom designer of high-end wedding invitations, three years ago. Rather than set up shop in Brooklyn, they opted for the lower taxes and expenses, the thinner competition and being close to Brooke's family in Las Vegas.
Rather than open a storefront initially and commit themselves to a potentially expensive lease, they worked out of home even though they knew their "by appointment only" policy would scare off some customers. "We wanted to make sure the business worked instead of going too far too fast," Michael said.
But with cash flow steady enough to support not only a storefront location but also the first regular employee — they had used four freelance designers until now — the Coxens have started to drop more pieces of their business plan into place, such as retail sales of related products.
Paper &Home has targeted locals for wedding invitations, picking up referrals from a network of florists, bakers, caterers and country clubs. Although starting in September 2010, the business really kicked into gear the following January when the Coxens rented a booth at the annual Bridal Spectacular show.
The entry price for a set of 100 invitations, including the card itself, a reply card, the envelope and addressing runs $550, but can run into the thousands depending on the extras, such as the quality of paper. The average comes close to $1,000, Michael said.
"We have moved into a niche for those who want something special, not run of the mill," Michael said. Although customer designers flourish in Los Angeles and San Francisco, Paper &Home has little competition in Las Vegas.
By contrast, zazzle.com posts hundreds of pre-set designs for less than $200 per 100, although offering a menu of options that can push the final price higher. A number of other websites, some tied to major retailers, follow a similar strategy.
With the new store, however, the Coxens will push a lower price point for what they call ready-to-go invitations, although the custom ones still account for about 80 percent of sales.
In addition, Paper &Home will start stocking off-the-shelf items like small gifts or pens that can tie into weddings. The inventory will include standard greeting cards, but Michael looks at them more as a low-priced way to draw in customers who might then opt for something custom design rather than as profit centers in themselves.
Somewhere down the road, Michael said, visitor weddings might also be brought into the mix. "We just have to figure how to do it our way," he said.
Contact reporter Tim O'Reiley at toreiley@reviewjournal.com or at 702-387-5290.