Ice Now brings blocks, snow, sculptures to Las Vegas businesses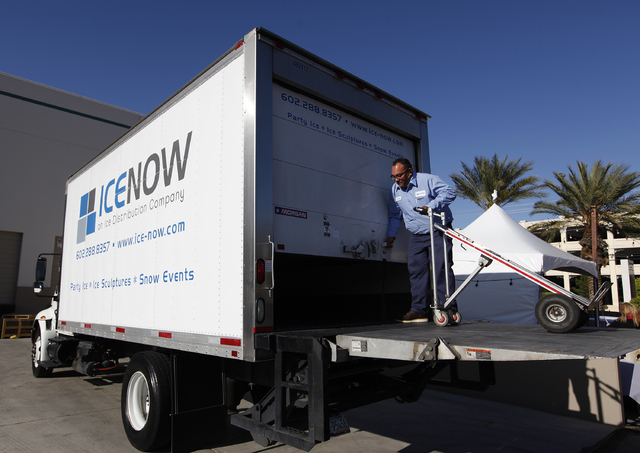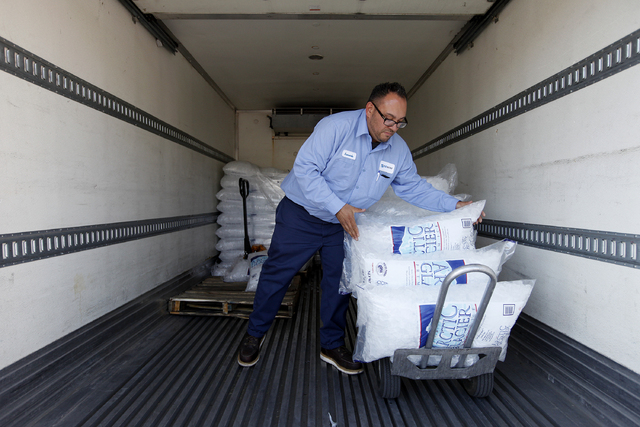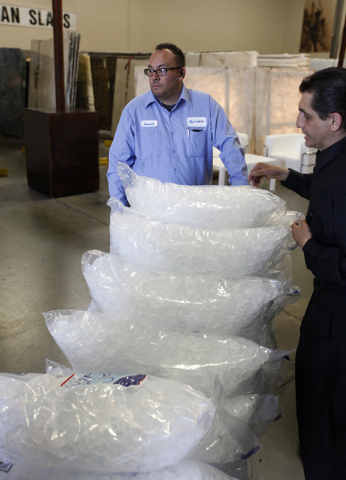 In the desert in the summertime, you can never have enough ice.
That's the premise of Ice Now, a 5-year-old Phoenix company that opened a Southern Nevada outlet in earnest in April after a soft opening in November. The company delivers bagged and block ice, manmade snow and ice sculptures to local businesses, organizations and residences.
"We know that when it gets really hot, it's easy for restaurants to run out of ice, and their machines break down or can't keep up with the demand," said Ice Now's founder, Nolan de Graaff. "We saw a need in Phoenix and filled it. Now, we're bringing the same idea to Las Vegas."
De Graaff got his start with some high-profile Scottsdale events, the Scottsdale Culinary Festival and the Barrett-Jackson Collector Car Auction. Ice Now delivered to both events, generating contacts that led to new business.
From there, he contracted with other events and with bakeries that use his ice to cool down their recipes. He's also hauled ice to solar generating station construction projects to keep workers hydrated when they work.
In Las Vegas, De Graaff sees an opportunity with its hundreds of special events in addition to the special events that visitors generate — weddings, bachelor and bachelorette parties, reunions and other family gatherings.
"It seems that special events never slow down in Las Vegas," he said.
De Graaff has found that the two markets are slightly different. While Phoenix has about three times the population base and area of Las Vegas, there's a higher concentration of restaurants and businesses in need of ice in Southern Nevada.
He expects to expand the number of employees he had when the company opened in Las Vegas to five later this month.
De Graaff's two Las Vegas-based delivery trucks can easily be supplemented with rental vehicles when the need arises.
So far, De Graaff has provided ice to the Great Vegas Festival of Beers in downtown Las Vegas last month and the Tough Mudder obstacle course race at Lake Las Vegas in Henderson where his ice was transformed into the perfect warm-day obstacle.
Ice Now develops individual contracts with customers based on volume and frequency of delivery. When a customer contracts with the company, De Graaff dispatches a hot-shot truck from its easily accessible location at Warm Springs Road and Eastgate Drive in Henderson. Drivers deliver 400 to 1,000 pounds of ice at a time on heavy-duty dollies.
"I've seen places that run out of ice and they'll get their employees to make a trip to the grocery store to buy several bags so they don't run out," De Graaff said. "In the long run, our service is much less expensive than that."
The company also provides snow for wintry party scenes in the winter months. The company's ice is shaved into a fine powder that is perfect for simulated snowstorms during a holiday special event.
Contact reporter Richard N. Velotta at rvelotta@reviewjournal.com or 702-477-3893. Follow @RickVelotta on Twitter.