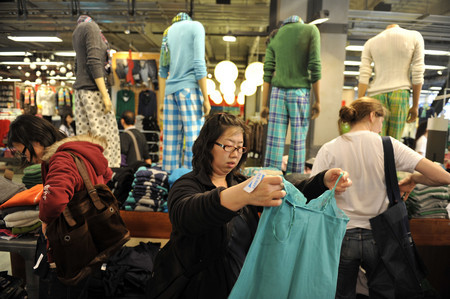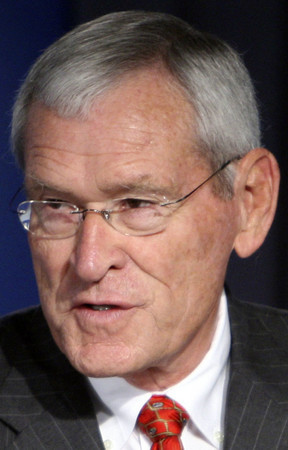 NEW YORK
Group says retailers may see sales rise moderately in 2010
The nation's retailers are likely to see sales rise moderately this year after a rare decline in 2009, according to a forecast to be released today by the world's largest retail trade group.
The National Retail Federation expects sales to rise 2.5 percent in 2010, still well below the 4 percent average annual gain from 2000 through 2008. But the outlook, which excludes automobile, gas station and restaurant sales, is in line with other economists' estimates.
Tight credit and a stagnant job market will continue to temper consumer spending even as the economy recovers, economists said. So stores are likely to continue keeping inventories lean and offer incentives to lure shoppers.
Sales fell 2.5 percent in 2009 and rose only 1.3 percent in 2008, the federation said.
But the sector is much healthier than in 2008 now that stores have slashed inventory to match lower demand, Federation chief economist Rosalind Wells said.
At the International Council of Shopping Centers, chief economist Michael Niemira said he expects annual sales to rise as much as 3.5 percent for 2010, which would be the strongest percentage increase since 2006.
SAN FRANCISCO
IPhone, Macintosh sales behind Apple's most profitable quarter
Apple Inc. rocketed to its most profitable quarter ever over the holidays, as huge sales of the iPhone and Macintosh computers led to a nearly 50 percent jump in net income.
The company offered no clues about what it plans to unveil Wednesday in San Francisco, although analysts expect the new product to be a tablet-style computer. CEO Steve Jobs indicated that investors should expect a significant event.
Apple said Monday it earned $3.4 billion, or $3.67 per share, in the latest quarter, which ended Dec. 26. In the same period of 2008, had the same accounting standards been in place, it would have had net income of $2.3 billion, or $2.50 per share.
Revenue was $15.7 billion, a 32 percent jump from $11.9 billion in the same period last year.
Lower impairment charges help Zions slim quarterly loss
Zions Bancorporation, the parent of Nevada State Bank, on Monday said it substantially narrowed its fourth-quarter loss as it recorded a fraction of the impairment charges it took the year earlier.
For the final three months of 2009, Zions said its loss attributable to common shareholders was $176.5 million, or $1.26 per share, compared with a loss of $498.1 million, or $4.37 per share, in the year-earlier period. The per-share results reflect a 23 percent increase in the number of shares outstanding in the latest quarter, following a stock offering.
Analysts polled by Thomson Reuters, on average, expected a loss of $1.64 per share.
Net interest income, or money earned from deposits and loans, fell to $456.9 million, from $508.4 million the previous year. Noninterest income, or earnings from fees and charges, was $65.9 million, reversing a year-ago loss of $82.3 million.
Zions shares rose 26 cents, or 1.47 percent, Monday to close at $17.92 on the Nasdaq Global Select Market.
DETROIT
Interim chief becomes permanent at General Motors
Ed Whitacre Jr. is dropping the interim from his CEO title at General Motors Co. and he reaffirmed Monday the automaker would repay in full its loans from the U.S. and Canadian governments by June.
Whitacre said GM's board asked him to become permanent CEO last week, ending a seven-week search for a new top executive.
"The board looked at the potential candidates and decided this place needs stability. We don't need any more uncertainty," Whitacre told reporters at a hastily called news conference at GM's Detroit headquarters.
Whitacre also said GM will repay its $8.1 billion in loans from the U.S. and Canadian governments all at once and could pay them even earlier than June.
Whitacre, 68, is a former CEO of telecommunications giant AT&T Inc.
Texas Instruments sees profits rise as demand for chips soars
Texas Instruments Inc. said Monday its fourth-quarter profit soared as factories that use its chips for a wide range of consumer gadgets and industrial products hummed straight through the typically slow December holidays.
TI said those factories are running on lean inventories that should keep demand unusually strong in the first quarter.
Strength spanned the globe and reflected growth across many corners of the economy, from medical imaging devices to flat-screen televisions to Chinese refrigerators and air conditioners.
"It really is a little bit of everything," said Ron Slaymaker, TI's vice president of investor relations. "It's much easier to identify what's up instead of what's not."
TI had raised its profit and revenue estimates in December but the company still topped its heightened expectations.
The Dallas-based company reported a profit of $655 million, or 52 cents a share, in the three months ended Dec. 31, compared with a profit of $107 million, or 8 cents a share, a year earlier. The net income beat Wall Street expectations of 49 cents a share.
Revenue rose 21 percent to $3.01 billion, roughly in line with the $2.98 billion expected by analysts polled by Thomson Reuters.
Allegiant Travel Co. posts revenue rise of 10.7 percent
Allegiant Travel Co. posted a revenue increase of 10.7 percent in 2009, earning $557.9 million for the year ended Dec. 31, it announced late Monday.
The company realized an annual profit of $76 million for the year or $3.76 per share. The parent company of Allegiant Air posted a 10 percent revenue increase to $122.4 million in the fourth quarter ended Dec. 31.
Shares closed at $50.99, up 59 cents or 1.17 percent, on the Nasdaq National Market. They fell 13 cents or 0.25 percent to $50.86 after hours.
DALLAS
Major airlines drop push to raise round-trip flight fares
Major U.S. airlines have dropped an effort to raise fares by up to $16 a round-trip after some carriers resisted the increase.
American Airlines confirmed on Monday that it had dropped a price hike from last week. American spokesman Tim Smith said Delta had pulled the increase even before American did, and Continental and United also retreated.
"We can now declare the first domestic airfare hike of 2010 … a failed attempt," said Rick Seaney, CEO of travel Web site Farecompare.com.
Airfare increases can fall apart if one or two airlines refuse to go along or don't match on every route because other carriers don't want to risk losing customers by charging more for the same trip.