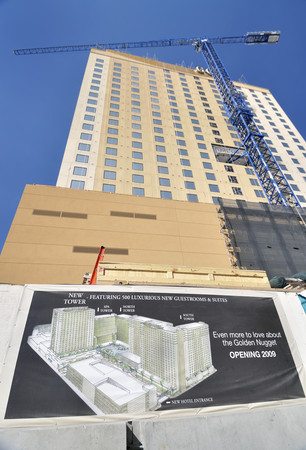 U.S. Bancorp acquires deposits from BB&T
U.S. Bancorp late Tuesday announced it acquired $800 million deposits in Nevada from BB&T Corp., subject to regulatory approval.
BB&T acquired the Nevada operations as part of the assets and deposits from the Federal Deposit Insurance Corp. when Colonial Bank failed.
Terms of the transaction were not disclosed.
Jennifer Wendt, spokeswoman for U.S. Bancorp, holding company for U.S. Bank, said the bank had not decided which of the former BB&T branches it will retain and how many former employees of BB&T and Colonial it may keep.
Golden Nugget's new tower to open Nov. 20
The Golden Nugget's new 500-room Rush Tower will open to the public Nov. 20 with a grand opening on Nov. 23, the property said Wednesday.
The $150 million expansion, which includes a new restaurant, three retail shops and a casino floor expansion, will bring the property's total room count to 2,417, the largest downtown.
Room rates for the first weekend are $142 per night, according to its Web site.
The Golden Nugget is also spending $1 million to build a new entrance at First Street and Carson Avenue.
Moody's upgrades rating for Wynn Resorts
Moody's Investors Service on Wednesday upgraded its view of Wynn Resorts Ltd., the second time this week the casino operator's debt was given a positive view by a ratings service.
Moody's upgraded Wynn to "stable" from "negative." On Monday, Fitch Ratings upgraded Wynn to "positive" from "stable."
The company operates hotel-casinos on the Strip and in Macau.
The moves came after Wynn's initial public offering last week on the Hong Kong Stock Exchange, which raised more than $1.87 billion.
Top executive leaving Las Vegas Hilton
Rodolfo Prieto is leaving the Las Vegas Hilton after 51/2 years as the property's top executive.
Prieto's pending departure was hinted at with the Sept. 14 announcement that David Monahan had been hired as chief operating officer with expectations that he would take over Prieto's positions as general manager and chief executive officer.
Prieto joined the property in February 2004 while it was being sold to Los Angeles-based real estate firm Colony Capital.
Meanwhile, Jonathan Langer left the property's board Oct. 6. Langer helped guide Whitehall Street Real Estate Funds' 40 percent acquisition of the property in late 2006.
NEW YORK
Pfizer's buy of Wyeth expected to close today
Pfizer Inc.'s $68 billion purchase of Wyeth will close today after antitrust regulators in the U.S. and Canada cleared the deal, which will make Pfizer the world's largest drugmaker by revenue.
The Federal Trade Commission approved the deal Wednesday, and the Canadian Competition Bureau also gave its blessing. Pfizer will have to sell about half of Wyeth's animal health business and change a Canadian distribution agreement for Estring, a hormone used to treat menopause symptoms. Pfizer said it will also sell its horse vaccine business.
WASHINGTON
Fed conflicted over fate of mortgage plan
Amid uncertainties about the strength of the budding recovery, Federal Reserve policymakers last month were conflicted over whether to expand or cut back a program intended to drive down mortgage rates and prop up the housing market, according to a document released Wednesday.
In the end, Fed Chairman Ben Bernanke and his colleagues agreed to slow down the pace of a $1.25 trillion program to buy mortgage securities from Fannie Mae and Freddie Mac. Instead of wrapping up the purchases by the end of this year, the Fed said it would do so by the end of March.
But minutes of the Fed's closed-door deliberations on Sept. 22-23 revealed some members thought "an increase" in the mortgage securities buying program could help the economy recover more quickly.
WASHINGTON
Tax dodgers apply for IRS amnesty program
Some 7,500 international tax dodgers have applied for an amnesty program that promises no jail time and reduced penalties for tax cheats who come forward, the Internal Revenue Service announced Wednesday.
The tax dodgers were hiding money in more than 70 countries and on every continent except Antarctica. Accounts ranged from just over $10,000 to more than $100 million.
Response to the program has been unprecedented, IRS Commissioner Doug Shulman said.
The IRS long has had a policy that certain tax evaders who come forward before they are contacted by the agency usually can avoid jail time as long as they agree to pay back taxes, interest and hefty penalties.
Drug dealers and money launderers need not apply. But if the money was earned legally, tax evaders can usually avoid criminal prosecution.
BILLINGS, Mont.
Metal prices offset GM loss for mining company
A Montana mining company that warned of possible layoffs after General Motors Co. canceled a major contract says higher platinum and palladium prices have made up for the lost business.
Stillwater Mining Co. said Wednesday that precious metal prices have climbed considerably since hitting bottom last year. The company says that "almost entirely offset" the loss of the GM contract.
Columbus-based Stillwater's two mines in the Beartooth Mountains are the only sources of platinum and palladium in the nation.
The metals are used in vehicle catalytic converters to screen out pollution. GM dropped Stillwater as a supplier when the automaker emerged from bankruptcy protection in July.
Thirty-year home loan rate edges back up
The average rate on a 30-year fixed-rate home loan edged back above 5 percent last week, the Mortgage Bankers Association said Wednesday.
The average rate on a 30-year fixed-rate loan, assuming a 20 percent down payment, increased to 5.02 percent from 4.89 percent. But upfront points paid to lenders, including the origination fee, averaged 1.11 percent of the loan balance, down from 1.13 percent, the group said.
The average 15-year rate rose from a record low of 4.32 percent to 4.44 percent with average points paid unchanged at 1.04 percent of the loan amount.