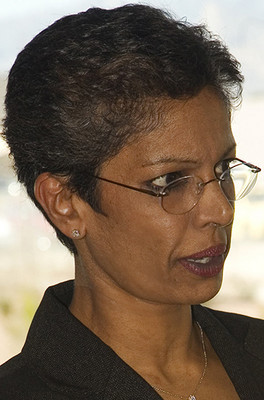 Exec exits MGM Mirage for job at NV Energy
MGM Mirage Senior Vice President Punam Mathur is leaving the gaming industry after 13 years to join NV Energy as vice president of human resources, effective April 29, the energy company announced Friday.
"Punam brings to our company a broad range of leadership experience that not only will have a positive impact on our company but on the communities we serve throughout the state of Nevada," NV Energy Chief Executive Officer Michael Yackira said in a statement.
Mathur led MGM Mirage's diversity and community affairs efforts in her role as senior vice president.
Before joining Mirage Resorts in 1996, she had been with the Las Vegas Chamber of Commerce for six years, holding a variety of management positions, the last of which was senior vice president of government affairs.
Gambling magnate said to study CityCenter role
Australian billionaire and gambling magnate James Packer is weighing a stake in CityCenter, the troubled $8.7 billion Las Vegas development owned by MGM Mirage and Dubai World, the Wall Street Journal reported on Friday.
Packer, whose Melbourne-based gambling company Crown Ltd. has casinos in Australia and China, is discussing the possibility of an investment in the project with Colony Capital LLC, a Los Angeles-based investment firm, a source told the Journal.
Colony and Crown "would step in and take over the funding requirements. The idea is to keep CityCenter going," the source told the Journal.
MGM Mirage shares were among the big gainers on Wall Street on Friday, rising 48 percent to $4.65 in 4 p.m. New York Stock Exchange composite trading.
WASHINGTON
Del Webb will pay to settle defect lawsuit
Home builder Del Webb and its Coventry brand agreed to pay $27.2 million to 6,617 homeowners in a class action plumbing defect lawsuit, an attorney representing the homeowners said Friday.
District Court Judge Timothy Williams approved the final settlement as "fair, reasonable and adequate" to satisfy Del Webb's liability in the case, said William Coulthard of Kemp, Jones and Coulthard.
Several builders, including Richmond American, Woodside and Rhodes, have already reached settlement agreements.
Preliminary settlement negotiation with 25 other builders are scheduled to begin next week, Coulthard said.
The Del Webb settlement is in addition to the previous $90 million settlement with IPEX, the Canada-based manufacturer of the faulty Kitec plumbing fixtures.
NEW YORK
Treasury prices decline after report on jobs
Treasury prices sank Friday after a report showing massive job losses couldn't hamper gains in the stock market.
The benchmark 10-year Treasury note fell 0.97 points to 98.75.
Its yield rose to 2.90 percent from 2.75 percent late Thursday.
The 30-year bond fell 1.56 to 96.5, and its yield rose to 3.72 percent from 3.57 percent.