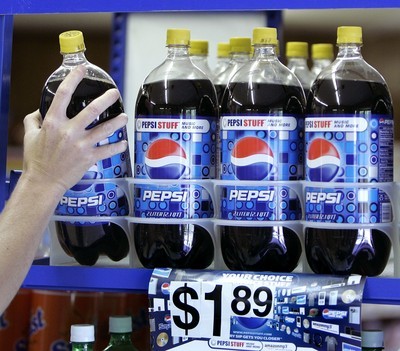 Harcourt Nevada files counterclaim
Harcourt Nevada filed a counterclaim Friday against Glen Smith & Glen Development and its principals over the Sullivan Square mixed-use development that was suspended last year.
Glen Smith & Glen sued Harcourt and its parent company, Harcourt Developments of Dublin, Ireland, in June for breach of fiduciary duty.
District Court Judge Mark Denton dismissed the charges in March for lack of jurisdiction.
"The fact of the matter," Denton wrote, "is that Harcourt Developments, simply by virtue of owning a membership interest in an entity that is doing business in Nevada, is not the one doing business or owning property here."
Glen Smith & Glen had brought Harcourt on as a financial partner for the $850 million Sullivan Square planned for 16 acres near the Las Vegas Beltway and Durango Drive.
NEW YORK
PepsiCo bids $6 billion to buy two big bottlers
PepsiCo Inc.'s $6 billion bid to buy its two largest bottlers should make the owner of the Gatorade, Naked juices and Aquafina brands more nimble in a market in which soft drinks have declined in popularity in favor of healthier options like water and juices.
The deals for Pepsi Bottling Group and PepsiAmericas would let PepsiCo control about 80 percent of its total North American beverage volume — something the company and analysts said would streamline the process of getting newer or smaller products to stores.
Consumers could see products such as Izze sparkling juice and Naked fruit juices at more places, Chief Financial Officer Richard Goodman said, since the company would be able to negotiate with retailers directly rather than persuading the bottlers that now control most distribution to include smaller products in their network.
KINGMAN, Ariz.
Solar plant planned for Mohave County
A subsidiary of Spain-based Albiasa Solar has selected northwest Arizona for development of a $1 billion solar-thermal generating facility, it was announced Monday.
Albiasa Corp. has secured 1,400 acres of land for the project in Mohave County.
County and company officials declined to provide the specific location for the Kingman-area plant. Jesse Tippett, director of U.S. operations for Albiasa, cited competitive factors having to do with linking the plant to the power grid.
Tippett said construction should begin early next year and the facility should be producing power in 2013. He said the plant should provide enough power for up to 50,000 homes.
As many as 2,000 people will be employed during peak construction of the facility, and 100 workers will be needed to staff the plant once it's operational, he said.
Zions Bancorporation reports loss for quarter
Shares of Zions Bancorporation, the Salt Lake City-based parent of Nevada State Bank, plunged Monday after the holding company reported an $832.2 million loss.
The loss amounted to $7.29 per share and reversed net income of $104.3 million, or 97 cents per share, a year earlier.
The company said $634 million of the loss stemmed from writing down goodwill associated with the 2005 purchase of a Texas bank. Zions also increased its loan loss reserves to $298 million from $285 million.
Zions shares fell $2.09, or 13.91 percent, Monday to close at $12.93 on the Nasdaq National Market.
NEW YORK
Economic gauge falls more than expected
A private sector group's index of leading economic indicators fell more than expected in March, but the forecast called for the recession's intensity to ease this summer.
The Conference Board said Monday that its monthly forecast of economic activity fell 0.3 percent in March and has not risen in nine months. Economists surveyed by Thomson Reuters expected a 0.2 percent decline.
The index for February was better than previously reported, falling 0.2 percent instead of 0.4 percent. But it was revised lower in January to a 0.2 percent decline, instead of a 0.1 percent increase.
WASHINGTON
Interest rates decline in Treasury auction
Interest rates on short-term Treasury bills fell in Monday's auction to the lowest levels since January.
The Treasury Department auctioned $28 billion in three-month bills at a discount rate of 0.135 percent, down from 0.180 percent last week. It auctioned $27 billion in six-month bills at a discount rate of 0.33 percent, down from 0.37 percent last week.
The three-month rate was the lowest since those bills averaged 0.12 percent on Jan. 12. The six-month rate was the lowest since those bills averaged 0.32 percent on Jan. 20.
DETROIT
GM firing staff, spent millions on lobbying
General Motors Corp. started firing 1,600 white-collar workers Monday, continuing its effort to slash costs and qualify for more government loans on the same day it revealed it spent $2.8 million in the first three months of this year to lobby federal lawmakers.
Meanwhile, Fiat's CEO left Italy to resume critical talks on an alliance with Chrysler LLC, as deadlines draw closer for GM and Chrysler to finish their restructuring plans.
If GM can swap much of its debt for stock and get concessions from the UAW and Canadian Auto Workers by June 1, the government says it will provide more loans to keep the company going. Bankruptcy financing also is possible if the company determines Chapter 11 is its best bet to achieve the cuts it needs.
Meanwhile, GM said in a government filing that it spent $2.8 million in the first quarter lobbying the U.S. government on a range of issues, including the economic stimulus package, and environmental, consumer safety and health issues.
GM shares fell 20 cents, or 10.75 percent, to close at $1.66 on the New York Stock Exchange.
NEW YORK
Treasury prices rise as stocks head down
Treasurys rebounded Monday as stocks tumbled, leading investors to put their money back in safer assets like government debt.
The benchmark 10-year Treasury note rose 0.97 to 99.25. Its yield dropped to 2.84 percent from 2.93 percent late Friday. Since March 18, when the Federal Reserve said it would start buying $300 billion in Treasurys over six months, the 10-year yield has not surpassed 3 percent.
The 30-year bond rose 2.09 to 96.69, and its yield fell to 3.69 percent from 3.78 percent.