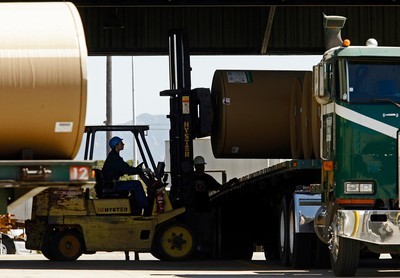 Updated agreement will keep Oasis running
The Oasis in Mesquite can continue to run at reduced operations until Thursday through an update to an existing bank agreement, a filing Friday with the Securities and Exchange Commission shows.
Black Gaming closed the Oasis' table game operations, company-owned restaurants and nightclub Dec. 19 under a bank agreement that first expired Jan. 15 and was extended Feb. 2.
The Oasis reduced its slots from 750 machines to 144, and closed most of its 900-room hotel. The move reduced the casino's staff by 340 workers.
Majority owner Randy Black Sr. and Black Gaming officials are scheduled to appear before the Mesquite City Council on Tuesday to discuss the Oasis' future.
NEW YORK
Housing slump causes timber company loss
Weyerhaeuser Co. said Friday its fourth-quarter loss ballooned to more than $1 billion as the rapidly deteriorating U.S. housing market forced the timber and wood products company to book a massive charge and write down other assets.
The loss amounted to $5.73 per share in the three months ended Dec. 31. The company reported a loss of $63 million, or 30 cents per share, in the year-earlier period.
"These results reflect the speed and severity of the deterioration of market conditions," Weyerhaeuser Chief Executive Dan Fulton said.
NEW YORK
Dividend payments expected to decline
Dividend payments from America's largest companies are expected to fall 13.3 percent this year, the steepest drop since 1942, Standard & Poor's predicted Friday.
The agency said companies in the benchmark S&P 500 index are expected to pay out $214.7 billion in 2009, down from $247.9 billion in 2008.
The projected drop for 2009 would be the worst since the 16.9 percent decrease in 1942.
S&P said 62 of the 500 companies in the index lowered their dividends last year. That totals $40.6 billion in reduced income for shareholders.
DETROIT
Toyota sees big loss and plans cost-cutting
After losing $1.8 billion over its last financial quarter, Toyota Motor Corp. said Friday it plans to reduce its costs by an additional 10 percent across all major parts of its operations.
The areas targeted for cost cuts include capital expenditures, plant expansions, production and employment costs.
Toyota made the announcement after reporting that it now expects to report a net loss of 350 billion yen, or $3.85 billion, for its full fiscal year, which ends in March.
Toyota's quarterly sales plunged 28.4 percent to 4.8 trillion yen or $52.4 billion.
CHARLOTTE, N.C.
Bank of America chief answers charges
Bank of America Corp. Chief Executive Ken Lewis capped off a week of defending his bank and his role in it on Friday by firing back against rumors that his company could be in danger of nationalization.
"It's absurd," Lewis said in a CNBC interview, adding that he knows of no government officials who have talked about nationalizing the bank.
Speaking generally about the banking industry, Lewis reiterated the strength of his Charlotte, N.C.-based company, saying that BofA would not need additional federal funding and still believes its acquisition of brokerage Merrill Lynch & Co. was the right move.
NEW YORK
Treasury prices decline amid stimulus optimism
Treasury prices fell Friday, pushing the 10-year note's yield to 3 percent for the first time this year.
In late trading, the benchmark 10-year Treasury note fell 0.72 points to 106.41. Its yield rose to 2.98 percent from 2.90 percent Thursday.