February 11, 2009 - 10:00 pm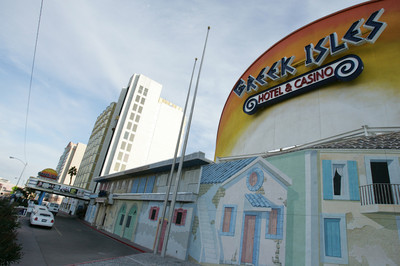 Court-named receiver takes over Greek Isles
The Greek Isles will remain open under the direction of a court-appointed receiver and with a new general manager, sources said.
Multiple sources confirmed that the receiver took over Monday night, six months after its owner defaulted on a $56 million loan.
The hotel, casino, restaurant and showroom will remain open uninterrupted under a new general manager overseeing nongaming operations, said someone at the property who wished not to be identified.
Nevada Gaming Control Board Chairman Dennis Neilander said United Coin Machine Co. will continue to operate the 104 slot machines under its current lease agreement at the slot-only property.
Loan holder Canpartners Realty Holding Co. IV filed a lawsuit Jan. 12 in Clark County District Court asking for a receiver to take over hotel operations from Illinois-based Mark IV Hospitality, which was operating the 202-room hotel under a lease agreement with the owner.
The property owner is listed as GIH-SPE II, a holding company for an investment group that purchased the 6.1-acre property for $48.8 million plus debt in July 2007
The Greek Isles was formerly the Debbie Reynolds Hotel on Convention Center Drive east of the Strip.
RENO
Gasoline prices rise in state during January
Despite a decline in oil prices, gasoline in Nevada jumped more than 20 cents since last month because of reduced production at refineries, AAA said Tuesday.
The association's monthly survey said the average price for a gallon of self-serve unleaded in Nevada was $2.14, up 21 cents from January.
Nevada's average is second in the continental United States behind California, AAA said.
In western and Southern Nevada, prices rose just shy of a quarter a gallon.
Reno and Sparks reported an average price of $2.23, while Carson City was at $2.15, AAA said.
In and around Las Vegas, gasoline was around $2.13.
Elko reported the cheapest gasoline at $1.78, up 6 cents from January, the survey showed.
Nationally, the average price rose 14 cents to $1.93.
NEW YORK
General Motors will cut 10,000 more jobs
General Motors Corp. is planning to slash another 10,000 salaried jobs this year, saying the cuts are unavoidable with a government restructuring deadline looming and industrywide sales in one of the worst downturns in history.
The Detroit-based automaker said Tuesday it will reduce its total number of white-collar workers by 14 percent to 63,000. About 3,400, or 12 percent, of GM's 29,500 salaried U.S. jobs will be eliminated.
Most of the company's remaining salaried employees will have their wages cut.
ATLANTIC CITY
Gambling halls' win better than prior month
Atlantic City's 11 gambling halls did twice as well in January as they did a month earlier but still posted a 9.4 percent decline in revenue from the first month of last year.
After posting their biggest decline in history in December, when revenue fell 18.7 percent, Atlantic City's casinos rebounded to win $321.4 million.
The decline was half of what it had been a month ago, but still showed how badly the city is struggling with a national recession and competition from out-of-state slots parlors.
January's biggest decline was posted by Resorts Atlantic City, the city's most struggling casino. Its revenue fell by 25.4 percent in January compared with the same month a year earlier.
Sirius XM said to hire advisers for bankruptcy
Sirius XM said to hire advisers for bankruptcy
Sirius XM Radio Inc. has hired advisers to prepare for a possible bankruptcy filing, which could come in days, according to a news report.
The New York Times said late Tuesday documents and analysis of a potential Chapter 11 filing are nearly complete, say people close to the company.
Sirius, whose radio personalities include shock jock Howard Stern, has struggled to refinance its debt load at a time when banks are skittish about lending. About $1 billion worth of debt comes due in 2009.
Sirius declined to comment on the report, as did Alvarez & Marsal and Evercore Partners. Simpson, Thatcher & Bartlett didn't immediately return a call for comment.
LOS ANGELES
Ticketmaster confirms plans to seek merger
Concert promoter Live Nation Inc. and ticketing giant Ticketmaster Entertainment Inc. confirmed their merger plans Tuesday and got right to work addressing antitrust concerns that have taken center stage.
The new company would be called Live Nation Entertainment.
Under the deal announced Tuesday, each Ticketmaster share would be replaced by 1.384 shares of Live Nation stock. Ticketmaster shareholders would own 50.01 percent of the new company, while Live Nation shareholders would have 49.99 percent. Live Nation Chief Executive Michael Rapino would be the new company's CEO.
SAN FRANCISCO
Intel will spend big to upgrade factories
Intel Corp. plans to spend $7 billion upgrading its U.S. factories over the next two years, a sign that the recession hasn't extinguished chip makers' lust for cutting-edge equipment.
The company's investment, announced Tuesday by Intel CEO Paul Otellini at a speech in Washington, speaks to the semiconductor industry's need to keep investing heavily, regardless of the poor economic climate that has led Intel to cut jobs.
The investment could be a boon to companies that produce chip-making equipment, like Applied Materials Inc. and KLA-Tencor Corp., and is another example of how Intel's deep pockets have kept rival Advanced Micro Devices Inc. at bay.
PORTLAND, Ore.
Nike may slash up to 1,400 jobs in reshuffle
Shoe and apparel company Nike Inc. said Tuesday that it may cut up to 1,400 jobs as part of a restructuring.
The company said it is realigning its business and as part of that, could cut up to 4 percent of its work force. Nike employs nearly 35,000 people worldwide.
The Beaverton, Ore.-based company reorganized its business two years ago to increase sales and says this decision is the next step in that strategy.
Nike says the exact number, timing and location of the positions to be eliminated will not be known until a review of its entire business is complete at the end of May, when its fiscal year ends.
Muzak Holdings seeks bankruptcy protection
It's time to face the Muzak.
Muzak Holdings, the company that has filled waiting rooms, shopping malls and elevators with syrupy sweet background music for decades, filed for Chapter 11 bankruptcy protection Tuesday in Delaware.
The South Carolina-based company blamed long-standing debt and a market downturn. But a spate of store closures is also at fault, executives said, as the continuing recession caused struggling businesses to cancel their Muzak accounts.
Muzak, founded in the 1930s, made its name by producing nerve-calming instrumental background music at doctors' offices and workplaces.
Its ubiquitous presence in elevators, where it was piped to mask the contraptions' squeals and groans, inspired the term "elevator music."
NEW YORK
News of bank bailout plan lifts Treasurys
Investors swarmed back into government debt Tuesday after Treasury Secretary Timothy Geithner announced a bank bailout plan that the market deemed extremely low on details.
The benchmark 10-year Treasury note rose 1.47 points to 107.88, and its yield fell to 2.84 percent from 3.02 percent.
The 30-year bond rose 3.13 to 118.31, and its yield fell to 3.50 percent from 3.65 percent.