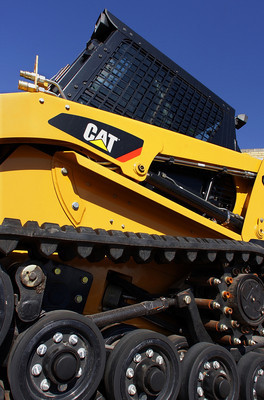 General Growth agrees to limit new debt
General Growth Properties Inc., the U.S. shopping mall owner that warned it may have to file for bankruptcy, agreed to limit new debt, stock issues and property sales without the consent of its lenders as part of a previously announced loan extension.
The agreement was reached Dec. 16 with Eurohypo AG and other lenders, Chicago-based General Growth said Monday in a filing with the U.S. Securities and Exchange Commission. General Growth had said it could be forced into bankruptcy protection if it could not rework its debt.
General Growth last week said a syndicate of lenders agreed to extend until Jan. 30 a senior credit agreement, and that lenders extended until Feb. 12 the deadline to pay or rework $900 million in loans on two Las Vegas properties it's trying to sell, the Fashion Show mall and Shoppes at Palazzo.
The company owns Grand Canal Shoppes at The Venetian, Shoppes at Palazzo, Fashion Show, Boulevard and Meadows malls in Southern Nevada.
Harrah's will swap $2.22 billion in debt
Harrah's Entertainment Inc. will swap $2.22 billion in debt for new notes and cash, accepting 37 percent of the $6.01 billion tendered by bondholders in a sweetened exchange offer aimed at pushing back maturities.
Holders of about 40 percent of unsecured notes maturing in 2010 and 2011, the top priority, agreed to accept cash or new later-maturity bonds, allowing Harrah's to retire $545.8 million of the $1.37 billion eligible debt it was due to repay in the next three years, the company said today.
Harrah's will pay about $290 million in cash to bondholders to eliminate $449.1 million of 2010 and 2011 notes. As of Sept. 30, Harrah's had $24.1 billion in long-term debt, a quarterly regulatory filing shows.
Illinois Gaming Board awards final license
The Illinois Gaming Board voted Monday to give the state's unused casino license to a company that wants to build a gambling boat in suburban Des Plaines, rejecting a higher bid from one that wanted to build in neighboring Rosemont because the village is "tainted."
The board voted 3-1 at a meeting in Chicago to award the license that has languished for years in legal limbo to Midwest Gaming & Entertainment.
Trilliant Gaming for Rosemont was the highest with an up-front licensing fee of $435 million, followed by Waukegan Gaming at $225 million and Midwest Gaming at $125 million.
NEW YORK
Walgreen profits dip 10 percent in quarter
Drugstore operator Walgreen Co. said Monday its profit fell 10 percent in its fiscal first quarter, short of Wall Street expectations, because of costs opening more than 200 new stores.
The company said it plans to slow the opening of new stores to save $500 million in response to the recession.
The Deerfield, Ill., company said earned $408 million, or 41 cents per share, in the three months ended Nov. 30. That total fell short of analyst expectations, and compares with $456 million, or 46 cents per share, a year ago.
Revenue grew 7 percent to $14.95 billion.
Walgreen shares fell $1.10, or 4.22 percent, Monday to close at $24.98 on the New York Stock Exchange.
PEORIA, ILL.
Caterpillar to cut some compensation for execs
Caterpillar Inc., the maker of mining and construction equipment, said Monday it will cut executive compensation by up to 50 percent next year due to slower demand amid the global economic downturn.
Caterpillar said it was offering voluntary buyouts to about 25,000 U.S.-based managers and support employees and had instituted a global hiring freeze.
Caterpillar said it also plans to reduce compensation for senior managers by 5 percent to 35 percent, as well as lower compensation by up to 15 percent and suspend merit pay increases for managers and support staff.
The cuts will come from incentive and equity-based compensation programs, the company said.
People's Bank of China cuts interest rates
China cut interest rates for the fifth time in three months after trade growth collapsed because of recessions in the U.S., Europe and Japan.
The one-year lending rate will drop by 0.27 percentage point to 5.31 percent and the deposit rate by the same amount to 2.25 percent beginning Tuesday, the People's Bank of China said on its Web site. The central bank also reduced the proportion of deposits lenders must set aside as reserves by 0.5 percentage point.
Monday's measures are likely to be supplemented by a second stimulus plan aimed at spurring consumer spending following a 4 trillion yuan ($584 billion) package in November that was focused on infrastructure.
China's exports fell for the first time in seven years last month, imports plunged and manufacturing shrank by a record, threatening to push the world's fourth-largest economy into its deepest slowdown in two decades.
Downbeat reports send oil prices down
Oil prices tumbled below $40 a barrel Monday as reports from manufacturers like Toyota and Caterpillar pointed to a worsening global economic climate and serious deterioration in energy demand.
Light, sweet crude for February delivery fell $2.45, or nearly 6 percent, to settle at $39.91 a barrel on the New York Mercantile Exchange. Crude prices have tumbled 70 percent since peaking above $147 in July.
Phil Flynn, an analyst at Alaron Trading Corp. in Chicago, said even the continuing cold weather and a falling dollar haven't been enough to sustain a rally.
WASHINGTON
Rates for short-term Treasurys hit low
Investors hungry for safety during these times of economic and financial peril are pouring money into Treasury securities, driving down rates on short-term bills to record lows.
The Treasury Department auctioned $27 billion worth of three-month Treasury bills on Monday, fetching a discount rate of 0.005 percent, a new record low. That surpassed the old record low of 0.05 percent set last week.
Another $27 billion in six-month bills was auctioned at a discount rate of 0.3 percent, an all-time low. That beat out the old record low of 0.43 percent also reached last week.
NEW YORK
Treasury yields creep higher in light trading
Treasury yields edged higher in light trading Monday, recovering from last week's historic lows.
The 10-year Treasury note's yield was fell 0.38 points to 2.14 percent, up from 2.13 percent in late trading Friday. Last week, the 10-year yield sank as low as 2.04 percent — the lowest since the government started regularly issuing the notes.