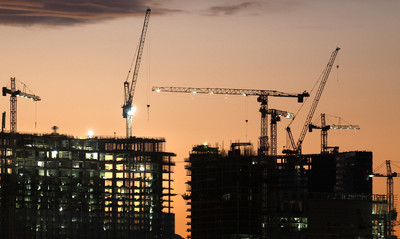 Fitch downgrades MGM Mirage debt
Fitch Ratings Service downgraded the outstanding debt owed by MGM Mirage, citing problems the company has faced in financing the $9.2 billion CityCenter as well as slowing condominium sales and reduced gaming revenues in Las Vegas.
Shares of MGM Mirage shares fell $1.97, or 13.67 percent, Wednesday on the New York Stock Exchange to close at $12.44.
Fitch cut the rating on the company's issuer default probability, senior notes and senior credit facility to "BB-" from "BB" and trimmed the rating on senior subordinated notes to "B" from "B+". All ratings are considered noninvestment or junk grade.
The outlook remains "negative."
Sands says sale of co-op units OK'd
Las Vegas Sands Corp. said the Macau government has given the casino operator approval to legally separate a second tower at the recently opened Four Season hotel, clearing the way for the sale of cooperative interests in the units.
According to a statement Wednesday, legal separation of the property will allow the company to transfer an under-construction 300-unit apartment hotel building into a separate cooperative holding company and to sell cooperative interests in the tower in a manner similar to the way apartment units are sold in New York City and other international locations.
The Four Seasons, which opened a 360-room hotel on Aug. 28 at a cost of $1 billion, is adjacent to the Venetian Macau on the Cotai Strip.
Las Vegas Sands CEO Sheldon Adelson said sales of the co-op units and revenue from the site's luxury mall would lower the company's debt burden or provide funding for future projects. Las Vegas Sands is seeking to refinance $3.3 billion of debt and raise $2 billion for its projects in Macau.
Shares of Las Vegas Sands, traded on the New York Stock Exchange, fell 72 cents, or 5.79 percent, Wednesday to close at $11.71.
Harrah's wins another court battle with tribe
Harrah's Entertainment won another court decision Tuesday in a seven-year battle against a New York American Indian tribe seeking payment of a multibillion dollar judgment against the company.
A federal appeals court in New York on Tuesday affirmed a lower court's ruling that a company later acquired by Harrah's did not interfere with the St. Regis Mohawk tribe's plans to develop a casino in New York.
Delaware-based Catskill Litigation Trust had appealed to the U.S. Court of Appeals for the Second Circuit, wanting to enforce a 2001 default judgment for $1.8 billion awarded by St. Regis Mohawk Tribal Court.
The original default judgment against Park Place Entertainment, which is now close to $5 billion after interest, was awarded after tribal members represented by the trust claimed the gaming company had interfered in the tribe's plans to develop a casino.
Harrah's was named in the lawsuit because it acquired Park Place with its $9.4 billion buyout of Caesars Entertainment in June 2005. The trust could not be reached to comment on if it plans to continue appealing the case. Harrah's declined to comment.
Longer-term Treasurys show increases
Longer-term Treasurys rose on Wednesday.
The 10-year note rose 1.16 to 103.31 and yielded 3.60 percent, down from 3.74 percent.
The 30-year bond rose 2.69 to 107.59 and yielded 4.06 percent, down from 4.21 percent.