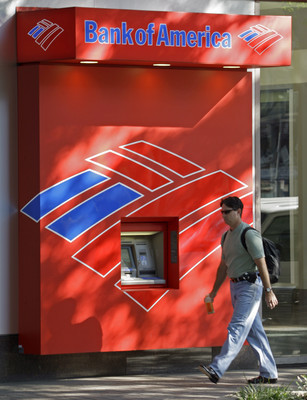 CHARLOTTE, N.C.
Bank of America profits exceed Street's outlook
Bank of America Corp. has become the latest in a string of big banks whose second-quarter earnings, while hurting from the impact of the credit crisis, still managed to beat Wall Street expectations.
The nation's second-largest bank by assets said Monday its profit fell 41 percent as losses in its struggling mortgage operations were offset by business in other parts of the company. Bank of America reported net income of $3.41 billion, or 72 cents per share, in the quarter ended June 30, compared with net income of $5.76 billion, or $1.28 per share, a year earlier.
Revenue rose 3.5 percent to $20.32 billion from $19.63 billion.
Analysts on average expected a profit of 53 cents per share on $18.37 billion in revenue.
Diamond Resorts will buy time-share seller
Las Vegas-based Diamond Resorts, a closely held developer and manager of vacation properties, tentatively agreed to buy Florida time-share seller Bluegreen Corp. for $500 million.
Bluegreen reached a nonbinding agreement to be sold for $15 a share, more than double its $6.44-per-share Monday closing price. Diamond Resorts will have an exclusive right to negotiations through Sept. 15 to allow it to more fully examine the company's financials, Boca Raton. Fla.-based Bluegreen said in a statement.
Bluegreen has 186,500 owners, and has sold 56,300 residential and golf community home sites since 1985. Diamond Resorts runs 110 resorts in 14 countries and has 360,000 owners.
Get dealt in against poker pros at Venetian
A new interactive show at The Venetian in Las Vegas will let spectators test their poker skills against some of the game's most famous players.
The Strip hotel-casino says "The Real Deal!" show starting in the fall will let audience members play against players like Doyle Brunson, Daniel Negreanu and Phil Hellmuth Jr. on stage and using touch-screen devices at their seats.
The show will run like an interactive game pitting the poker professionals against amateurs and audience members. Some attendees will win prizes.
The show is scheduled to run six days each week starting in the fall.
NEW YORK
Schering-Plough profits decline by 23 percent
Schering-Plough Corp.'s second-quarter profit tumbled 23 percent on charges for a canceled development program with Merck & Co. and accounting adjustments, but adjusted profit topped Wall Street forecasts.
Schering-Plough said it earned $398 million, or 24 cents per share, from $517 million, or 34 cents per share, in the prior-year period.
Sales rose 54.7 percent to $4.92 billion from $3.18 billion
Analysts polled by Thomson Financial forecast profit of 42 cents per share on revenue of just under $4.77 billion.
NEW YORK
Profits slip 38 percent for American Express
American Express Co. said Monday its second-quarter profit tumbled 38 percent, well below Wall Street's forecast, as consumer spending slowed and credit indicators deteriorated beyond the lender's expectations.
For the period ended June 30, American Express reported net income of $653 million, or 56 cents per share, compared with $1.06 billion, or 88 cents per share, a year earlier.
Revenue rose 7.8 percent to $7.48 billion from $6.94 billion.
Analysts polled by Thomson Financial expected earnings of 83 cents per share on revenue of $7.6 billion.
NEW YORK
GM's new Camaro will have fuel-efficient bent
Despite record-high gasoline prices and production and work force cuts, General Motors Corp. still has a soft spot for muscle cars.
GM's Chevrolet unveiled its 2010 Camaro on Monday, bringing back to life the sports car it retired in 2002, but with a focus on fuel efficiency.
The new Camaro will get 26 miles per gallon on the highway, GM said. It will hit showrooms in the first quarter of 2009.
GM will offer the Camaro with V-6, 3.6-liter engines in its LS and LT models, along with V-8-powered, 6.2-liter engines in its SS model. Billed as a "fun, efficient sports car for the 21st century," GM hopes the new Camaro will appeal to enthusiasts and younger buyers.
SAN FRANCISCO
Genentech considers Roche Holding offer
Biotechnology pioneer Genentech considered Roche Holding's $43.7 billion offer for its remaining shares Monday as investors made clear their feelings that the Swiss pharmaceutical giant should pay more.
But some analysts said Roche, already Genentech's majority shareholder, has leverage to keep the price for the maker of the blockbuster cancer therapy Avastin and other cancer treatments from spiraling much higher.
Genentech's stock price climbed above Roche's offer of $89 per share in Monday trading — a bet that the independent directors weighing the Basel-based company's bid will demand more money.
Shares jumped $12.06, or 14.74 percent, to close at $93.88 on the New York Stock Exchange. The shares had risen to a 52-week high of $94.19 earlier in the session.
WASHINGTON
Interest rates decline in Treasury auction
Interest rates on short-term Treasury bills fell in Monday's auction with rates on three-month bills dropping to the lowest level since late April.
The Treasury Department auctioned $24 billion in three-month bills at a discount rate of 1.52 percent, down from 1.61 percent last week. Another $23 billion in six-month bills was auctioned at a discount rate of 1.92 percent, down from 1.955 percent last week.
NEW YORK
Treasury prices rise as oil costs keep climbing
Treasury prices rose slightly Monday as the stock market showed little direction and as oil prices ticked higher, leading investors to the safety of government bonds.
In late trading Monday, the 10-year Treasury note rose 0.44 points to 98.69. Its yield fell to 4.04 percent from 4.09 percent on Friday.