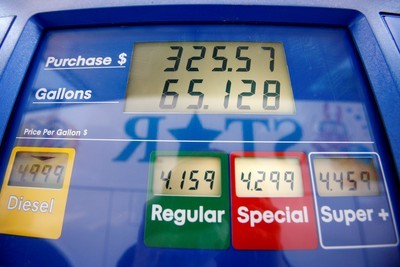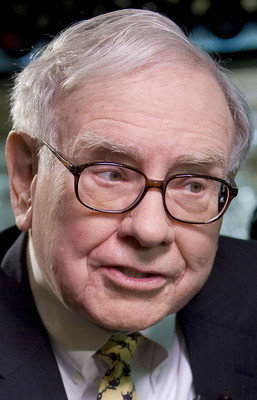 NEW YORK
Easing supply worries send oil prices down
Oil prices tumbled nearly $4 a barrel Monday, erasing many of last week's record gains in a single session as concerns about potential supply disruptions eased.
Light, sweet crude for August delivery fell $3.92, or about 2.7 percent, to settle at $141.37 on the New York Mercantile Exchange. Earlier, the contract sank as low as $139.50, or $5.79 below Thursday's settlement price.
Traders drove prices sharply higher at the end of last week as they bet that conflict with Iran or some other event could cut supplies, and they didn't want to get caught unprepared over the long Independence Day weekend, analysts said.
A gallon of regular gasoline now costs $4.108, a tenth of a penny more than the previous day's high, according to AAA, the Oil Price Information Service and Wright Express. Diesel is also at a record, of $4.801, up nearly a penny.
Americans are now paying more than $1 billion more for gasoline per day than they did five years ago, according to an OPIS report Monday.
In Las Vegas, the price of a gallon of regular, self-serve unleaded gasoline was $4.246 on Monday, AAA said in its Daily Fuel Gauge report.
The price is up 3.8 percent from $4.089 a month ago and up 40.2 percent from $3.029 a year ago, AAA said.
DENVER
Frontier, AirTran say they will reduce staffs
Frontier Airlines and AirTran Airways both announced job cuts Monday.
Frontier spokeswoman Lindsey Purves on Monday confirmed the airline will cut 456 jobs in Colorado but declined to give further details. She didn't say whether the airline has informed other states of any cuts.
AirTran Airways, meanwhile, is cutting 480 jobs, or more than 5 percent of its work force, amid difficult financial times due largely to soaring fuel prices, a company executive said Monday.
The Orlando, Fla.-based airline told employees that 180 pilot jobs and 300 flight attendant jobs will be eliminated effective Sept. 6, said Kevin Healy, senior vice president of marketing and planning for AirTran Airways, a subsidiary of AirTran Holdings. Flights also will be reduced in September, Healy said.
OMAHA, Neb.
Billionaire Buffett gives stock to charity
Billionaire Warren Buffett has given away 512,169 Class B shares of Berkshire Hathaway stock to three charitable foundations in keeping with his plan to give away the bulk of his fortune.
The gifts were revealed in paperwork filed Monday with the Securities and Exchange Commission.
Those shares were worth $3,999 each, more than $2.05 billion total, at the close of trading July 1, the day Buffett transferred their ownership. Most of the shares — 451,250 — went to the Bill & Melinda Gates Foundation.
Buffett said in 2006 that he planned to give 10 million B shares to the Gates Foundation over time, 1 million B shares for the Susan Thompson Buffett Foundation named in honor of his first wife, and 350,000 shares for each of the three foundations run by his three children.
DEARBORN, Mich.
Ford won't comment on report on Volvo
Ford Motor Co. isn't commenting on a Chinese business journal report that China's Chery Automobile Corp. is interested in buying Ford's Volvo unit.
Caijing magazine quotes unidentified sources as saying Chery is looking for bank and equity investor help for a possible bid for Volvo, Ford's Swedish nameplate.
Ford spokesman Mark Truby said Monday the automaker won't comment on the report.
He says Ford decided last year to concentrate on improving Volvo's business performance, rather than selling it.
LOS ANGELES
Forecasts reduced for entertainment stocks
A Lehman Bros. analyst downgraded the entertainment industry Monday and slashed forecasts for its five major companies, saying digital downloads of movies and TV shows posed a huge threat to profits from digital vide disc sales that the companies rely on.
The stocks of The Walt Disney Co., News Corp., CBS Corp., Time Warner and Viacom fell slightly more than the market by the close, with CBS falling the most, by 87 cents, or 4.68 percent, to $17.73 on the New York Stock Exchange.
"Shifts from physical to digital will disrupt the marginal economics of the TV and movie businesses, just as it did for music," analyst Anthony DiClemente said during a conference call.
DiClemente argued that the average profit the companies see from new DVDs, including higher-priced Blu-ray discs, is $10.59. Selling the same movie through Apple's iTunes online music and video store nets them $9.29, 12 percent less, he said.
WASHINGTON
Interest rates decline in Treasury auction
Interest rates on short-term Treasury bills fell in Monday's auction.
The Treasury Department auctioned $24 billion in three-month bills at a discount rate of 1.865 percent, down from 1.9 percent last week. Another $23 billion in six-month bills was auctioned at a discount rate of 2.06 percent, down from 2.135 percent last week.
The three-month rate was the lowest since June 23, when these bills averaged 1.855 percent. The six-month rate was the lowest since these bills averaged 2.05 percent on June 9.
NEW YORK
As traders flee stocks, Treasury prices increase
Treasury bonds rose Monday as investors fled the stock market amid growing concerns about the financial sector. A Federal Reserve official warned that financial companies' problems might worsen, and a Wall Street analyst raised questions about government lenders Freddie Mac and Fannie Mae.
In late trading, the 10-year note rose 0.63 points to 99 0.72 points. Its yield fell to 3.91 percent from 3.98 percent on Thursday, according to BGCantor Market Data.