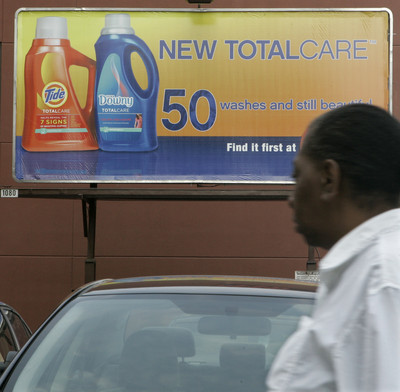 LOS ANGELES
Metro-Goldwyn-Mayer says it's not for sale
Metro-Goldwyn-Mayer Studios Inc. says it is "not for sale" following a report in BusinessWeek on Saturday that MGM's owners were looking to sell the movie company for $5.2 billion.
The studio was taken private for nearly $5 billion in 2005 by Providence Equity Partners, TPG, Sony Corp. of America and Comcast Corp.
The company said its owners were committed to growing the studio and denied there was an asking price.
MGM did say, however, that it has retained Goldman Sachs to enhance its long-term capital structure.
Billionaire Kirk Kerkorian, who bought and sold the studio several times over the years, reportedly offered $3 billion for it through Tracinda Corp. but the offer was dismissed.
A Tracinda spokeswoman had no comment.
Kerkorian is the majority shareholder in Las Vegas casino operator MGM Mirage.
CINCINNATI
Fashion makeover for Tide's ad campaign
Procter & Gamble Co. links laundry to fashion in what's billed as the biggest product launch yet for its venerable Tide brand.
Fashion mentor Tim Gunn of the reality TV series "Project Runway" is among figures from the fashion world involved in marketing of new Tide detergent and Downy fabric softener "Total Care" products. P&G's Kash Shaikh says a $60 million campaign also includes a tie-in with Ann Taylor Loft women's clothing stores and advertising in magazines such as Elle, Vogue and Cosmopolitan.
Precision Drilling Trust to acquire Grey Wolf
Precision Drilling Trust, Canada's largest driller, agreed to buy Grey Wolf Inc. for $2 billion to add customers, equipment and crews in fast-growing U.S. natural gas basins in states such as Texas and Colorado.
Stockholders of Grey Wolf, based in Houston, will get $5 and 0.1883 trust unit per share, the companies said Monday in a statement. At the Aug. 22 closing prices, that represents a premium of 4.8 percent.
Calgary-based Precision began publicly pursuing Grey Wolf on June 10 as record oil and gasoline prices raised demand for rigs and support equipment. Grey Wolf agreed to take $1 a share less than a bid it spurned June 27.
MINNEAPOLIS
Group seeks delay of Newark airport auction
An airline trade group is asking the Federal Aviation Administration to delay its planned Sept. 3 auction of slots at the Newark airport.
The auction next week would be the first of several the FAA has said it wants to conduct. It has said that selling the slots to land and take off at LaGuardia, Kennedy and Newark should reduce congestion. Those three airports have been a major source of delays for the airlines that use them.
The protest filed earlier this month with the FAA's Office of Dispute Resolution Acquisition argues that FAA needs Congressional authority for the slot auctions. The ATA also argued that the FAA claimed it had no authority to conduct auctions from 1985 until 2006, but now says it was mistaken.
NEW YORK
Facebook extends block of Scrabulous
A highly popular Scrabble clone already pulled from Facebook in the United States and Canada continued its tumble over the weekend as the online hangout extended its block of the game throughout most of the world.
Facebook said Monday it was forced to disable Scrabulous after one of Scrabble's rights owners, Mattel Inc., made a formal removal request and the developers of Scrabulous took no action themselves.
The Scrabulous application remains available in India where its developers live and where Mattel has filed a lawsuit claiming violations of intellectual property. Facebook isn't blocking Scrabulous there for now, considering the question of ownership still a matter for Indian courts to resolve.
In deciding to block Scrabulous on Friday, Facebook risked antagonizing a community of software developers it has been trying to nurture and promote. But had it done nothing, it could have faced liability for copyright and trademark infringement.
SUNNYVALE, Calif.
Advanced Micro Devices to sell unit to Broadcom
Advanced Micro Devices Inc. will sell its unit that makes chips for digital TV sets to fellow chip maker Broadcom Corp. for $192.8 million in cash, the companies announced Monday.
AMD is selling the unit as part of a program to reduce debt and improve profitability, President and Chief Executive Officer Dirk Meyer said.
The Sunnyvale, Calif.-based company's TV chips receive over-the-air broadcasts and process the signals to improve picture quality. They are used in flat-panel and rear-projection sets.
The companies expect the deal to close by the end of the year.
LOS GATOS, Calif.
Computer hardware said to hinder Netflix
Netflix Inc. is blaming a faulty piece of computer hardware for a breakdown that delayed millions of shipments to the online digital video disc rental service's customers earlier this month.
"We've taken steps to fortify our shipping system with the acquisition of additional equipment and worked with our vendors to verify we're in good shape elsewhere," Mike Osier, Netflix technology chief, wrote on the company's Web site.
The explanation, posted late last week, marked the first time Netflix identified the cause of an outage that prevented the Los Gatos-based company's 55 shipping centers from processing rental requests from Aug. 12-14.
WASHINGTON
Interest rates decline in Treasury auction
Interest rates on short-term Treasury bills fell in Monday's auction for the second consecutive week.
The Treasury Department auctioned $28 billion in three-month bills at a discount rate of 1.71 percent, down from 1.85 percent last week. Another $27 billion in six-month bills was auctioned at a discount rate of 1.925 percent, down from 1.98 percent last week.
The discount rates reflect that the bills sell for less than face value. For a $10,000 bill, the three-month price was $9,956.30, while a six-month bill sold for $9,902.68. That would equal an annualized rate of 1.741 percent for the three-month bills, and 1.971 percent for the six-month bills.
NEW YORK
Treasury prices rise as traders seek safety
Prices of Treasury bonds advanced Monday as investors sought the safety of government securities amid worries about the impact of the credit crisis on the financial sector.
In late trading, the 10-year Treasury note rose 0.69 points to 101.72. Its yield fell to 3.79 percent from late Friday's yield of 3.87 percent, according to BGCantor Market Data. Yields move in the opposite direction from prices.
The 30-year bond rose 1.22 points to 101.69. Its yield fell to 4.40 percent from 4.47 percent late Friday.