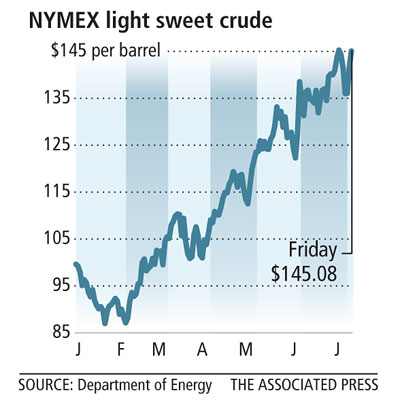 LOS ANGELES
IndyMac assets seized by federal regulators
Federal regulators seized IndyMac Bank's assets Friday after the bank succumbed to the pressures of tighter credit, tumbling home prices and rising foreclosures.
The Office of Thrift Supervision said it transferred IndyMac's operations to the Federal Deposit Insurance Corp. because it did not think the lender could meet its depositors' demands.
IndyMac customers with money in the bank were limited to taking out cash via automated teller machines over the weekend, debit card transactions or checks, regulators said.
Other bank services, such as online banking and phone banking were scheduled to be made available on Monday.
ST. LOUIS
Anheuser-Busch may take sweetened offer
After weeks of public bickering, Anheuser-Busch Cos.' board is likely to accept a sweetened buyout offer from the Belgian-based brewer InBev SA as early as this weekend, a published report said.
The Wall Street Journal reported Friday that InBev has boosted its takeover offer for the St. Louis-based maker of Budweiser, Bud Light and other beers by $5 a share to $70. It said one person it did not identify by name said the Anheuser-Busch board is likely to accept the offer this weekend.
An earlier New York Times report, also citing unnamed sources, said talks have become friendly. The Times also said Friday that a person close to the talks said InBev had raised its offer to $70 a share. It said an announcement of a deal could come as early as Monday.
HARTFORD, Conn.
General Electric profits drop, meet forecast
General Electric Co. reverted to form with no big surprises in its latest earnings report.
The conglomerate, which has interests in making loans, TV shows and light bulbs and building industrial machinery reported a 6 percent decline in its second-quarter earnings but still matched analyst's expectations.
That was a big change from April 11 when the normally reliable GE shocked investors with a 6 percent decline in first-quarter earnings.
Fairfield-based GE earned $5.07 billion, or 51 cents per share, compared with a year-earlier profit of $5.38 billion, or 52 cents per share.
Revenue rose 10.6 percent to $46.89 billion from $42.38 billion.
On the basis of continuing operations, GE earned $5.39 billion, or 54 cents per share. Analysts expected the company to report earnings of 54 cents per share on revenue of $45.31 billion, according to Thomson Financial.
Fed will ban fees on pricier mortgages
The Federal Reserve, seeking to end abusive lending practices, will ban fees on some high-cost mortgages that make it harder for people to refinance, a person familiar with the decision said.
The rule, part of a broader Fed response to the collapse of the subprime mortgage market, targets high-cost loans with interest rates that reset in the first four years, the person said. The rules would limit the penalties when borrowers seek to pay off their mortgages in the first two years on other types of high-priced loans, the person said.
NEW YORK
Smoldering hostilities lift oil prices to record
It's only July, but it might be time to start loading up on blankets and sweaters. Oil spiked to a trading record as hostilities rise between the West and Iran — raising the likelihood that this winter's heating bills will be the priciest yet.
Crude oil's brief jump past $147 a barrel Friday arrived not only as the United States and Israel view Iran as a growing threat.
It also comes as the U.S. dollar fell and worries erupted over possible supply disruptions in two other major oil-producing nations: Nigeria and Brazil.
Light, sweet crude for August delivery soared to an all-time high of $147.27 a barrel before settling at $145.08, up $3.43. That price is slightly below last Thursday's settlement record, which was $145.29 a barrel.
WILMINGTON, Del.
Ashland stock plunges after deal announced
Ashland's stock plummeted Friday after it said it would buy specialty chemicals maker Hercules in a $2.6 billion cash-and-stock deal that includes a big debt load.
Ashland's stock fell 13 percent after it announced the deal, which also includes the assumption of $700 million of Hercules debt, sparking worries that the payments would stymie growth.
Ashland shares closed Friday at $41.10, down $6.31, or 13.31 percent. Hercules shares ended the day at $20.95, up $4.29, or 25.75 percent.
Bank assigns officer new responsibility
First National Bank of Nevada assigned a new responsibility to a key local executive. Bill Oakley, market president of First National in Southern Nevada, will continue in that capacity but was named to also serve as chief lending officer for commercial and developer real estate, the bank said Friday. Oakley will remain in Las Vegas until a replacement is named.
In another development, First National Bank of Nevada and First National Bank of Arizona were merged on June 30. Both are controlled by the Ray Lamb family.
The announcement follows an earlier decision to appoint James Claffee as chief executive officer for the bank. Claffee was named to replace Gary Dorris in June.
Nevada Power Co. proposes rate cut
Nevada Power Co. is proposing a 5 percent rate reduction starting Oct. 1, but state regulators predict rates will rebound in the winter because of increasing prices for natural gas, which is used to generate 80 percent of the utility's power.
The Public Utilities Commission staff will outline projections on the price of gas and how it will affect power prices at a consumer session Tuesday.
The meeting will start at 7 p.m. in the multipurpose room of the Sahara West Library, 9600 W. Sahara Ave.
NEW YORK
Bailout speculation pushes Treasurys down
Treasury bond prices slid sharply Friday on speculation that a massive government bailout of Fannie Mae and Freddie Mac could hurt the nation's triple-A credit rating.
In late trading, the 10-year note fell 1.25 points to 99.34. Its yield soared to 3.96 percent from 3.80 percent on Thursday.
The 30-year long bond fell 1.94 points to 97.38. Its yield rose to 4.54 percent from 4.41 percent on Thursday.