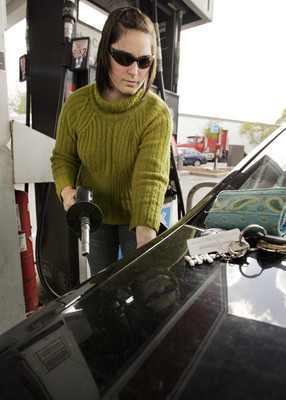 Group pays more toward Hooters Hotel
Hooters Hotel's ownership received a $500,000 nonrefundable, nonapplicable fee payment Wednesday from an investment group working to purchase the property.
Santa Monica, Calif.-based Hedwigs Las Vegas Top Tier made the payment to retain exclusive purchase rights through the end of May.
The investment group has made $5.5 million in nonrefundable payments, of which only $3 million goes toward the $225 million transaction.
Hedwigs principal Richard Bosworth said the group plans to close the sale by the end of June.
Moody's Investors Service last week cut some bond ratings of Hooters Hotel into junk status, expressing skepticism about the sale of the property.
Tiffany & Co. to open third store in Las Vegas
Luxury jeweler Tiffany & Co. will open its third Las Vegas store in 2009, the company is scheduled to announce today.
The New York-based retailer plans a 10,000-square-foot, two-level store in The Crystals, a 500,000-square-foot mall that is part of the CityCenter development.
The new store will face Las Vegas Boulevard and be the only Tiffany in Las Vegas with access directly from the street. The two other Tiffany stores are inside the malls of Bellagio and Caesars Palace.
The CityCenter Tiffany will have an entrance that is part of the mall's 85-foot-high glass facade of polished black marble, according to a description from the company.
In addition to The Crystals, CityCenter will include condominiums, hotels, convention and trade show facilities, clubs, restaurants and casinos.
Centex's quarterly loss is fourth in a row
Centex Corp., the worst performing stock in an index of U.S. homebuilders, reported its fourth consecutive quarterly loss as tumbling prices deterred consumers from buying homes.
The fiscal fourth quarter net loss amounted to $910.5 million, or $7.36 a share, compared with net income of $198.9 million, or $1.65, a year earlier,
Revenue fell 36 percent to $2.3 billion.
The company got most of its revenue last quarter from Arizona, Southern California, Las Vegas and New Mexico.
DETROIT
General Motors cuts U.S. sales forecast
Bowing to grim reality, General Motors Corp. followed Ford's lead and cut its U.S. sales forecast Wednesday after a tough first quarter that saw a $3.3 billion loss.
But unlike Ford, GM faces more unknowns that could complicate its North American turnaround and drag down strong results overseas, including a strike at supplier American Axle, the protracted bankruptcy case of its former parts division, Delphi Corp., and unresolved labor talks in Canada.
GM's loss for the January-March period amounted to $5.74 per share, reflecting $2.9 billion in one-time charges. That compares with a profit of $62 million, or 11 cents per share, a year earlier.
GRAND RAPIDS, Mich.
Kellogg profits decline 2 percent in quarter
Kellogg Co. reported Wednesday that its first-quarter profit dipped 2 percent, despite recent price increases intended to offset higher costs.
The Battle Creek-based cereal and snack maker said net earnings fell to $315 million, or 81 cents per share, compared with $321 million, or 80 cents per share, a year earlier. Earnings per share rose despite the decline in profit due to the completion of the company's $650 million share-repurchase program.
Revenue rose 10 percent, to $3.3 billion from $3 billion.
NEW YORK
Supply news sends oil prices downward
Oil prices fell sharply Wednesday after the government reported U.S. fuel supplies rose more than expected last week.
Meanwhile, the pain at the pump continued. Retail gasoline prices set yet another record, rising to a national average of nearly $3.62 a gallon.
In Las Vegas, the average price of a gallon of regular self-serve unleaded was a record $3.609 Wednesday, AAA said in its Daily Fuel Gauge report. The price is up 7.4 percent from the month-ago price of $3.36 and up 16.2 percent from the year-earlier price of $3.107, AAA said.
Oil finished at its lowest point in more than two weeks after the central bank said it would cut the federal funds rate by a quarter percentage point to 2 percent.
Light, sweet crude for June delivery fell $2.17 to settle at $113.46 on the New York Mercantile Exchange. Crude closed at $113.79 on April 14.
In other Nymex trading Wednesday, May gasoline futures fell 0.8 cents to settle at $2.9312 a gallon and May heating oil futures fell 6.95 cents to settle at $3.1770 a gallon. June natural gas futures rose 0.1 cents to settle at $10.843 per 1,000 cubic feet.
NEW YORK
Time Warner plans to spin off cable business
Time Warner said Wednesday it plans to spin off the rest of its cable TV business, answering investor pleas to further simplify the media conglomerate's sprawling corporate structure.
The news came as Time Warner, which also owns Warner Bros., CNN, AOL and Time magazine, reported a 36 percent decline in first-quarter earnings from a year ago, when it had a gain from the sale of AOL's Internet access business in Germany. The results were mainly in line with expectations.
Time Warner didn't offer details on how or when the split with its largest operating division would occur, but said it was close to an agreement with the board of Time Warner Cable and expected to make an announcement soon.
NEW YORK
Treasury prices mixed after Fed reduces rate
Treasurys were mixed Wednesday after the Federal Reserve cut interest rates by a quarter-point and suggested it was taking a neutral stance toward future reductions.
The benchmark 10-year Treasury yielded 3.74 percent, down from 3.80 percent late Tuesday. Prices and yields move in opposite directions.
The 30-year long bond yield fell to 4.47 percent from 4.55 percent.