October 26, 2007 - 9:00 pm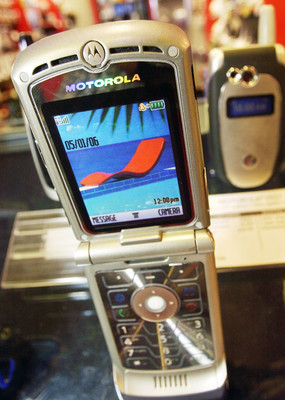 Mission Industries gets union deadline
Industrial laundry company Mission Industries on Thursday was given a deadline of Nov. 1 by Culinary Local 226 to reach a new contract or the union will terminate the contract extension its nearly 1,500 workers have been working under for a year.
The sides will meet Wednesday to discuss an agreement.
Terminating the extension would open the door for possible actions by the union, including a strike, pickets, boycotts or nothing.
Mission Industries provides laundry service to 23 Strip, 10 downtown and 16 locals hotel-casinos.
The laundry workers have been working under a contract extension since October while management negotiates with Culinary Local 226.
Employees of the industrial laundry company began registering for strike benefits in September.
CHICAGO
Motorola earnings fall 94 percent in quarter
Motorola's third-quarter earnings plummeted 94 percent but the cell-phone company still managed to impress Wall Street with its progress, improving from its dismal first-half performance and serving notice its turnaround effort may be taking hold.
Net income for the July-through-September period amounted to 3 cents per share, compared with a year-earlier profit of $968 million, or 39 cents per share. Excluding charges for layoffs and asset writedowns, earnings from continuing operations were 6 cents per share, 2 cents better than the estimate of analysts polled by Thomson Financial.
Sales fell 16.9 percent to $8.81 billion from $10.6 billion a year earlier, but up a percentage point from the second quarter.
A profit of $60 million and narrowed loss in the cell-phone unit provided a modest endorsement of Motorola's steps toward recovery and could buy more time for embattled CEO Ed Zander.
NEW YORK
Production news sends oil futures past $90
Oil futures jumped to a new record close of $90.46 a barrel Thursday on news that OPEC production increases aren't coming as fast as expected and that the cartel won't announce new output quotas when it meets next month.
Prices rose in early trading on growing concerns about conflict in the Middle East and declining supplies of crude in the U.S. They got a further boost after Dow Jones Newswires reported that Oil Movements, a company that tracks oil tanker traffic, said crude shipments from Organization of Petroleum Exporting Countries members will grow more slowly than anticipated through early November.
Light, sweet crude for December delivery rose $3.36 to settle at $90.46 a barrel on the New York Mercantile Exchange after rising as high as $90.60 earlier, a trading record.
NEW YORK
Ex-Tyco execs unjustly convicted, lawyer says
Two former top executives of Tyco International Ltd., imprisoned for looting the company of millions of dollars, were unjustly convicted, their lawyers told an appeals court Thursday.
The arguments on behalf of former CEO L. Dennis Kozlowski and former finance chief Mark Swartz centered on whether the men were entitled to all the money they received and whether some damning testimony was improperly permitted.
Lawyer Nathaniel Marmur, who represented Swartz, said that no larceny had occurred.
DETROIT
MGM Grand Detroit, unions reach accord
MGM Grand Detroit Casino has struck a tentative deal with a coalition of labor unions on a new contract.
The casino has been negotiating with the Detroit Casino Council. The council represents more than 2,900 employees affiliated with the United Auto Workers, the Teamsters and other unions.
Details of the pact will be submitted to members. They'll vote Monday on whether to accept it.
NEW YORK
Treasury prices static amid erratic market
Treasury prices closed unchanged Thursday as an erratic stock market lightened its losses, easing demand for low-risk bonds.
The benchmark 10-year Treasury note ended unchanged at 103.19 with a yield of 4.35 percent, matching its closing level on Wednesday.
The 30-year long bond closed flat at 105.56 with a yield of 4.65 percent, also unchanged from Wednesday.
The 2-year note gained 0.03 points to 99.78 with a 3.74 percent yield, unchanged from the prior day.