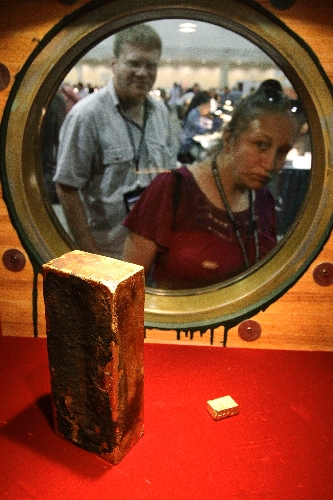 MINNEAPOLIS
Target plans to open new store in smaller format
Target Corp. plans to open its first store in a new, smaller format in Seattle in 2012, with plans to expand to 10 other markets in such cities as San Francisco and Baltimore in the next few years.
The new store will be about 90,000 square feet. The new urban prototype will range anywhere from 60,000 to 100,000 square feet. A typical Target store ranges in size from 125,000 to 180,000 square feet.
Company officials made the announcement Friday at a rare media conference at Target Field, the Minneapolis ballpark where the Minnesota Twins play baseball.
Target operates 16 stores in Southern Nevada.
Gold prices climb, but fall short of $1,300 an ounce
Gold prices failed to close above the psychologically important threshold of $1,300, ending the week just shy of that benchmark. Gold rose $1.70 to settle at $1,296 an ounce on the New York Mercantile Exchange spot market.
Investors have been fueling the rally in gold by snapping up supplies as a hedge against inflation. Prices spiked after the Federal Reserve announced Tuesday it would consider taking additional steps to stimulate the economy, causing the value of the dollar to fall.
Also on the New York Mercantile Exchange spot market, silver prices rose 18.9 cents to close at $21.383.
LOS ANGELES
Higher selling prices help
KB Home slim quarterly loss
KB Home said Friday it narrowed its fiscal third-quarter loss, as the homebuilder booked fewer write-downs and higher average selling prices helped boost revenue.
But the company's backlog, which represents future housing revenue, dropped, and net orders fell 39 percent, as demand slowed after federal homebuyer tax credits expired in April.
KB Home said it lost $1.4 million, or 2 cents a share, in the three months ended Aug. 31. That compares with a loss of $66 million, or 87 cents a share, a year earlier.
The quarter's results included $3.3 million in inventory impairment and land option contract abandonment charges. This is considerably lower than the $47.7 million for similar charges in the prior-year period.
Revenue rose 9 percent to $501 million, the first year-over-year increase in almost four years.
From January to June, KB Home had 410 local home closings to lead the local market, SalesTraq reported in July. KB had 12.9 percent market share, SalesTraq data showed.
WASHINGTON
Three credit-union financing companies facing takeover
Regulators are taking over three companies that provide financing for U.S. credit unions, after the companies suffered massive losses on mortgage investments and were short cash.
The National Credit Union Administration says it placed into conservatorship the Members United Corporate Federal Credit Union, Southwest Corporate Federal Credit Union and Constitution Federal Credit Union.
The takeovers are the latest evidence that the banking industry is still plagued by bad mortgage debt.
The government regulator says it will wind down the companies by reselling up to $50 billion worth of securities that lost value after the housing market crashed in 2007. The debt will be repackaged and offered to private investors. It will be backed by the credit of the U.S. Treasury.
NEW YORK
NBC Universal chief will step down after Comcast takeover
NBC Universal CEO Jeff Zucker, who rose from a youthful producer at the "Today" show to run the multifaceted media business, said he would step down after cable provider Comcast takes control of the company later this year.
Zucker told employees of his planned departure in an e-mail he sent Friday, a day after he set terms of his exit deal.
The possible change-in-command had been looming since last December when Comcast Corp. agreed to buy a 51 percent stake in NBC Universal from General Electric Co. That deal still hasn't cleared regulatory hurdles, but that is expected around year's end.
WASHINGTON
Justice Department reaches accord with tech companies
The Justice Department has reached an agreement with six major Silicon Valley companies to settle allegations that they colluded to stifle competition for employees by restricting the way they could poach workers from each other.
The settlement, filed in the U.S. District Court for the District of Columbia late Friday, names Google Inc., Apple Inc., Intel Corp., Adobe Systems Inc., Intuit Inc. and Walt Disney Corp.'s Pixar Animation Studios.
The Justice Department had been investigating whether the companies pledged not to use "cold calls" to recruit each other's employees, as part of partnership agreements. The government was concerned that such promises amounted to a form of collusion to avoid bidding wars for employees with specialized skills, and in turn hold down payroll expenses.
These agreements, the Justice Department said, "eliminated a significant form of competition to attract highly skilled employees," depriving employees of access to better job opportunities.
The settlement bars the companies from entering into such "no-solicitation agreements" for employees for a period of five years.
SAO PAULO
Petrobras raises $70 billion
in massive sale of stock
The exploration and production of Brazil's massive offshore oil reserves is the driving force behind the globe's biggest-ever share offering.
Petroleo Brasileiro SA, or Petrobras, the South American nation's state-run energy company, raised $70 billion Thursday through the sale of more than 4 billion common and preferred shares in Brazil and the U.S. Investors took the opportunity to invest in one of the world's fastest-growing regions for energy production.
The money will fund Petrobras' ambitious $224 billion, five-year plan to develop offshore fields Petrobras discovered in the last three years that hold more than 50 billion barrels of recoverable oil.
WASHINGTON
House panel OKs bill to ward off unfair trade competition
A bill that would give the U.S. government the power to impose economic sanctions on China and other countries found to be manipulating their currencies to gain trade advantages has won approval from a key House committee.
The Ways and Means Committee approved the legislation Friday and Democratic leaders said the measure would be taken up by the full House next week. Supporters say the bill would protect U.S. jobs against unfair trade competition at a time of high unemployment.
The measure was expected to win easy House passage, although trade analysts said it was unlikely to be taken up in the Senate before the November elections. However, they said the proposal would send a clear message to China that it risks U.S. trade sanctions unless it moves faster to allow its currency to rise in value against the dollar.
SAN FRANCISCO
Celebrity followers on Twitter up for bid in eBay auction
If you've ever wished celebrities like actress Demi Moore or skateboarder Tony Hawk would follow you on short-messaging site Twitter, now's your chance — but you'll have to cough up cash for the privilege.
EBay Inc. is hosting a charity auction called TwitChange, through which people can bid to have celebrities follow them, retweet their posts or tweet their username on Twitter for three months.
Money raised from the auction, which started last week and runs through today , will go to ahomeinhaiti.org and its efforts to rebuild the Miriam Center, which is based in Haiti and houses and serves special-needs children.