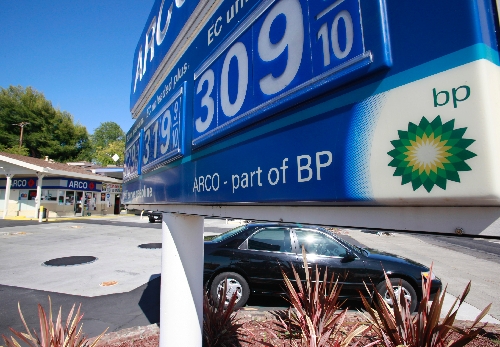 Real estate salesman gives up license, commission reports
The Nevada Real Estate Commission said it accepted the voluntary surrender of Shirjil Qureshi's real estate salesman license on Tuesday.
In a statement issued Friday, the commission said the surrender was in lieu of other discipline and was based on criminal charges of conspiracy to commit wire fraud, mail fraud and bank fraud involving the use of his real estate salesperson's license.
The department also said the surrender recognized matters filed by the Nevada Real Estate Division in a complaint relating to charges in six residential purchase agreement transactions.
Qureshi was one of the individuals arrested by the Federal Bureau of Investigation in "Operation Stolen Dreams," the federal government's largest mortgage fraud crackdown to date.
FORT WORTH, Texas
American Airlines parent says employee data compromised
American Airlines parent company said Friday that the personal information of about 79,000 retirees, former and current employees has been compromised after a hard drive was stolen from its Fort Worth headquarters.
No customer data was affected. The company's pension department held the data.
The drive contained images of microfilm files, which included names, addresses, dates of birth, Social Security numbers and a "limited amount" of bank account information. Some health insurance information may have also been included — mostly enrollment forms, but also details about coverage, treatment, and other administrative information.
The data spans a period from 1960 to 1995.
AMR also believes some of the employee files also contained information on beneficiaries, dependents and other employees from 1960 to 1995.
NEW YORK
BP shares post first weekly gain since rig blew in Gulf
BP shares posted a better than 8 percent gain this week, the first weekly increase since an April explosion on a BP-operated rig triggered a massive Gulf oil spill.
The first of two relief wells that are given the surest chance of plugging BP PLC's gushing well is on target to be finished next month, company and U.S. government officials have said. Many analysts, while concerned about potential liability, still feel BP can cover the costs of the containment, cleanup and legal matters.
BP's U.S. shares declined 4 cents, or 0.14 percent, Friday to close at $29.35 on the New York Stock Exchange, but still recorded an 8.6 percent gain for the week.
The market value of the shares rose $7.29 billion this week.
That's small consolation to long-term shareholders. Since the Deepwater Horizon rig exploded on April 20, the value of the shares has dropped $97.44 billion.
Gasoline prices fall in U.S., inch up in LV, stay below $3 a gallon
The economy may be making people nervous, but drivers should have a happy Fourth of July at the pump.
Gasoline prices have changed very little this week and, by some analyst estimates, may even fall a bit over the long holiday weekend.
The good news for drivers is that even with more people expected on the roads, ample supplies and relatively low demand likely will keep prices fairly stable and below $3 a gallon this summer.
The national average for retail gasoline prices fell 0.04 cents to $2.75 a gallon Friday, according to Wright Express and Oil Price Information Service. That's 12 cents higher than a year ago but well below the $3 a gallon analysts were calling for back in March and April. The price is about one-half cent less than a week ago.
In Las Vegas on Friday, the average price of a gallon of regular, self-serve unleaded gasoline was $2.862, up 0.6 percent from $2.846 per gallon a week ago, AAA said in its Daily Fuel Gauge Report.
The local price is up 2.5 percent from $2.791 per gallon a month ago, and up 6.3 percent from $2.693 per gallon a year ago, AAA said.
BEIJING
China's economy grew faster
in '09 than previously reported
China's economy grew even faster in 2009 than previously reported, adding to concern the flood of stimulus spending and loans that drove its rebound and left a dangerous glut of unneeded factories and other assets.
The government raised its estimate of 2009 growth on Friday from 8.7 percent — already the fastest among major economies — to 9.1 percent, boosting China's economic output to the equivalent of $4.98 trillion. That suggested Japan clung to its title as the second-largest economy with just under $5.1 trillion in output.
Beijing propelled its recovery from the global slump with a 4 trillion yuan ($586 billion) stimulus and record 2009 bank lending of 9.6 trillion yuan ($1.4 trillion).
But communist leaders worry that drove overspending on factories and other facilities, which could lead to economic problems if producers are forced to slash prices in glutted markets or cannot repay bank loans.
NEW YORK
Bedbugs force another shop closure for teen clothes seller
Abercrombie & Fitch Co. said Friday that it closed a second store in New York due to a bedbug infestation.
The preppy teen clothing seller said it closed a Hollister store on Thursday in the SoHo neighborhood of New York. That location is expected to open at 10 a.m. today .
It closed a second location, an Abercrombie & Fitch store in the South Street Seaport, on Friday for the same reason.
The New Albany, Ohio, company said its flagship New York store on Fifth Avenue has been tested and is not affected by bedbugs.
Abercrombie said it asked the office of New York City Mayor Michael Bloomberg how it should deal with the problem.
Abercrombie & Fitch shares fell 80 cents, or 2.51 percent, Friday to close at $31.11 on the New York Stock Exchange.
LV company indicted in theft charge related to mortgages
Marisol Perez was indicted on charges of four felony counts of theft related to a mortgage-loan modification service, the Nevada attorney general's office said Friday.
Perez, 48, did business as We Save Your Home, a foreclosure rescue business in Las Vegas.
She is accused of charging $1,350 to $2,000 for guaranteed loan modification or principal reduction within 45 to 90 days. After being paid, the defendant did no work for customers and failed to make refunds despite promising to do so, the attorney general's office said.
A warrant has been issued for the defendant's arrest. Attempts to reached Perez for comment failed.
RENO
Reno insurance company cuts 161 jobs; 44 at headquarters
A Reno-based insurance company has eliminated 161 positions, including 44 at its headquarters.
Employers Holdings Inc. offers workers' compensation insurance to about 44,000 small businesses in 30 states. After the cuts, the company has about 760 employees nationwide and 175 in Reno.
CEO Douglas Dirks attributes the layoffs to the recession and a consolidation after an acquisition the company made in 2008.