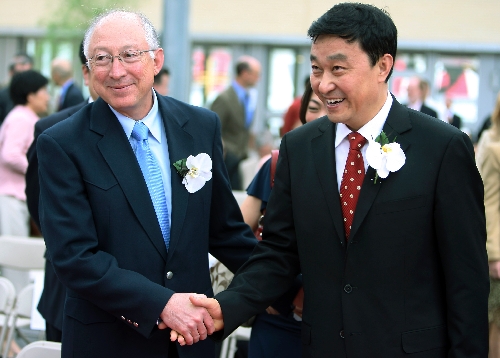 Interior secretary visits LV, discusses renewable energy
U.S. Secretary of the Interior Ken Salazar was in Las Vegas on Tuesday to participate in a press event with several companies looking to build a wind-turbine manufacturing plant in Southern Nevada.
Salazar discussed the progress of renewable-energy development and job creation in Nevada, and he talked about the importance of the United States and China working together on green-power projects.
Salazar appeared at the Greenspun Plaza on the University of Nevada, Las Vegas campus for a ribbon-cutting involving a Texas wind turbine-making plant that Washington, D.C.-based private-equity firm U.S. Renewable Energy Group is building with A-Power Energy Generation Systems of China. The two companies held the ribbon-cutting in Las Vegas because they're here looking for land for a similar wind-turbine plant in or near Las Vegas. Henderson developer American Nevada Co. is helping the partners find a suitable site for the 320,000-square-foot plant, which could employ about 1,000 people.
A spokesman for the partners said Tuesday that they continue to look for the right commercial parcel in the area.
Global Cash Access Holdings announces CFO resignation
Global Cash Access Holdings Inc., the parent of Las Vegas-based Global Cash Access, late Monday said executive vice president and chief financial officer George Gresham resigned.
In a statement, the company said Gresham, who spent two years with the company, will step down May 7. The company said it is searching for Gresham's replacement and that President and CEO Scott Betts will serve as interim chief financial officer during the search.
Global Cash Access provides cash-access products and related services to more than 1,100 casinos and other gaming properties in the United States, Europe, Canada, the Caribbean, Central America and Asia.
WASHINGTON
Fed officials focus on when they'll start to lift interest rates
With signs mounting the economy is gaining traction, Federal Reserve policymakers are increasingly focused on when and how they will reverse course and start boosting rates once the recovery is firmly entrenched.
Higher rates for millions of American borrowers are still months away at best, most economists predict.
Yet, Fed Chairman Ben Bernanke and his colleagues, who opened a two-day meeting Tuesday afternoon, are likely to discuss how best to use the various tools at their disposal to tighten credit and mop up the unprecedented amount of money that was pumped out to fight the economic and financial crises.
The Fed needs to hold rates at record lows long enough to make sure the recovery is lasting, especially once the bracing effects of the government's massive fiscal stimulus fades later this year.
MINNEAPOLIS
Parents of United, US Airways post slimmer quarterly losses
The parent companies of United Airlines and US Airways both reported much smaller quarterly losses on Tuesday, helped by returning business travelers and higher fares.
United parent UAL Corp. lost $82 million, or 49 cents per share, in the quarter ended March 31, compared with $382 million, or $2.64 per share, a year earlier.
Revenue rose 14.9 percent to $4.24 billion.
US Airways Group Inc. lost $45 million, or 28 cents per share, compared with a loss of $103 million, or 90 cents per share, a year earlier.
Revenue rose 7.9 percent to $2.65 billion.
CINCINNATI
Macy's sees same-store sales rising, boosts profit outlook
Macy's Inc. boosted its earnings outlook on Tuesday, as the department store chain now expects better sales at stores open at least a year.
Investors may have been betting on even better results, though. They sent shares down 94 cents, or 3.8 percent, to close at $23.91 Tuesday on the New York Stock Exchange.
Macy's predicts a profit between $1.75 and $1.80 for fiscal 2010, which is higher than previous guidance for earnings between $1.55 and $1.60 per share.
Analysts surveyed by Thomson Reuters, whose estimates typically remove one-time items, expect a profit of $1.80 per share.
Macy's also lifted its outlook for 2010 same-store sales, or sales at stores open at least a year. The retailer initially forecast those sales would climb 1 percent to 2 percent, but now anticipates a 3 percent to 3.5 percent increase.
Macy's will report its first-quarter results May 12.
ATLANTA
United Parcel Service reports rise in first-quarter earnings
The improving economy at home and abroad helped boost shipping giant UPS' first-quarter profit 33 percent.
UPS Inc., also known as United Parcel Service, restructured its business over the last 18 months, cutting jobs in the process. The shipper doesn't plan any significant hiring anytime soon, at least until the recovery is on more solid footing.
UPS, based in Atlanta, formally reported a first-quarter profit of $533 million, or 53 cents a share, up from a profit of $401 million, or 40 cents a share, a year earlier.
Revenue rose 7.2 percent to $11.73 billion from $10.94 billion.
NEW YORK
Happiness is a new owner,
at least for 'Peanuts' gang
You've got a new owner, Charlie Brown.
Newspaper publisher E.W. Scripps Co. is selling licensing rights for Snoopy, Charlie Brown and the rest of the "Peanuts" gang to Iconix Brand Group Inc., the licensing company that owns Joe Boxer and London Fog.
The family of the late "Peanuts" creator Charles Schulz will also own part of the business too, giving it more control of and money from the comic strip's legacy.
Heirs say the deal announced Tuesday for the 60-year-old comic strip is what the artist would have wanted. Schulz worked for decades to win back the rights to his work, which many other artists like himself sold to appear in print.
Scripps will sell its licensing unit, which also represents characters such as Dilbert and Raggedy Ann and Andy, to Iconix for $175 million. The bulk of revenue generated by United Media Licensing comes from the "Peanuts" franchise.
Iconix will form a partnership with Schulz' family, who will receive 20 percent ownership in the unit that owns "Peanuts" and pay that percentage of the sale price.