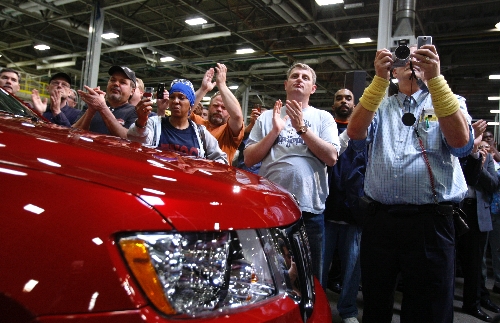 WASHINGTON
Treasury: Taxpayers to lose billions less from bailouts
The Treasury Department said Friday it expects taxpayers will lose billions less from the financial bailouts than earlier estimated. The problem is, its revised forecast assumes Treasury's shares of bailed-out companies are gaining value despite this week's plunge in stock prices.
Treasury predicts the bailouts will cost taxpayers $105.4 billion, according to a letter to lawmakers from Assistant Secretary Herb Allison. That's down $11.4 billion from a February projection by the Obama administration.
Most of the expected cost savings depend on Treasury's ability to profit once it sells its stakes in Citigroup Inc., General Motors and Chrysler, Allison wrote. Treasury received those investments in exchange for pumping billions into the companies to rescue them.
Treasury's analysis is based on market conditions as of March 31. That was weeks before a European debt crisis roiled global markets. The broad tumble in stock prices makes Treasury's projected gains appear far less likely.
For example, Allison notes that Treasury's shares of Citigroup were worth $4.05 on March 31 — 80 cents more than Treasury paid for them. But by Thursday's close, Citigroup shares were trading at $3.63. At that price, Treasury's gain is only 38 cents per share.
If Treasury sold all its shares at Thursday's price, its estimate would undercount the cost of the bailouts by $924 million.
MUMBAI, India
Abbott Laboratories will buy India health giant's business
Abbott Laboratories has agreed to buy the domestic health care business of India's Piramal Healthcare Ltd., a leading branded generics company, for $3.72 billion, the companies said Friday.
The deal is part of Abbott's drive to establish itself as a leading emerging market pharmaceutical player and reflects the growing global importance of generics as well as the rise of India's consumer market for drugs.
Abbott, based in North Chicago, Ill., will pay $2.12 billion up front, plus $400 million annually for four years.
The deal will vault Abbott past market leaders Cipla and Ranbaxy to No. 1 in India's fast growing market, with a 7 percent market share.
NEW YORK
Borders Group seeks revival with $25 million investment
Book seller Borders Group Inc. hopes to redefine itself with a new $25 million investment from financier Bennett LeBow, who will become its chairman and biggest shareholder.
In an era of deep discounts on printed books and growing consumer appetite for electronic ones, the struggling company will use the infusion it announced Friday to strengthen its balance sheet and invest in its online business.
Borders, the nation's No. 2 traditional book seller behind Barnes & Noble Inc., has cut staff and other costs and closed stores as it faces increasing competition from discounters and online sellers such as Amazon.com Inc.
Borders' fourth-quarter net income soared as a result of the cuts, but its revenue fell 13 percent as book sales plunged, according to results announced in March. The company plans to report on its first quarter on Thursday.
NEW YORK
Want a Microsoft Kin phone? You'd better get tweeting
Free concerts. Open bar. Big names. Small venues. The catch?
You've got to find them first, and only a string of tweets, texts, Facebook updates and blog posts will lead you there.
Microsoft Corp. is combining social media and detective work to market its new Kin cell phone by throwing surprise concerts with bands such as Passion Pit and the Black Keys in four cities this month.
But key details such as the time and location are trickled out through social networking in the days and hours leading up to the show online by various sources: Microsoft, the bands and key people in each city with varied social networks.
The premise, the brainchild of marketing agency Exposure, taps into Microsoft's target audience for the phone — teens and twenty-somethings who text and tweet rather than call and e-mail. It skips right over other demographics — older people who are more tethered to e-mail and voice calling.
So far, the Kin "Spot" campaign is generating buzz. Last week, hours before Passion Pit was to play in New York, fans posted on Twitter and Facebook, waiting to find out the location. The band sent clues via Twitter and its own site, narrowing down the location to the Tribeca neighborhood.
DETROIT
Chrysler Group will add staff to build Jeep Grand Cherokees
Chrysler Group LLC gave a big boost to the battered Michigan economy Friday when it announced plans to add about 1,100 workers to help build the new Jeep Grand Cherokee.
The company made the announcement at a Detroit factory as it celebrated the start of Grand Cherokee production. Chrysler said it expects strong sales of the new sport utility vehicle, which is due in showrooms next month.
Almost all the workers will be new hires, which Chrysler can pay about $14 per hour, about half the hourly rate received by current workers represented by the United Auto Workers union. The workers will staff a second shift at the factory, called the Jefferson North Assembly Plant, starting July 19.
Johnson Controls offers
$1.25 billion for Visteon unit
Johnson Controls Inc. has offered $1.25 billion for the automotive interiors and electronics business at Visteon Corp., saying the acquisition would expand its presence in China.
Visteon, however, was skeptical of the bid, saying that it was vague and missing important details. The auto parts company also suggested that Johnson Controls, a direct competitor, might be using the offer as a way to drag out Visteon's Chapter 11 bankruptcy reorganization.
Johnson Controls, which builds car interiors, batteries and other components, said Friday it sent a letter to Visteon expressing interest in the acquisition.
NEW YORK
Icahn extending offer to buy Lions Gate until June 1
Billionaire and activist investor Carl Icahn said Friday he's extending his offer to buy Lions Gate Entertainment Corp. until June 1, after the latest deadline approached with too few shareholders on board.
Icahn, who owns the Fontainebleau in Las Vegas, owns almost 19 percent of Lions Gate shares, and has been in a battle for control of the boutique movie and TV studio since last March. Icahn objects to Lions Gate's interest in acquiring another studio. Lions Gate was interested in buying Metro-Goldwyn-Mayer Inc., but dropped out of the bidding. The Walt Disney Co.'s Miramax Films division is another possible target for Lions Gate.
Icahn wants to rein in the studio's spending and has said shareholders should vote on an acquisition. He has argued against buying another studio and the library of older titles that come with it.
The activist investor had raised his offer from $6 per share to $7 per share in March, but was again rebuffed by Lions Gate as too low. Icahn has extended his offers several times; the most recent deadline was Friday.
NEW YORK
Reading books on paper lives: Independent booksellers gain
As BookExpo America, the publishing industry's annual convention, prepares to open Tuesday at New York City's Jacob K. Javits Center, independent booksellers are enjoying a pleasant surprise: Membership is up.
"Despite fears of a significant number of store closings as a result of the worst economy since the Depression, the good news is that much of the ABA membership is holding its own," Oren Teicher, CEO of the American Booksellers Association which represents independent stores, said Friday.
The rise is tiny, from 1,401 a year ago to 1,410, but a deluge in comparison to the past two decades, when membership dropped from more than 3,000 to last year's low. Independent stores have been on the wrong end of some of the biggest trends: the spread of superstore chains, the emergence of Amazon.com and online retailers, and the rise of the e-book, a tiny market three years ago, but now, for some major publishers, approaching 8 percent of total sales.