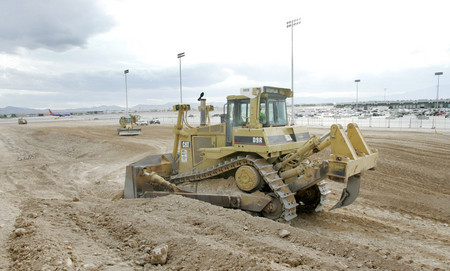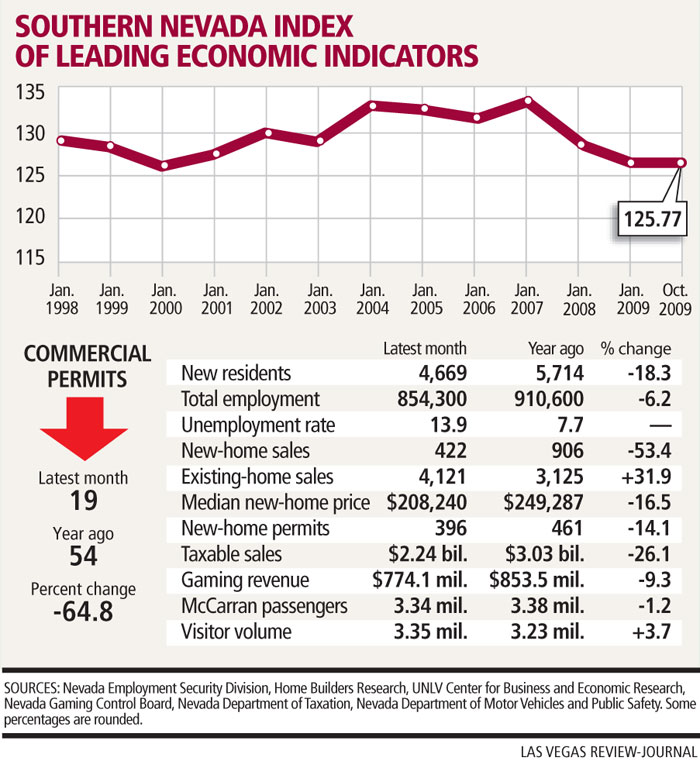 The Southern Nevada Index of Leading Economic Indicators dropped further in October, suggesting a continuation of the current local recession, an economist at UNLV's Center for Business and Economic Research said Thursday.
The index dropped to 125.77 in October, down from 126.26 the previous month and from 130.60 in October 2008.
Residential and commercial construction categories contributed heavily to the index's downturn, just as they have for the past 18 months. Residential building permits declined 51.5 percent from a year ago to 774 in August and valuation of those permits dropped nearly 70 percent to $62.3 million.
Commercial permits fell 68 percent from a year ago to just 24 and valuation is down 84 percent to $13.1 million.
Convention attendance also fell in August to 235,841, a 59 percent decline from a year ago. McCarran International Airport passenger count dropped nearly 10 percent.
Meanwhile, the U.S. Leading Economic Index turned up. This "decoupling" of the national index and Southern Nevada index points to the late arrival of recovery from this recession compared with previous historical periods, said Keith Schwer, executive director of the research center at University of Nevada, Las Vegas.
"It's residential construction, it's work stoppage on the Strip, it's a drop in discretionary spending and visitation," Schwer said. "It's a series of events that put us in recession where other parts of the United States have shown signs of recovery."
The housing market has stabilized for the last three months, but some analysts predict a further drop in prices as more people lose their jobs and homes. The number of home loans going into delinquent status is now more than twice the number of foreclosure starts, indicating another major wave of troubled loans in an already clogged pipeline.
The economic index, compiled by the UNLV research center, is a six-month forecast from the month of data, based on a net-weighted average of each series after adjustment for seasonal variation. October's index is based on August data.
The accompanying chart includes several of the index's categories, along with data such as new residents and employment and housing numbers, updated for the most recent month for which figures are available.
Southern Nevada has lost more than 21,000 construction jobs during the recession, leaving a grim outlook for a major sector of the economy, Schwer said.
"It will take time to occupy effectively what we have already constructed, delaying the recovery of the current recession," he said.
Brad Schnepf, president of Marnell Properties in Las Vegas, said a lot of projects can't get off the ground because of financing constraints.
Marnell recently started construction for a $29 million, 200,000-square-foot freight center at McCarran International Airport. It will handle freight and mail-sorting operations for FedEx Corp., United Parcel Service, Worldwide Flight Services, Southwest Airlines and Allegiant Air.
The project is fully financed through Mutual of Omaha Bank, an anomaly in the current economy, Schnepf said.
"It's very unique in its nature," he said. "It's driven by the expansion at McCarran. It goes back to 2002, part of the overall master plan. It became a directive to demolish the existing cargo facility as part of the Terminal 3 expansion. They're 20 years old and need to be replaced. They're in the wrong place now."
The Clark County Business Activity Index, also compiled by the Center for Business and Economic Research, continued its downward path, showing no signs of divergence as job losses mount and spending continues to decline.
Contact reporter Hubble Smith at hsmith@reviewjournal.com or 702-383-0491.