Indian Springs could get rare construction project
December 30, 2016 - 9:33 am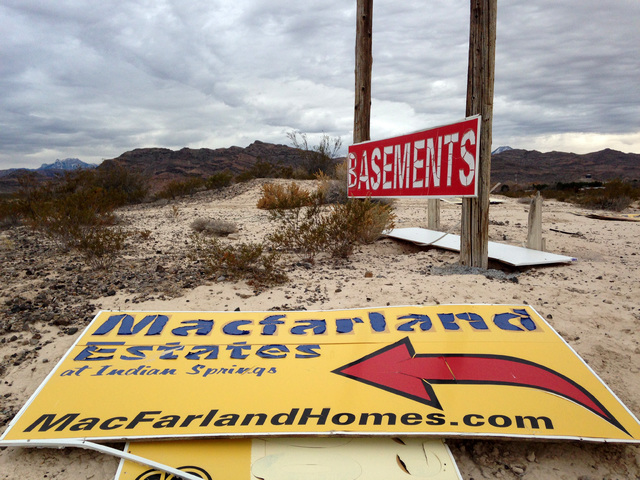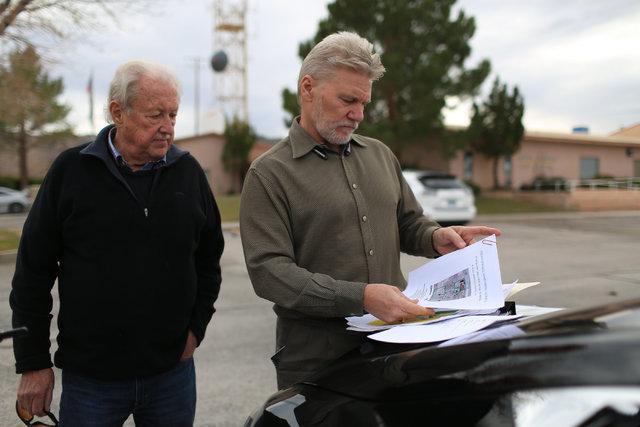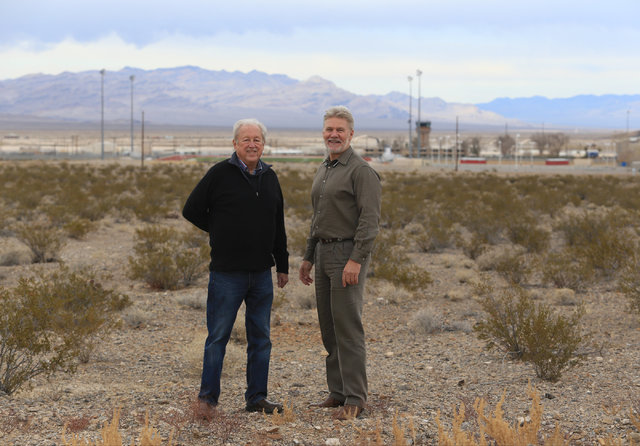 INDIAN SPRINGS
Boarded-up trailer homes, a sliding population, almost no retail and few jobs.
This rural Southern Nevada outpost has seen better days, and driving around town, it doesn't seem like an ideal spot for new real estate projects.
"We're depressed out here, honey," longtime resident Andree Benton said.
But for Las Vegas broker and investor Mason Harvey, Indian Springs is ripe for construction.
He and partners have plans to build a 304-unit apartment complex on the western edge of this unincorporated community off U.S. Highway 95, some 50 miles northwest of the Strip.
There's no guarantee the complex will get built. It's been on the drawing board for years, and Harvey, whose group wants project partners, figures a groundbreaking is at least 12 to 18 months away.
But if it opens, it would bring new housing to a town where homes have fallen into disrepair and where construction is a rare sight.
It's also another attempt to build in a town where developers had plans for subdivisions during the bubble years and now have little, if anything, to show for them — an all-too-common story in Southern Nevada.
Ray Prine, who opened Fay's Country Store last year with his wife, the store's namesake, said the planned apartment complex would "bring life" back to the community and that he "can't wait" for the project.
His view of the town? "It's dead."
Indian Springs had 991 residents as of 2010, according to the U.S. Census Bureau, but it could be bigger, at least in theory. Creech Air Force Base, a hub of U.S. military drone operations, is across the highway and boasts around 3,500 personnel, and state prison facilities are about 10 miles away.
Thousands of workers in total, but it seems most live in the Las Vegas Valley and commute — perhaps no surprise, given the dearth of retail, health care and other services in this pint-sized town.
Outside the air base, Indian Springs has a school, a library and a post office; its few businesses include a Chevron gas station and the Oasis bar and restaurant. Asked about local medical care, Harvey's business partner Stephen Schneider said there is "not medical per se," pointing to Indian Springs' volunteer fire department.
The developers, however, want to persuade commuters to ditch the long car rides and rent an apartment. The complex would include Wi-Fi and workout facilities, and Harvey said rental rates would be $1 per square foot, maybe less. Also, he said, supermarkets, doctors and other services are 30 minutes away in northwest Las Vegas.
In a recent market study that Harvey provided to the Review-Journal, Las Vegas housing tracker Home Builders Research said the apartments would be "an attractive living option" for nearby employees.
The drive to northwest Las Vegas' commercial centers has "little to no traffic," but the distance is "the main factor" harming the project site's "overall appeal," especially because of the "lack of necessary amenities within Indian Springs," the report said.
A total of 1,292 people work at the Nevada Department of Corrections' nearby facilities – High Desert State Prison, Southern Desert Correctional Center and Three Lakes Valley Conservation Camp, department spokeswoman Brooke Keast said. Many commute from Las Vegas and Pahrump.
"Very few live in Indian Springs," she said.
A spokesperson for Creech could not be reached for comment.
Harvey's group bought the project site in 2006 and received Clark County approvals by 2009, records indicate. Asked why the project has taken so long, Harvey, a broker with Berkshire Hathaway HomeServices, cited last decade's economic collapse.
Las Vegas "went through a depression, not a recession," he said, adding that the "bottom fell out for construction funding."
Still, his group isn't the first to try to build homes in recent years here.
During the real estate bubble last decade, amid soaring home and land prices, developers snapped up cheaper acreage in small towns an hour or so from Las Vegas with plans to build more-affordable housing. But many of these projects went nowhere after the market crashed.
Beazer Homes, a national builder, bought land in Indian Springs in 2005 and has laid out plans for a subdivision with, apparently, 178 homes, county records indicate. It still owns the site but hasn't built any houses.
The Atlanta-based company did not respond to requests for comment.
By 2005, developers also had laid out plans for a 43-lot subdivision called Macfarland Estates. They sold a few homes, including one for almost $350,000 and one for $370,000, but lost the project site to foreclosure in 2007, property records show.
Today, the subdivision is largely empty, and a sign for Macfarland Estates – broken apart and ripped from its wooden posts – sits off the highway east of town.
Las Vegas investor John Rana, whose group owns the remaining vacant land, said the subdivision is listed for $1 million.
He said there's a "big demand" for housing here, given the number of commuters; that his lots are construction-ready; and that a builder just needs "to take that leap out there."
"It's a great buy for somebody," he said.
At least one other project is in the works here. Andrew Fonfa, developer of the new Lucky Dragon casino in Las Vegas, and partner Todd Marshall have plans for a project that would include a tavern, 30 hotel rooms and a banquet facility just south of U.S. 95, county records show.
Harvey said the pair is planning to break ground in 2017. Fonfa referred questions about the project to Marshall, who could not be reached for comment.
Longtime residents would probably welcome the growth. The population has dropped, and while the town has retirees and commuters to Las Vegas, plenty of others are unemployed, locals say.
Prine, of Fay's convenience store, said he knows six or eight people who can't work because they can't afford a car. He also said his store's building was empty for 14 years before he and his wife opened shop.
"It's kind of a depressed area now," said Judith Albright, who has lived here for 55 years.
One source of employment, the Indian Springs Casino, closed after Fonfa and Marshall sold the property to the federal government for about $11.5 million in 2014. Officials tore it down to clear space for an anti-terrorist security buffer at Creech.
After the sale, former employees told the Review-Journal that about 50 to 60 people lost their jobs due to the closure.
Benton, who has lived here since the mid-1970s, said some adults have moved back with their parents in Indian Springs, and trailer parks' conditions have "gone to hell." She can't afford to maintain her home either — she needs a new roof and new paint, and she stopped watering her lawn because the water bills were too high.
"I hate to sound so negative," she said, "but I hate what's happened to our little town."
Contact Review-Journal writer Eli Segall at 702-383-0342 or esegall@reviewjournal.com. On Twitter at @eli_segall