October 9, 2010 - 11:00 pm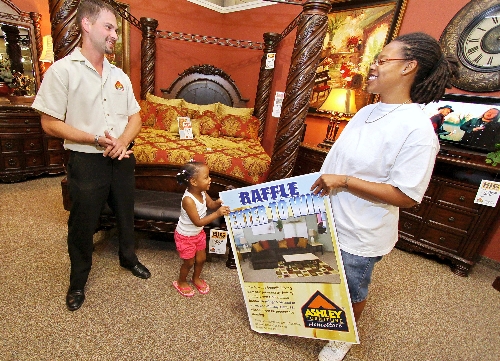 This boomtown was as sure a bet for furniture stores as any business three years ago. But when the Las Vegas housing bubble burst, local furniture sellers lost not just profits, but hope.
While profits may not be making a comeback just yet, some operators are daring to hope again.
The recent expansion of some furniture retailers and manufacturers is providing a much-needed confidence jolt to the battered industry. In August, Canadian company Foliot Furniture opened a major manufacturing plant in Las Vegas. Meanwhile, Ashley Furniture HomeStore surprised local retailers by announcing a new store as summer began and as another steep dip in furniture sales continued.
Levitz, Wickes, and numerous smaller furniture outlets like Kidz Bedz, have folded like couch beds. Ashley moved in over the summer at the site of the old Levitz location at 91 S. Martin Luther King Blvd. near Interstate 15.
Ashley saw an opportunity to position itself for a recovery.
"Our CEO (Michael Jedlowski) feels the Las Vegas economy will be turning around," said Dan Sprengeler, Ashley's local operations manager.
Sprengeler spends enough time at the newest Las Vegas Ashley store to share his boss's optimism.
"We get quite a bit of traffic here every day," Sprengeler said. "Walker Furniture is nearby, and I think we will be here for years to come."
The former Levitz site is just down the street from local industry giant Walker Furniture. Ashley has also found a retail outlet within walking distance of the World Market Center, where the company has another showroom.
"If somebody (visiting) the World Market Center wants to open a retail store, they can come tour this location," Sprengeler said.
The 108,000-square-foot Martin Luther King spot has a 64,000-square-foot showroom, keeping about 100 employees working. Jedlowski runs Ashley's Glendale, Ariz.-based parent, Southwestern Furniture, and operates 17 stores, including three in Southern Nevada.
At the August opening, Jedlowski cited the strong performance of Ashley's other two stores and a desire to be ready for the "awakening Las Vegas market economy."
Furniture sales have been like a roller coaster ride. After a promising rebound early in the year, furniture buying reverted to recessionary lows after Memorial Day. That was especially troubling because Memorial Day and Labor Day are traditionally among the biggest days for furniture sales.
"What we saw early in the year was optimism," World Market Center President and CEO Robert Maricich said. "That optimism has waned. We rely more now on hope than a resurgence in the economy."
Continued struggles in home sales, and depreciation, have pressured the furniture industry, he said.
"What we see now is a muddling around the bottom, and it should be no surprise that this muddling mirrors the housing market," Maricich said. "Like (in) Las Vegas, Scottsdale, (Ariz.,) Phoenix and parts of California."
But Ashley's gamble on Las Vegas seems to be paying off. Sprengeler said business at the new store is better than expected.
Operators of competitors Walker and FurnitureDirect are far from jealous. Instead, they praised any signs of life in the local furniture market.
"We like having Ashley there," Walker Furniture President and CEO Larry Alterwitz said. "They are going to be advertising anyway and bringing people in. Why not have (it) right up the street from us?"
That "competition is good" adage can be true in the furniture business, in which buyers typically comparison shop to get the best price.
"People are going to say, 'Let's see what Walker has,' " Alterwitz predicted.
The location may be important for surrounding businesses, but what matters most to furniture sellers is that a major player like Ashley still believes in Las Vegas.  
"Ashley coming in the middle of a downturn and opening a store shocked a lot of people," said Larry Smith, the Las Vegas FurnitureDirect franchise owner.
Smith knows how tough it is to sell furniture. Another local FurnitureDirect franchise opened a store around the time of the recession but closed soon after.
"Ashley has the capital and they can wait it out," Smith said. "But it is more competition for local furniture retailers."
Observers see Foliot Furniture's expansion into Las Vegas this summer as another step toward making Southern Nevada a furniture destination.
Foliot manufactures furniture primarily for colleges and hotels. Las Vegas was a natural fit. And $297,551 in one-time tax abatements made the Quebec-based company pass over competing cities such as Phoenix and Los Angeles, said Ken Pierson, the Nevada Commission on Economic Development's deputy director.
The manufacturer has created about 90 jobs so far, and plans to add 100 more workers over the next year.
Pierson believes the 300,000-square-foot Foliot plant's presence in Southern Nevada, combined with the World Market Center, could create a furniture cluster of sorts. Other inquiries about moving to the valley, made by undisclosed furniture manufacturers, have also sparked renewed optimism.
"We are definitely hoping for that, and this can start it," Pierson said of Foliot's arrival. "It can be 18 months (of negotiations with a company). These things take time."
Foliot has been holding its own, said Lenix Jorge, the company's local human resources manager.
"The market we're mostly in is residence halls for colleges," he said. "That market has been pretty steady for us."
Now in Las Vegas, Foliot is negotiating with local hotels and is trying to get UNLV's business. About 20 percent of Foliot's business comes from selling hospitality furniture.
Jorge sees Southern Nevada as a potential furniture hub.
"You have the World Market Center, and other furniture franchisees and showrooms," he said. "I think Las Vegas is positioning itself to be a full-service-type deal."
 Survivors in the local furniture industry sometimes benefit from attrition.
Roy Walsh, the sales manager at the valley's lone Robb & Stucky location, said his upscale furniture store in Town Square has little competition.
"A lot of people have closed down," he surmised after naming off a few former rivals. "It's the proverbial last man standing."  
Ethan Allen, one competitor, keeps a showroom at the World Market Center but has closed its other area retail locations.
Robb & Stucky has survived nearly three years in Southern Nevada partly because of orders from tourists. The visitors happen upon the Las Vegas Boulevard location and have furniture shipped home, he said. That amounts to about 25 percent of the store's business.
Those retailers dependent solely on locals have their challenges. Walker's business dropped more than 20 percent. About 20 percent of the staff, or around 40 people, had to be let go. Alterwitz said he probably waited "too long" to make the cuts in hopes of a recovery.
"It's the name of the game, to become as lean and mean as you can," he said. "When you become lean and mean it's amazing how efficient you become and how much money you save."
 Contact reporter Valerie Miller at 702-387-5286 or vmiller@lvbusinesspress.com.