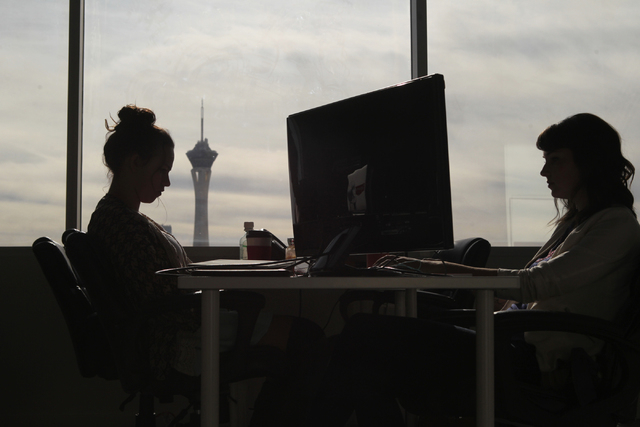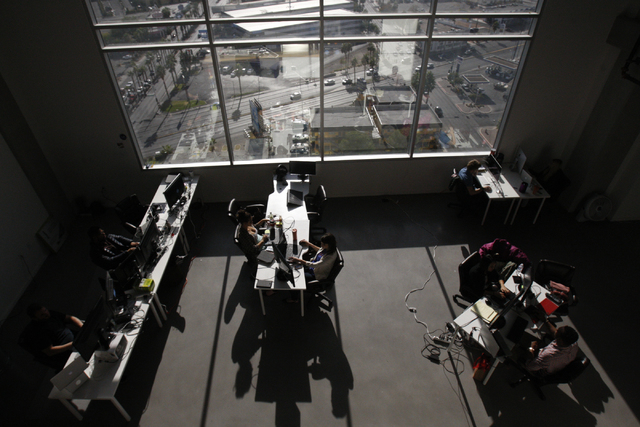 If your business is not on social media, you'd better get your act together.
So says Dan Steele, chief operating officer of Las Vegas' The Influential Network.
Social media lets businesses connect directly with customers and create conversations around their brands, products or services, he said.
"Digital is growing and it's important to have net space," Steele said. "When you create a billboard or television ad, you can't track who sees it. We can deliver real metrics about who saw the ad and who they are by creating real campaigns for a tenth of the price of traditional media."
The company works with powerful social media figures, or influencers as they're called, to promote products and brands to the masses.
"Influencers have to be willing to work with brands," he said. "We will only connect a brand and an influencer if the pair makes sense. We wouldn't have a 16-year-old girl promoting pick-up trucks."
The Influential Network builds social media platforms for influencers, those who have hefty followings on social media sites such as Twitter, Snapchat and Facebook. The company so far boasts 350 influencers, most of whom are based in Los Angeles. A few of the company's popular influencers are Aaron Carpenter, 16, who built 4.2 million followers on Instagram; Brent Rivera, 16, who boasts 12.5 million followers on Vine, and Matthew Espinosa, 17, who has 12.1 million followers on Vine.
"We pair a brand with the right type of person so they can create a conversation on their social media accounts about that brand," Steele said. "It becomes an organic viral thing as other accounts start talking about it. It creates a pretty cool affect."
Steele said many of The Influential Network's core influencers are 16 to 22 years old. He added that the company monitors influencers' followers counts and gauge how many followers engage with their posts before reaching out to them.
"The engagement is the most important factor when we contact an influencer," said Steele, who sold used cars and dabbled in online marketing before becoming a social media guru. "There are people with tens of millions of followers that we don't work with because they are lacking engagement."
Steele said he hopes to grow the demographic of influencers.
"We have a great base hitting most of the big target demographics that brands want and now we are starting to bring on influencers to hit really specific niches," he said.
Steele said his company's business model is "business to influence to content," as businesses or brands seek out influencers to share content over social media.
The Influential Network has worked with Red Bull, Monster Headphones, Entertainment Tonight, Vita Coco and Blue Moon to name a few.
An example of pairing an influencer with a brand, Steele said, is when Lokai, sought to hire influencers to tweet pictures of the company's bracelets, which hold water from Mount Everest and mud from the Dead Sea, the world's highest and lowest points, and create conversations about them on Twitter.
Influencers are paid by the brands themselves after The Influential Network determines what brands are willing to pay them.
One of those influencers is Jamal Noland, whom The Influential Network hired in July as an affiliate manager. He coordinates campaigns and manages accounts on social media.
Noland, 24, was born in the Caribbean and moved to Indiana at age 16. Three years later, his friend told him people were making money on Twitter, which piqued his curiosity.
"I decided to finally join the platform after being hesitant," he said. "I observed the way larger accounts were growing and what it took for them to viral or have significant momentum."
Noland signed onto Twitter in 2010 and has built up more than 3 million followers.
"Twitter is the best social media site in my opinion as it's the best platform that sparks conversations and keeps the world updated," he said. "Twitter is the new driving force for trends and is very resourceful for relevant information."
Noland said he built up his followers by creating niche accounts with relevant content that was based on trends or ideas that he felt would resonate well with a large universal demographic.
"It was difficult at first," Noland said. "But with the right ideas and promotion, I was able to amass a large following, which made it easier to build more accounts."
Another part of The Influential Network is hosting events to bring influencers together.
Steele said the company hosted parties during the Coachella and Electronic Daisy Carnival music festivals.
"Influencers were there collaborating and sharing content on social media," he said.
Alien Tequila, headquartered more than 100 miles outside Las Vegas in Hiko, sponsored The Influential Network's party during the Electric Daisy Carnival in Las Vegas in June.
Alien Tequila CEO George Harris said he sponsored the event to promote his brand.
"It was pretty impressive how many people saw my brand around the world," he said.
Harris added that his company has social media accounts including Facebook and Twitter.
"You're not a business if you don't have a social media presence," he said.
The Influential Network, which was founded in Los Angeles in October 2013, moved to The Innevation Center on Edmond Street in Las Vegas in March before moving to the Soho Lofts two months ago.
Steele said the company moved to Las Vegas to provide a cheaper cost of living for its staff of about 15.
"I lived here and there's a quality of life here that for people who make what our employees make, it would be very tough in L.A.," Steele said. "You can't go to any city and ask for employees who specialize in social media. Here, we're able to train them in an affordable city."
The Influential Network is always looking to provide a good time for influencers when they come to Vegas, Steele said.
"Last time we brought the influencers to Vegas, we took them to VooDoo Zip Line (at Rio) and they were taking pictures and sharing them on social media," Steele said. "It helps businesses because they become a cool place to go. It's a mutually beneficial relationship with businesses throughout Las Vegas."
In the future, Steele predicted, social media and smartphone apps will replace telephone calls and text messages.
"What's out there now will be around for a little bit but it will become more integrated," he said. "It's more about the device than about social media. You can turn on your lights, have food delivered, have a car pick you up … everything will integrate."
Staying on top of trends is crucial to The Influential Network's success, Steele said.
"Our staff watches trending topics and they stay on top of those things on various social media networks," he said. "There's not a book you can read on how to do this. We have meetings several times a week where we talk about what's going on and we try different things. If something doesn't work, we'll try something else."
Steele said The Influential Network has yet to turn a profit.
"We took a little over nine months and well over a million dollars to get our product right," he said. "We just brought on a sales force to begin selling campaigns and we should be profitable by mid-2015."
The company is raising money through FlashFunders, an online equity funding platform, aiming to find strategic investors.
"The amount of revenue we'll get from having an investor is substantially higher," Steele said. "They'll provide strategic value and capital while helping us grow and scale our business."
Steele said for The Influential Network to stay relevant, it must stay ahead of the game.
"We have to be on the edge by innovating and building products that are ahead of everyone else," he said. "By the time people catch up to us, we'll already be working on the next thing."