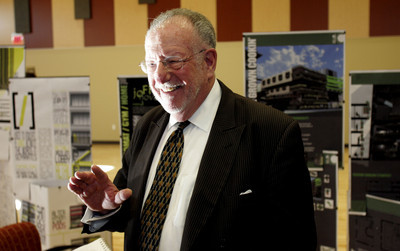 Angela Strahan discovered some shocking truths about downtown Las Vegas after spending half the semester researching the area for a project in her UNLV architecture class.
It's not as seedy and unsafe as people think and a sense of community pride actually exists among residents and business owners, the fourth-year student said Monday during a presentation at historic Fifth Street School.
The project, titled "An Urban Live-Work Neighborhood," is aimed at developing a more livable and sustainable inner city.
It focuses on one square block owned by Tamares Group on Fremont Street, between Ninth and 10th streets, site of the former Ambassador East hotel. It's part of the designated East Village redevelopment district.
University of Nevada, Las Vegas architecture students built a model of a live-work project that would encompass about 50 residential units with ground-floor shops and a host of amenities, including a rooftop basketball court and cultural center.
Student Scott Grady said the class wanted to create a viable place to live, not just visit. Sustainable development should be based on need, he said.
"I think it's cool. I think it's doable," Mayor Oscar Goodman said during a critique of the students' work. "It may not be doable this year with the economy, but it certainly has a futuristic concept."
Goodman said he will ask the people at Tamares Group to look at the project.
Las Vegas has several residential projects either completed or under construction downtown, including the Juhl mixed-use development at Bonneville Avenue and Third Street that's about a year behind schedule.
"None of this happens without critical mass," Goodman said. "You need people to occupy the residences. The main thing we have to overcome is the credit crunch."
Goodman said he didn't know what "new urbanism" meant when he first heard the term a couple years ago and asked Strahan to define it.
"New urbanism is a movement based around the idea of old Main Street," she said. "It's population density as well as building density."
UNLV architecture teacher Harry Ray said sustainability goes beyond Leadership in Energy and Environmental Design (LEED) and green building.
"One of the big movements students looked at is reducing dependability on the automobile," Ray said. "Automobiles are not going to go away, but you don't have to get in the car to go get toothpaste."
Sam Martinez said he found pockets of urban lifestyle downtown and would have no qualms about living there.
"Absolutely. It has character," the UNLV senior architecture student said. "It's easy to see the potential. You can see it's going to happen. It's just when. It just needs that catalyst like the World Market Center and the Smith Center (for Performing Arts)."
Contact reporter Hubble Smith at hsmith@reviewjournal.com or 702-383-0491.