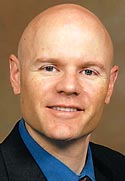 Lawyers launch new law firm in Las Vegas
Randal Shimon and Mark Smith formed Shimon & Smith, a law firm practicing in business, construction and real estate law. The firm, with offices at 175 S. Riley St., Suite 102, named Morgan Young paralegal, Tracee Gress accounting and marketing manager and Dan Habel law clerk.
***
Dollar Tree, a Chesapeake, Va.-based variety store retailer, opened an 8,820-square-foot store in Las Vegas at 3555 S. Fort Apache Road and an 8,187-square-foot store in Las Vegas at 1374 W. Cheyenne Ave.
***
Hutchison & Steffen, a law firm, named Stephen Mayfield associate.
***
Imagine Marketing of Nevada named Beth Dickman media relations specialist.
***
Lentz & Bledsoe named Constance Lentz certified public accountant and founder.
***
MassMedia Corporate Communications moved its corporate headquarters to 2863 St. Rose Parkway.
***
Cannery Casino Resorts named Kevin Klein race and sports book manager for the Eastside Cannery.
***
The Nevada State Board of Professional Engineers and Land Surveyors, a nonprofit trade group, named Michael Holloway vice chairman.
***
Larry Hanna Photography, an advertising photography firm specializing in architectural photography, named Ryan Richard marketing coordinator.
***
Applied Analysis, a business advisory firm, named Alyson Crisman project manager.
Inside Business is prepared by the Las Vegas Business Press. Send information about new hires, promotions and new businesses to Las Vegas Business Press, 1111 W. Bonanza Road, Las Vegas, NV 89106; fax to 477-3852; or e-mail to scureton@lvbusinesspress.com. To subscribe to the Las Vegas Business Press, call 383-0400.